FUJIFILM X-Pro3 (14mm, f/2.8, 1/45 sec, ISO6400)

Early Years (1999 – 2006)
I started with compact digital cameras like most people did. My first camera was the Nikon Coolpix 950. And right from the start I just loved the fact that when I took an image that I could see it instantly. No need to bring the film to the shop and get the developed slides back a couple of days later. And of course the cost. Film was always precious and especially the cost to get slides developed and framed was always in the back of my mind when I pushed the shutter button. Now that was gone!
Later came the Olympus E100RS, a sport camera with a built in 10x zoom lens. A really great and fast camera but its resolution was only 1,3MP!
In January 2002 I finally bought a Nikon D1 second hand, a true mile stone camera for Nikon and a game changer for me. And that was the end of my days shooting Fuji Velvia film.
NIKON E950 (19mm, f/3.9, 1/80 sec, ISO80)

OLYMPUS OPTICAL CO.,LTD E100RS (29.8mm, f/8, 1/500 sec, ISO100)

NIKON D1 (420mm, f/4, 1/250 sec, ISO200)

Canon DIGITAL IXUS v2 (5.40625mm, f/7.1, 1/640 sec, ISO50)

NIKON D2H (200mm, f/4, 1/60 sec, ISO200)

Canon PowerShot S60 (5.8125mm, f/2.8, 1/10 sec, ISO50)

SONY DSC-T3 (20.1mm, f/4.4, 1/160 sec, ISO100)

Canon DIGITAL IXUS 700 (7.7mm, f/2.8, 1/125 sec, ISO50)

NIKON D200 (300mm, f/4, 1/800 sec, ISO250)

Canon DIGITAL IXUS 800 IS (7.466mm, f/3.2, 1/160 sec, ISO80)

FUJIFILM FinePix F31fd (8mm, f/2.8, 1/320 sec, ISO200)

Panasonic DMC-FX100 (6mm, f/2.8, 1/320 sec, ISO80)

The Big Switch
In summer 2007 we were victim of a burglary. Practically all my camera gear was stolen except my Nikon AF-S 2.8/300 and the Sigma Macro 3.5/180. Those two lenses were in a different backpack that the burglars didn't take..
This happened right before a three week long vacation in Ireland. First I just bought an Panasonic FX100 and thought that I would cover the whole vacation just with a compact camera but when it was clear that my insurance would pay for the replacement I went to the camera store again. At that time Nikon had no full frame camera and the guy in the camera store recommend the Canon 5D. He gave me the camera plus the 4/24-105L for the weekend free of charge. After the weekend I could either return the camera or buy it. I bought it together with the 24-105 and also the 4/70-200 IS L. The image quality was on a completely different level compared to my Nikon D200. Full frame magic.
After the trip I got a lot other lenses too as I still had insurance money to spend. Among them the 1.4/35L and the 2/135L, two truly great lenses.
Canon EOS 5D (24mm, f/10, 1/40 sec, ISO100)

NIKON D300 (300mm, f/4, 1/500 sec, ISO400)

Panasonic DMC-FT1 (4.9mm, f/3.3, 1/320 sec, ISO80)

Canon EOS 500D (138mm, f/4, 1/200 sec, ISO250)

The Revolution
In autumn 2010, just before our very first vacation in the USA, I bought a Sony NEX 5. A super compact camera with an APS-C sized sensor and interchangeable lenses. And even though I brought my two DSLRs and a bunch of lenses I took most of the shots with the Sony. "Roam like a tourist and shoot like a Pro". Seldom an advertising text was so right. I just loved the experience. A super small and light camera that offered image quality previously only available in big and heavy DSLRs.
Because the Zeiss 23/1.8 for the Sony NEX 5 was so expensive I bought the Fuji X100 instead for about the same price. A beautifully camera that looked like an old film camera. It looked like an old camera but inside it was up to date. Excellent image quality and even better auto white balance. A fantastic camera.
A year later I bought an X-Pro1 second hand together with the 18/2 and the 35/1.4 and that changed everything.
SONY NEX-5 (19mm, f/11, 1/200 sec, ISO200)

FUJIFILM FinePix X100 (23mm, f/2.8, 1/105 sec, ISO200)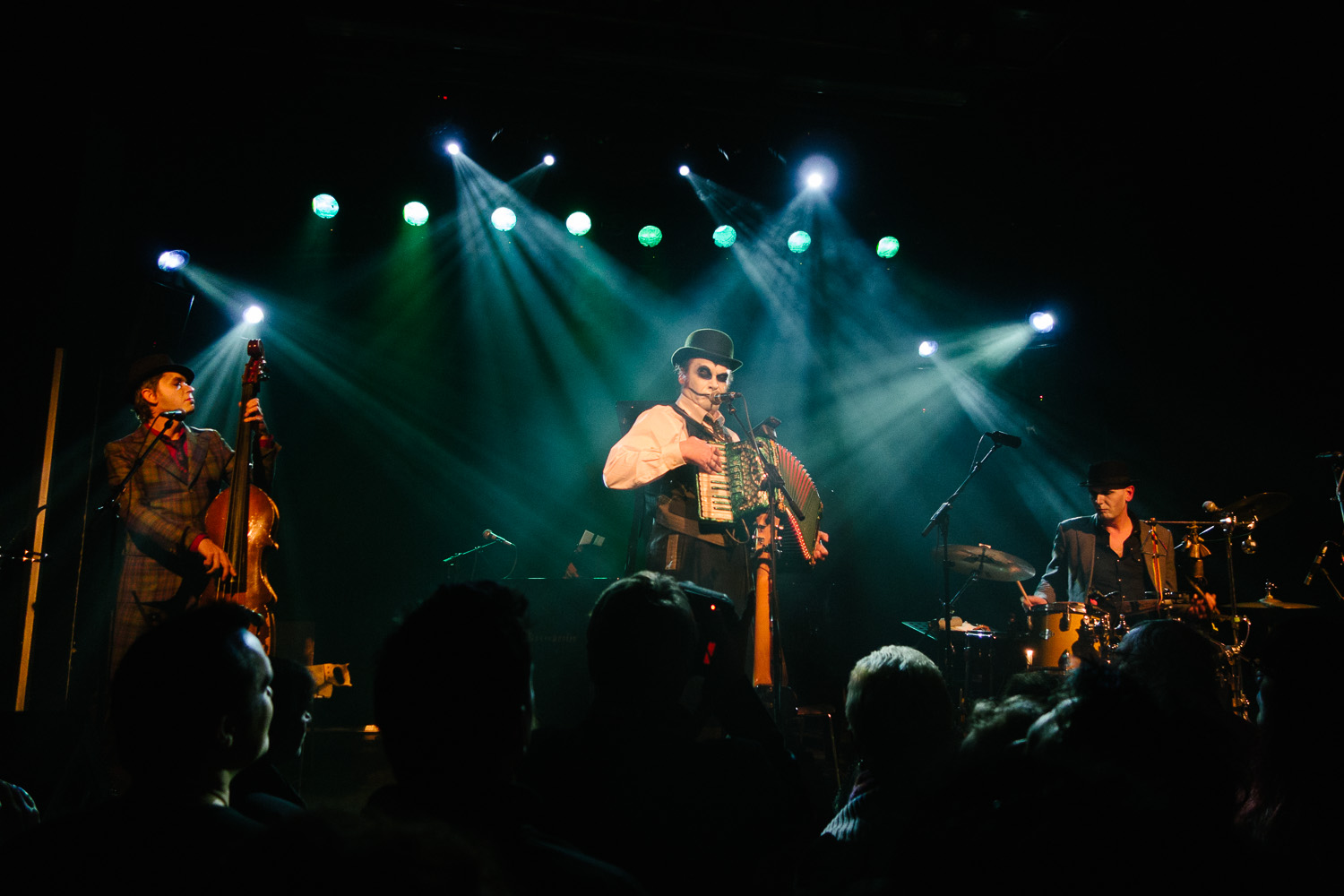 SONY DSC-RX100 (10.4mm, f/1.8, 1/100 sec, ISO640)

FUJIFILM X-Pro1 (14mm, f/2.8, 1/125 sec, ISO6400)

Canon EOS 6D (24mm, f/4, 1/40 sec, ISO6400)

RICOH GR (18.3mm, f/4, 1/250 sec, ISO100)

Panasonic DMC-GM1 (13mm, f/3.5, 1/15 sec, ISO2000)

FUJIFILM X-T1 (14mm, f/8, 1/400 sec, ISO200)

SONY ILCE-6000 (16mm, f/6.3, 1/60 sec, ISO125)

SONY ILCE-7R (24mm, f/8, 1/60 sec, ISO640)

Canon PowerShot G7 X (36.8mm, f/2.8, 1/200 sec, ISO200)

The Complete Switch
Before 2016 I shot different camera systems on parallel. I still shot a full frame DSLR from Canon (6D) and a full frame mirrorless from Sony (A7R) with Canon lenses (16-35/4 IS, 24-70/2.8 II and 70-200/2.8 IS) when on vacation and my Fuji cameras mostly with small primes when on business trips in Asia.
In March 2016 I bought the Fuji X-Pro2. The camera finally had a new sensor with improved resolution and dynamic range. AF was improved too. Except for very high ISO there was no benefit to shoot my Canon 6D and regarding dynamic range the X-Pro2 was even better than the Canon. I now took the Fuji all the time when I went out to take pictures and before my next vacation to the USA I finally decided to sell my Canon gear and the Sony and completely switch to Fuji.
The year before I shot our vacation with three different cameras: Canon 6D, Sony A7R, Fuji X-T1 and my wife shot with my Sony A6000. It was a nightmare to color match the output of those cameras to get a consistent look. 2016 I brought only one camera, the X-Pro2, so all my files had exactly the same look. What a relief!
FUJIFILM X-Pro2 (14mm, f/4, 1/1000 sec, ISO200)

FUJIFILM X100F (23mm, f/4, 1/100 sec, ISO320)

FUJIFILM X-H1 (11mm, f/5.6, 1/30 sec, ISO200)

SONY DSC-RX100M4 (8.8mm, f/4, 1/320 sec, ISO125)

The Future
Meanwhile my main camera is the X-Pro3. I still have the X-Pro2 which I will never sell and the X-H1. The only non-Fuji camera is the Sony RX100IV that I use rarely and my iPhone 12 Pro Max has become one of my most used cameras.
What about the future? I like that Canon and Nikon finally entered mirror less with real serious cameras after a lot of hesitation. Both offer great systems. When I look at the lenses I think the Canon is more tailored to fashion, wedding, portrait photography and the Nikon more towards landscape, wildlife and travel. I like how the Nikon Z camera handle and their compact f4 zooms and the rather compact f1.8 primes.
I checked it out for a couple of weeks when I bought a Nikon Z6 plus 24-70/4 for my mother in law. A very fine system but I still preferred the results that I got from my Fuji cameras coupled with the 16-55/2.8. To really get the most out of the Nikon Z I think you have to go Z7 and also get the f2.8 zooms. But of course that means that the system is not compact anymore at all.
I have no idea what the future will bring and how our cameras will look like 10 or 20 years from now. Will there even still be cameras? I hope so even though 90% of the people will shoot their pictures exclusively with their phones or their sunglasses.
FUJIFILM X-Pro3 (14mm, f/2.8, 1/45 sec, ISO6400)