I'm traveling a lot but if I like to play tourist at home. This is the place I visit. The inner city of Vienna.
This is one of the most touristic spots in Austria. The St. Stephan cathedral in the centre of Vienna. My challenge was that I only took my Fuji X100F. Not the best focal length to take pictures in a cathedral. And of course there is no IS or IBIS or anything that prevents camera shake so according to some voices on the internet there is no way to take a decent shot on low light.
But of course that's nonsense. There is no problem to take images with the Fuji X100F in low light. This is an excellent low light camera because it's excellent high ISO performance and also because of it's leaf shutter.
The more tricky thing is it's 23mm lens which works perfectly well for general and street photography but of course is a little too long for architecture and interior shots. Inside a cathedral you would normally use a very wide lens. Something like a 14mm or even a 10-24mm. With a longer focal length it's a little tricky to convey the size of such a building.
Nowadays I don't shoot in portrait orientation a lot anymore. Mostly because those images can't be used for a slide show on your TV because they are simply far too small to look good. But in a cathedral the most natural thing is to shoot in portrait orientation because those big churches were built to impress the prayers.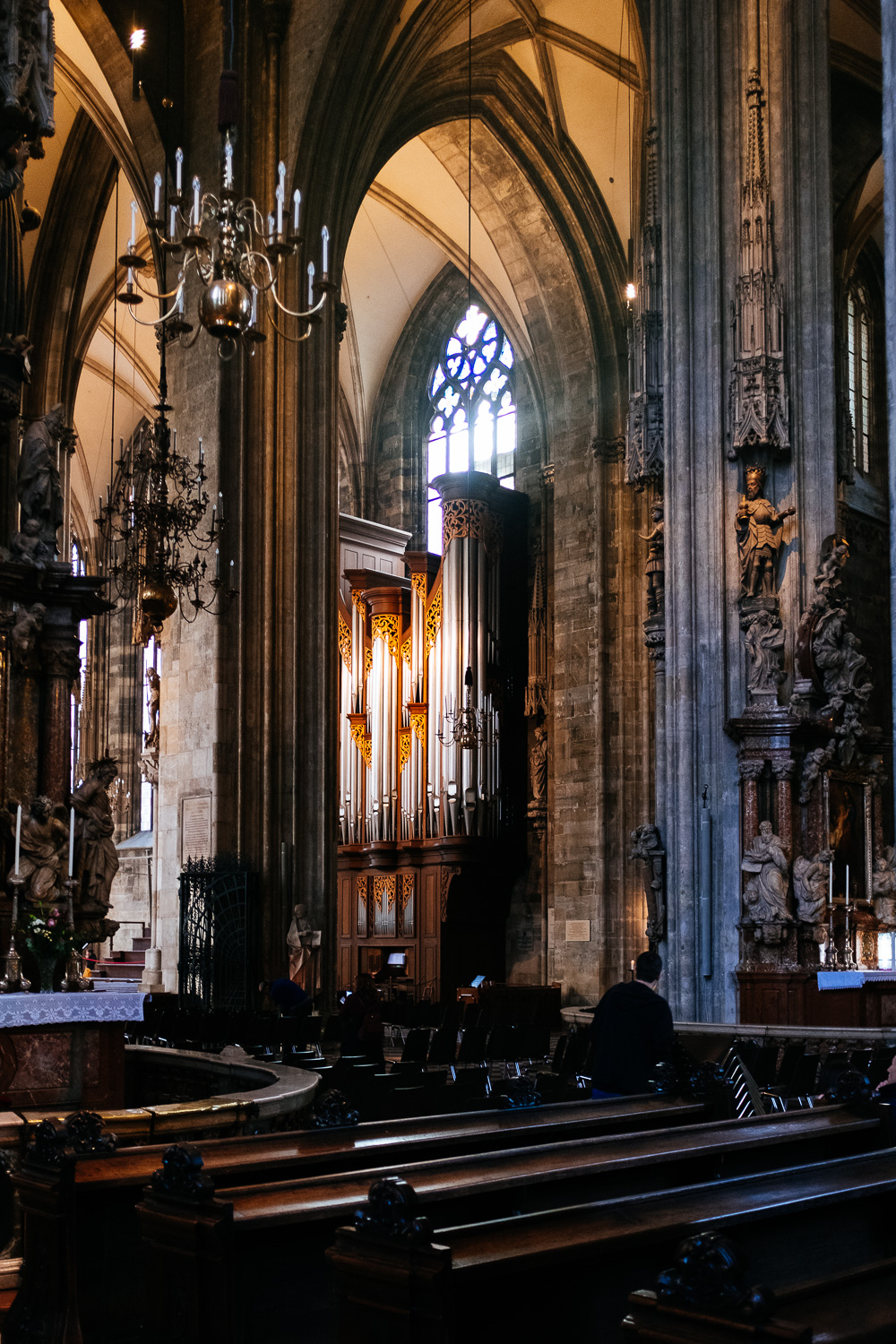 Even on a bright summer day this cathedral is rather dark and on a grey winter day it is worse. And there is a strong contrast in between the dark interior and the light that comes from the windows.
A couple of years ago those were challenging conditions for digital cameras but today it's not a big deal anymore. My X Pro-2 gives me an excellent dynamic range and even though I'm not a big fan of HDR images I like my camera to capture both highlights and shadow details as good as possible. You can always reduce shadow detail or blow highlights in post processing to give the image a punchier look but it's much more difficult the other way around. 
Those images might give you the impression that there are almost no visitors but that's not true. There are more visitors than ever before, so many that an entry fee has been introduced some time ago in case you want to enter the nave. It's only a small fee but it holds back the masses.
Once you passed the entry point you don't have to fight for some space for your elbows. It's also surprisingly quiet but sometimes I simply waited a little to get the people out of the frame. And last but not least this is a big cathedral so it can handle a certain amount of tourists at the same time without feeling crowded.
As always those images are practically without any post processing beside my favourite LR plug in from VSCO. It's their Velvia setting and most of the time I only apply this plug in and don't change anything else. Just yesterday I received an email from them where they state that they will no longer support their desktop plug ins and fully focus on mobile devices instead. Thank you very much VSCO! I think there are still a lot of people that use real computers to process their images. To abandon them is not a smart move.
Enough rant for today. Back to the X100F. I think it did great in the cathedral. For me that was no surprise. The Fuji X100 series are outstanding cameras. Extremely versatile and the X100F with the new sensor finally has an image quality that is a true match for much bigger DSLRs or mirrorless cameras. 
How about full frame cameras? I think there is a difference but in the real world it is very small. Of course a Nikon Z6 would give you IBIS and would allow for lower ISOs in poor light. And the full frame sensor should give you some advantage regarding high ISO but on the other hand you would need to shoot with a smaller aperture in order to get some depth of field. 
The real advantage of full frame today is the option to have very shallow depth of field if needed. If your focus is on that you still need a larger sensor format though lenses like the 23/1.4, 56/1.2 and 90/2 on the Fuji are getting you real close.
I learned something today the hard way. I hate falling lines so I used the correction in LR that gives me straight standing structures at the click of a button. But there is a price to pay. The new image of course has a narrower crop. That means that it cut out elements I wanted to have in the image. Note to myself: allow some room around the final frame. But for interior shots with a 23mm lens "that's easy said and schwer getan".