FUJIFILM X-Pro2 (14mm, f/5.6, 1/60 sec, ISO320)

With nowhere to go it is time to look back on my personal favourites of 2019.
Of course 2019 was a completely different story regarding travel. We didn't know about the virus that was about to change the world.
The first picture of this blog post I took inside the Kaufhaus Görlitz in Görlitz, Germany. I think it is better known as The Grand Budapest Hotel from the fantastic Wes Anderson movie. This is an important image because this place is in a period of transition. Right now it is renovated and there is a plan to reopen it as a fancy shopping centre in the middle of Görlitz. I hope it will work. It would be a sin to let such a location fall into decay. Just like The Grand Hotel Budapest.
The year 2019 started cold and with tons of snow. The image above is from our favourite cross country trails close to our home. The sky is blue and the snow is perfect but the restaurant in the back is closed. Nothing special in 2021 but in 2019 it was and unlike other restaurants this one will remained closed. Even though it doesn't look like that in the picture but the weather has changed and there isn't a lot of snow in lower altitudes. Not enough for those mountain restaurants to survive.
FUJIFILM X-Pro2 (23.4mm, f/5.6, 1/1250 sec, ISO200)

FUJIFILM X-Pro2 (14mm, f/2.8, 1/60 sec, ISO2500)

FUJIFILM X-Pro2 (23mm, f/5.6, 1/320 sec, ISO1000)

The next photo that looks like an image form Tolkiens middle earth is from the salt mine Wieleczka in Poland where hundreds of years ago miners created many chapels and this amazing cathedral hundreds of meters below the surface. The carved religious motives out of the salt. The cathedral was already a tourists attraction when Johann Wolfgang von Goethe visited the place more than 200 years ago.
It's an amazing place but it is almost impossible to cover in a photograph. As with all those amazing place you have to see them yourself.
Next is an image from an open air sea food market in Busan, Korea. I love sea food and I also love those markets though they can be challenging if it is warm. And on that sunny day in March in Busan it was very warm. I chose this picture carefully because some of the other things I saw in this market was not for the faint hearted. This was the last time I visited Korea because one year later I needed to cancel me trip because of the Covid-19 outbreak.
Below an image from Japan. From my favourite mode of transport when I'm in Japan. I just love the Shinkhansen. The sensation to travel with 300km/h while having a snack and watch the scenery fly by my window is something that will never grow old to me. And the image after that is from inside Tower Records Shinjuku. A time capsule where vinyl is sold like in the old days.
FUJIFILM X-Pro2 (23mm, f/5.6, 1/100 sec, ISO250)

Apple iPhone XS (4.25mm, f/1.8, 1/120 sec, ISO64)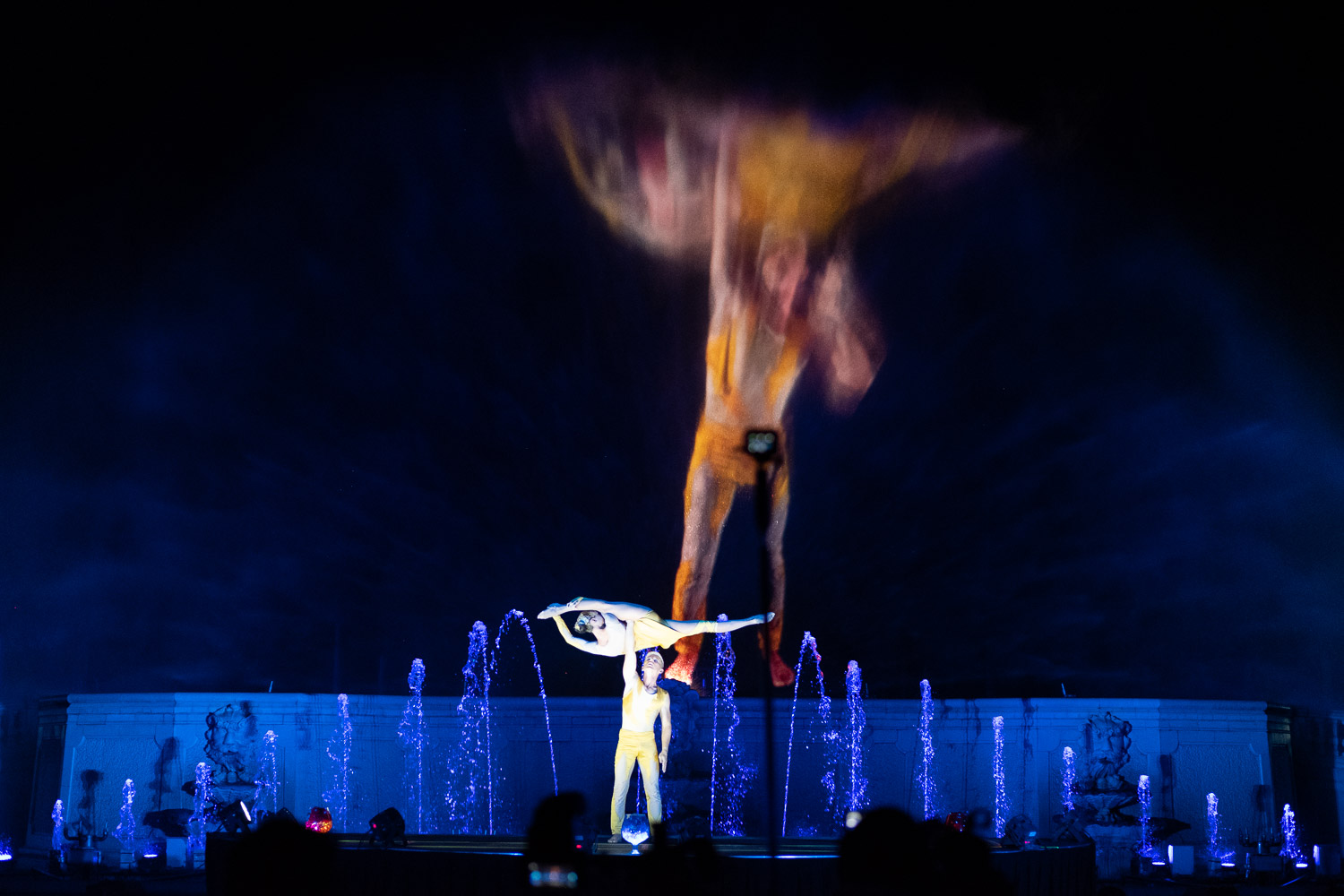 FUJIFILM X-Pro2 (50mm, f/2, 1/250 sec, ISO3200)

Above a photo I took during a performance in the garden of a beautiful castle in Austria. We went there with friends for a lovely afternoon. The weather was perfect and we sat down on blankets with nice food and wine. After sunset there was a concert, artistic performances and a laser show. It was just a perfect day.
Below an image from another perfect day that summer. An open air concert of Rod Stewart that was just wonderful. The audience was a wild mix but I think we still managed to be on the younger side. It was an extremely hot summer night in June. The next day I welcomed friends who visited from Japan to my house and we had a great evening on my balcony.
Apple iPhone XS (6mm, f/2.4, 1/70 sec, ISO16)

FUJIFILM X-Pro2 (181.1mm, f/6.4, 1/160 sec, ISO320)

FUJIFILM X-H1 (25.7mm, f/4, 1/30 sec, ISO1000)

Three picture from our last vacation in the USA. This time the first time on the east part. We flew to New York City. Our plan was to start with the road trip first and to return the rental car before we return for another couple of days to New York City. We chose to stay in a hotel on Staten Island to take the morning ferry to Manhatten. It was great idea because that way we entered Manhatten like some part of my family did more than a hundred years ago. We passed the Statue of Liberty and landed ion the South of Manhattan.
It was early in the morning so we were the only tourists on a ferry filled with commuters. Just images that this is the way to your office! Of course if you take it five days a week you don't really pay attention and since it was still chilly most passengers stayed inside. I was shooting all the time with two cameras. One with a wide angle lens and the other one with the 55-200. When the ferry from Manhatten to Staten Island was just at the right spot in front of the skyline I took the shot. It's one of my favourite shots from this vacation.
Next one I took on a beautiful hike through Watkins Glen. Another very special place that I even didn't know of before we started out trip. We started early so on our way up there weren't a lot of people. That changed on the way back. This is a busy place even in late September. But it is busy for a reason. It's just magical.
The next two are from Detroit. What can I say! Put your prejudices aside and get there. It's a great place. One of our favourite days of the trip.
FUJIFILM X-Pro2 (11.5mm, f/4, 1/30 sec, ISO1000)

FUJIFILM X-Pro2 (17.4mm, f/8, 1/250 sec, ISO200)

FUJIFILM X-Pro2 (50mm, f/5, 1/1250 sec, ISO200)

This was the year of special places and the last two images are no exception. First the gigantic monument just outside of Budapest. Like in most of the countries of the former Eastern Block Hungary has demolished those monuments of the communistic era. But luckily they did not simply trow it in a river they created a park where they put a lot of those monuments together. A special sight today and a real highlight of our short trip to Budapest.
Last is another exotic place. The ddp designed by the famous architect Zaha Hadid. A true gem from outside of theis world but conveniently located in Seoul, Korea. Best experienced during the blue hour.
What this blog post proves is that exotic places and beautiful places can be found everywhere. There is no need to travel the world because most likely there is one close to where you live.
FUJIFILM X-Pro2 (14mm, f/4, 1/40 sec, ISO1250)