FUJIFILM X-Pro2 (20mm, f/8, 1/80 sec, ISO400)

Nothing secret about the Desert Botanical Garden. I chose the title because I love to use song titles for my blog posts.
If you ever come to Phoenix, AZ you have to visit this place. I recommend to go in the evening to avoid the heat and because the light is so much nicer. In the previous blog post I focused on the fauna but in this one all about the plants or cacti to be more precise.
I grew up in the 70s and at that time it was very popular to have one windowsill dedicated to cacti and at least one Indian-rubber tree in the staircase or somewhere else in the house. But forget those small sad cactuses of your childhood this is the real thing.
FUJIFILM X-Pro2 (16mm, f/5.6, 1/400 sec, ISO1250)

FUJIFILM X-Pro2 (37.6mm, f/5.6, 1/400 sec, ISO1250)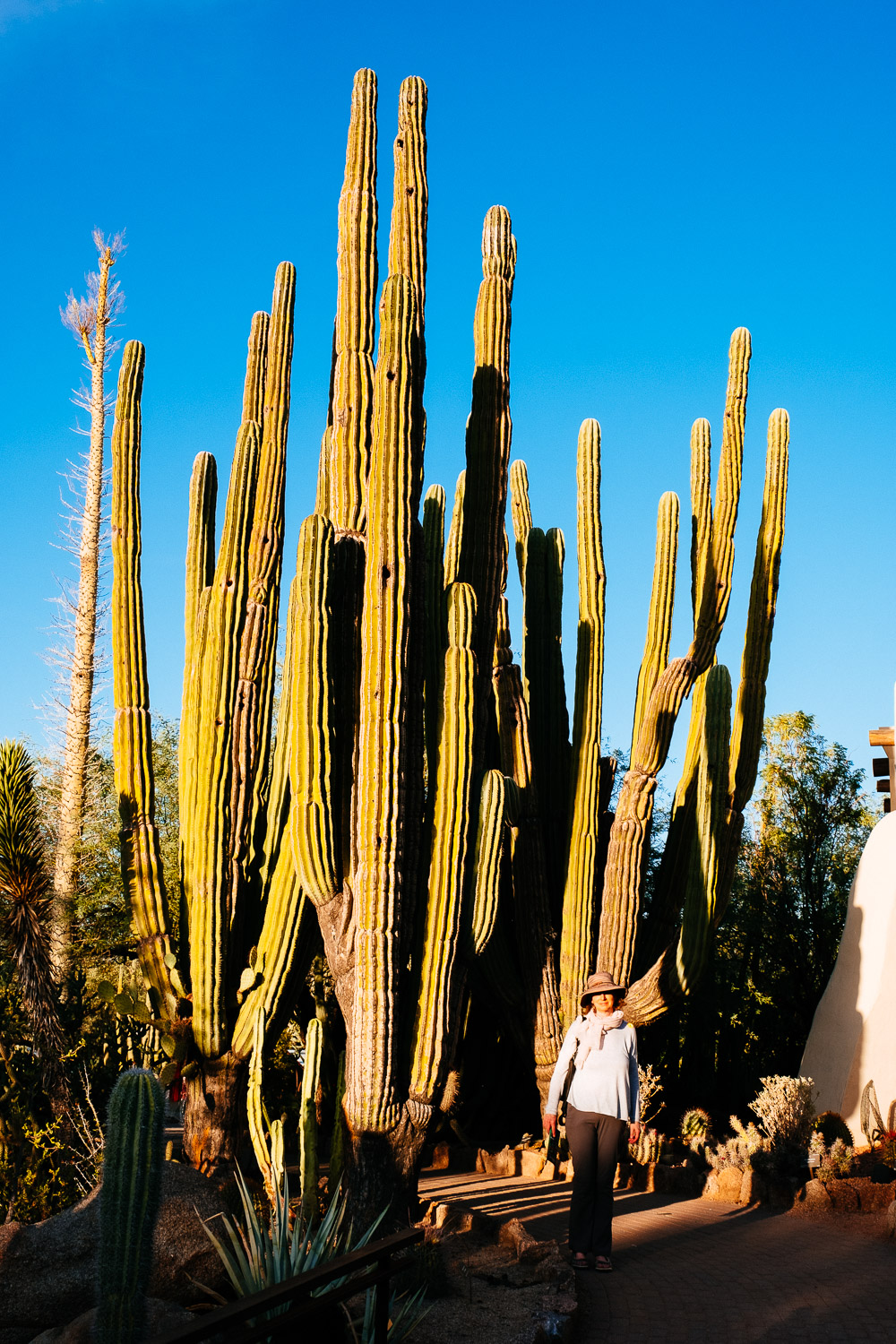 FUJIFILM X-Pro2 (29.2mm, f/8, 1/240 sec, ISO200)

I asked my wife to pose in front of the Saguaros to provide some scale. I'm not a botanist but you don't have to be one to find this place amazing.
There is a big parking lot for the visitors and I was afraid that it would be crowded but as you can see in my images it wasn't very busy at all. And the farther you get away from the main entrance the quieter it gets.
Most Americans are not used to walk so all it takes are a couple of steps more to leave the crowd behind. That's a good strategy for extremely busy places like i.e. the Arches NP. Leave your car behind and hike for a couple of minutes and the landscape is yours. That's true for all hikes except for the Delicate Arch hike. This is a still a rather short and easy hike but if you read a local brochure you think you are going to climb Mt. Everest. In the Alps it's the other way around. When a local guide tells you that it is a 4 hour hike you can add 1 hour.
So my message is: Don't be afraid when you see all those cars in the National parks or visitor parking lots. Just walk away from the road for a couple of minutes and it gets so quiet that you can hear your own heart beat.
FUJIFILM X-Pro2 (16mm, f/8, 1/125 sec, ISO250)

FUJIFILM X-Pro2 (16mm, f/8, 1/125 sec, ISO800)

FUJIFILM X-Pro2 (16mm, f/7.1, 1/125 sec, ISO200)

FUJIFILM X-Pro2 (32.1mm, f/9, 1/125 sec, ISO320)

FUJIFILM X-Pro2 (16mm, f/7.1, 1/125 sec, ISO1000)

FUJIFILM X-Pro2 (137.7mm, f/8, 1/125 sec, ISO500)

FUJIFILM X-Pro2 (400mm, f/6.4, 1/400 sec, ISO1250)

While I write this blog post it is cold outside. Of course it should be cold here in December but it is not cold enough for snow and there is no sun. Just the grey, wet winter days we got used to in the last couple of years.
But I can't get used to those days. They are just horrible. I want sun light and if there is no sun I at least want to have ice and snow but this dull grey days are pointless. I wonder how the weather is now in Phoenix. But that's the thing today you simply check that on the internet. It's around 12 degrees Celsius in Phoenix and around 2 degrees during the night and it's sunny. Someday I think we will forget about Christmas here and just fly away for a couple of days.
FUJIFILM X-Pro2 (100mm, f/6.4, 1/400 sec, ISO640)

FUJIFILM X-Pro2 (115.3mm, f/6.4, 1/680 sec, ISO200)

FUJIFILM X-Pro2 (22.7mm, f/4, 1/125 sec, ISO2000)

There is no wonder that we got addicted to the deserts of the South West. Warm, dry and sunny is a rare combination where we live. Don't get me wrong. Summers get very hot nowadays but they are also rather humid.
I have no problems with 40 degrees Celsius in the desert but I hate when it is above 30 degrees and humid. Worst is Singapore or most places in South East Asia right after a heavy rain that doesn't cool down but rather feels like a Sauna infusion.
Enough talk about the weather. There is nothing we can do about it. We can't change the weather. That's a fact. But we can change the climate.
FUJIFILM X-Pro2 (55mm, f/4, 1/220 sec, ISO200)