SONY ILCE-6000 (18mm, f/8, 1/640 sec, ISO100)

Sometimes all you need is a little luck. When we went up the Dachstein the mountain top was covered in fog but we decided to take the risk. It was the right decision.
When we entered the gondola station to buy the tickets the lady tried to talk us out to take the trip "There is thick fog up there. You will not see anything". But according to the weather report it should be sunny and bright by late afternoon. The only question was if it would be early enough for us. The last gondola back to down rides at 16:30.
The lady at the ticket counter didn't tell us a lie. When we arrived there was thick fog and it was windy and cold so we went to the restaurant first to have late lunch. Beside three ski riders we were the only guest in the restaurant.
After the lunch we decided to see the ice palace. A tunnel built into the ice of the glacier with some ice sculptures. Inside I shot the second camera I took with me so there are no images here. I will put them together in a second blog post. This post is all shot with the Sony A6000 plus the 18-200 OOS LE. The next blog post will contain the Fuji X-T1 images all shot with the 2.8/14mm lens. Kind of travel zoom version wide angle lens but back to here and now.
SONY ILCE-6000 (18mm, f/9, 1/400 sec, ISO100)

SONY ILCE-6000 (26mm, f/9, 1/400 sec, ISO100)

We tried our best to have some fun at the suspension bridge and the "stairway to nothingness" but of course it makes no sense if you can't see down. After we left the ice palace the clouds and the fog disappeared within a couple of seconds.
Now I started to take all the images I had in mind before we went there. I shot the wide angle stuff with the Fuji and the more general shots with the Sony A6000 plus the travel zoom. It's such a great thing to have a 18-200 zoom on a camera. You can go from wide angle to a strong tele with nothing but a twist.
SONY ILCE-6000 (18mm, f/9, 1/400 sec, ISO100)

SONY ILCE-6000 (18mm, f/9, 1/500 sec, ISO100)

SONY ILCE-6000 (48mm, f/10, 1/160 sec, ISO100)

We had a great time on the mountain top (almost, technically we were at 2.700 meters the top is at 2.995 meters) except there was one thing: I didn't attach the camera strap on the Sony A6000 because I had to stow it in my drinkbelt when xc skiing.
Without the strap I always feared that the camera might slip out of my hands. I also asked my wife not to put the camera outside the handrails when she was shooting with it. What you drop here is lost forever. There is no way to get it back. I wonder how many have lost their smartphones or cameras here already. I had no problem on the suspension bridge beside my fear to drop and loose my camera. When shooting my Fuji I was relaxed because of the camera strap. I think I have to attach the strap on the Sony asap.
SONY ILCE-6000 (26mm, f/11, 1/400 sec, ISO100)
 
SONY ILCE-6000 (161mm, f/11, 1/320 sec, ISO100)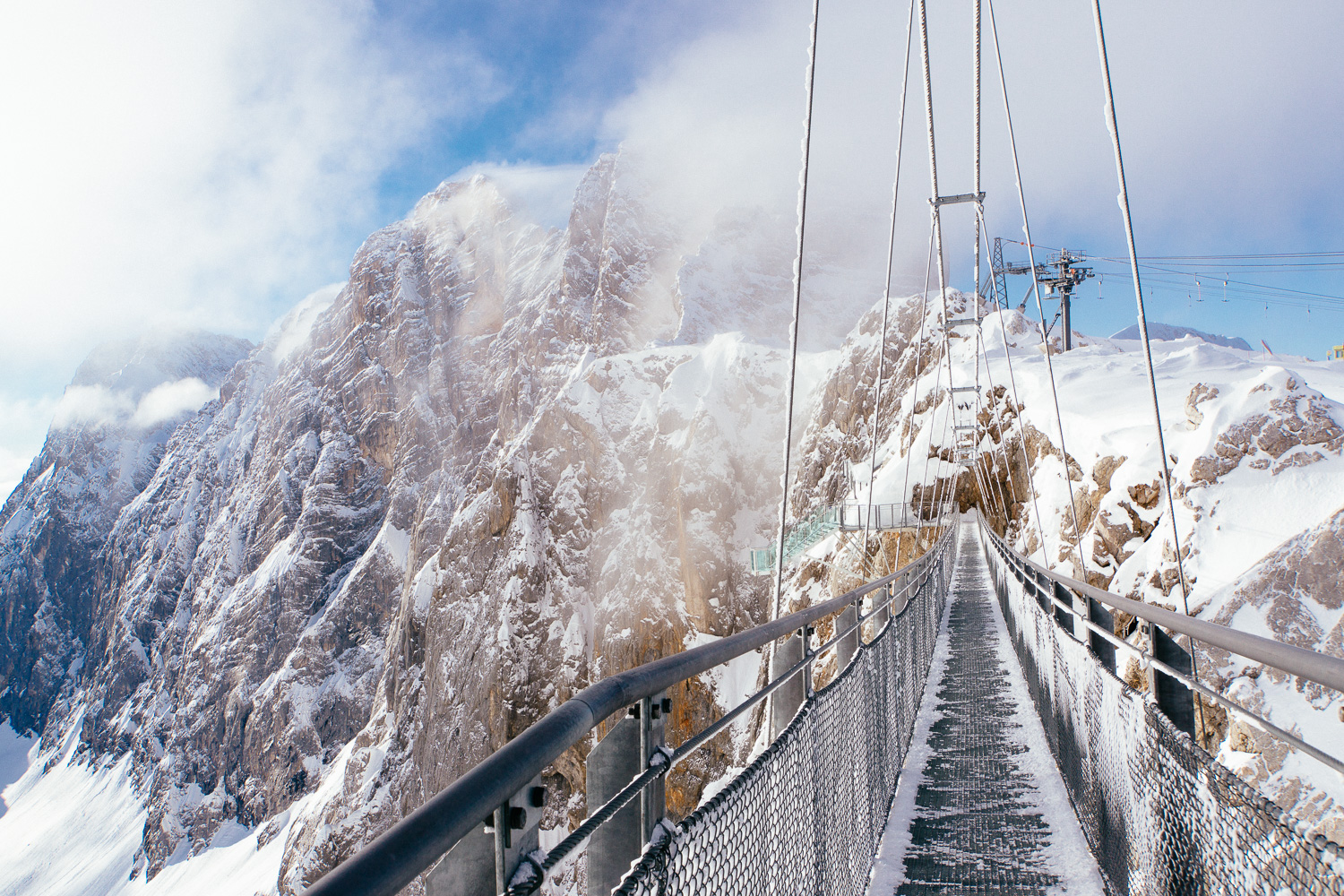 SONY ILCE-6000 (22mm, f/9, 1/250 sec, ISO100)

But the fact that I did not use the strap was hardly Sony's fault. The camera and especially the 18-200 were fun to use. This is an extremely capable combination while it still remains small and compact.
And of course there is Sony's killer feature: The best panorama mode on all cameras. Very simple to use and extremely reliable. Panoramas are a little tricky. They are very hard to present. It is useless to show them on the large TV set because they are nothing but a thin stripe. They are hard to display on the internet for the same reason and usually they are also much too wide for the average photo book. But they are fun to shoot and they are the best option to cover a wide landscape. The panoramic pictures I took at Monument Valley with the Sony NEX 5 almost 5 years ago are the best pictures I ever took there.
Here the two panoramas give a good overview about the location.
SONY ILCE-6000 (18mm, f/13, 1/320 sec, ISO100)

SONY ILCE-6000 (18mm, f/13, 1/320 sec, ISO100)

SONY ILCE-6000 (29mm, f/9, 1/500 sec, ISO100)

There was a strong wind and the fast moving clouds produced a very attractive lighting situation so I decided to take some portraits. My wife has covered here face to protect the skin and put on the hood. Despite the blue sky the -9 degrees Celsius plus the strong wind made it rather unpleasant to stay outside.
But to go inside was not an option because the scenery was too beautiful. I was happy to shoot with the 18-200 lens because a lens change is not a good idea when the wind shoots ice crystals in your face like little knives. You can see them in the portrait that my wife took of me. Just take a closer look on the white stripes in from of my shoulder.
My two cameras handled brilliantly. It seems that the days are gone where batteries in digital cameras only lasted for a couple of shots in the cold. I once went through 3 batteries in my Nikon D1 to take about 300 shots.
SONY ILCE-6000 (28mm, f/9, 1/200 sec, ISO100)

SONY ILCE-6000 (40mm, f/8, 1/160 sec, ISO100)

SONY ILCE-6000 (35mm, f/8, 1/200 sec, ISO100)
 
SONY ILCE-6000 (87mm, f/9, 1/250 sec, ISO100)

Above you can see the xc ski track. We didn't ski that day. I don't think it is a good idea at 2.700 meters above sea level. I'm still not fully recovered from my bicycle accident. I hope to get back in shape this summer. I even used the magic carpet instead of the stairs but it was mainly to escape the wind for a couple of seconds.
Unfortunately the last gondola rides at 16:40 so there was no chance to watch the sunset. Most of the people on the last ride were staff from the restaurant and Pistenbully riders but there was also one lady from Singapore. She was in her mid thirties and this was her first trip to Austria. She has never experienced snow before in her life.
SONY ILCE-6000 (18mm, f/9, 1/200 sec, ISO100)

SONY ILCE-6000 (133mm, f/7.1, 1/320 sec, ISO100)

SONY ILCE-6000 (25mm, f/9, 1/200 sec, ISO100)