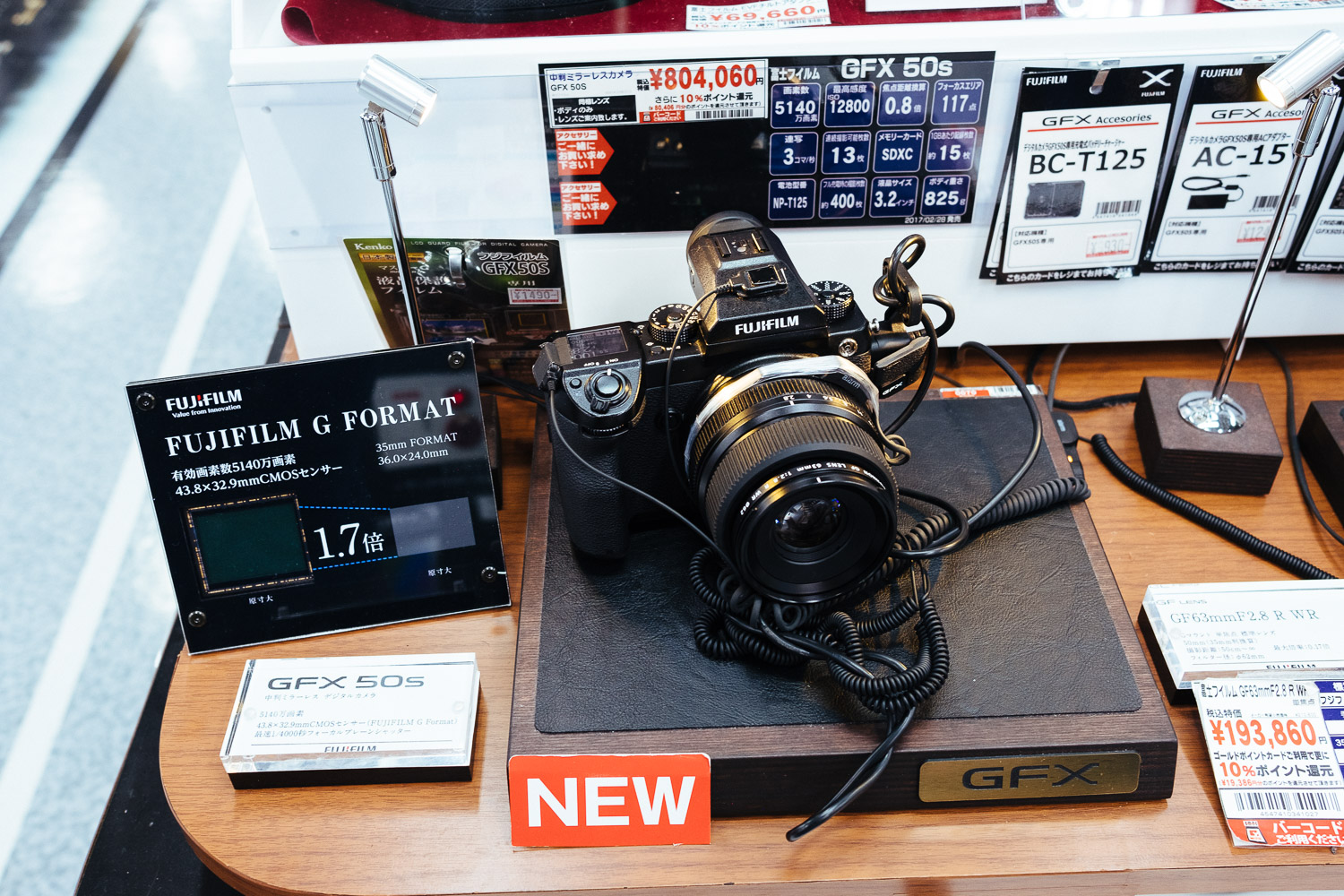 FUJIFILM X-Pro2 (23mm, f/4, 1/60 sec, ISO640)

It all started about 6 years ago with a small, innocent camera with a hybrid viewfinder and an integrated lens. This camera is anything but small but it has many things in common with Fuji's X100.
I'm currently in Japan. THE place to check out new gear. I already saw a new 65 inch OLED TV from LG that is less than 4mm thin (or about 0,15inches in some parts of the world). No matter if mm or inch that is really slim and it looks amazing on a wall.
But back to the Fuji GFX 50S. This is not a slim camera but it is small for a medium format camera. Not the smallest though. That crown belongs to Hasselblad X1D. I have not played with the Hasselblad yet but pictures tell me that it is more of a design statement than a tool. The Fuji GFX 50S feels like a super size Fuji X-T2, it feels like a true photography tool.
FUJIFILM X-Pro2 (14mm, f/2.8, 1/60 sec, ISO250)

FUJIFILM X-Pro2 (23mm, f/2.8, 1/60 sec, ISO320)

FUJIFILM X-Pro2 (14mm, f/2.8, 1/60 sec, ISO320)

It is really amazing how simple it is to operate this camera. Whoever shot a X-T or X-Pro camera from Fuji feels right at home here. The ISO dial, the shutter dial but wait where is the exposure compensation button? Of course I failed to figure out how to change exposure compensation. Time to update my varifocals! It is the small knob beside the shutter button. The exposure compensation button had to give way to the top display which simply looks beautiful in real life. And it makes a lot of sense. This camera will spend most of its life in full manual mode so there is no need for a exposure compensation dial.
Beside the top display and the missing exposure comp dial it really looks like a X-T camera. Fuji even took the four way controller from the X-T cameras. I think they should have chosen the X Pro solution instead. I never liked the controller on my X-T1 and even though the controller is improved here it still feels out of place on such a camera.
The camera is surprisingly light but it still feels solid. It is just strange to lift up something that big which such a low weight. The lens helps of course. The other lenses are much bigger and heavier.
FUJIFILM X-Pro2 (14mm, f/2.8, 1/60 sec, ISO250)

Am I tempted to get one? I be honest: no. Don't get me wrong. This is a fantastic camera. It feels great and I'm sure its files would be breathtaking but it is just not for me. If I would be a landscape photographer or a professional portrait photographer I would consider it. There is a wide angle zoom for landscape photography and there are a couple of primes for portraits.
But I have chosen the Fuji X system for its compactness. I travel a lot and Fuji has created the perfect camera for travellers. Especially with the first class primes lenses that is a combination that is hard to beat. I like it big but when you travel small is beautiful!
FUJIFILM X-Pro2 (23mm, f/2.8, 1/60 sec, ISO800)