FUJIFILM X-Pro2 (14mm, f/8, 1/80 sec, ISO320)

Sometimes everything comes together: Perfect location, perfect light. Like on this Saturday afternoon in New Delhi. Days like this are the reason why I will never spend a weekend at the pool.
Business trips are exhausting but the worst part is that you always just sit around. Airports, hotels, taxis, meeting rooms, restaurants. Most of the times there is no chance for any kind of workout or even a long evening walk. The only chance to get out is on weekends and  that's the reason why I always bring my camera. This is my sixth trip to India but the first time I went there for two weeks. The first time to spend a full weekend there. So of course I went for sightseeing on both days.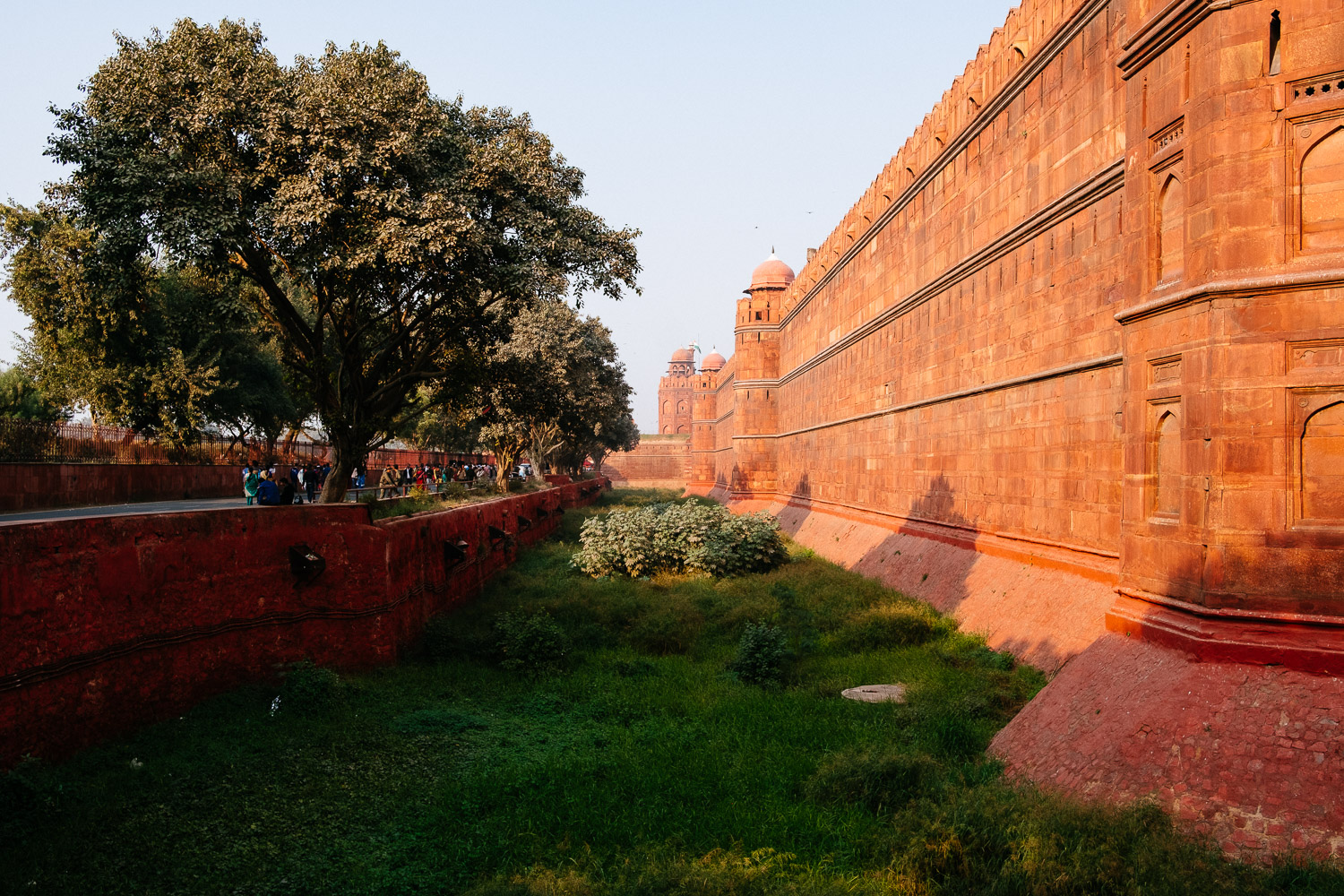 FUJIFILM X-Pro2 (23mm, f/8, 1/250 sec, ISO250)

FUJIFILM X-Pro2 (23mm, f/8, 1/250 sec, ISO250)

Here is my report from Saturday afternoon where I visited the Red Fort. A truly impressive building from the 17th century. Its name derived from the red sandstone they used to built its walls.
Before I even entered I had my fist photo opportunity. One that was not for free though. This young entrepreneur asked for 20 Rp to take images of his two old timers. Of course I paid but I asked him to take his portrait. He agreed but he looked a little tensed because he was afraid that somebody could take an image without paying in the meantime. My new lens, the XF 23/2 WR, was the perfect lens for the portrait because it is wide enough to capture the car too.
Thanks to face detection and fast AF the shot was taken in an instant. No comparison to the X Pro-1 or to the X100 I had when I started to shoot Fuji. The X Pro-2/XF 23/2 WR combo is fast enough to cover those spontaneous shots without any hassle. A delight for all early adopters who started their Fuji experience with the X100.
FUJIFILM X-Pro2 (23mm, f/8, 1/250 sec, ISO640)

FUJIFILM X-Pro2 (14mm, f/4, 1/80 sec, ISO320)

FUJIFILM X-Pro2 (35mm, f/2.8, 1/1500 sec, ISO200)

But the X Pro-2 also breaths new life into my XF 35/1.4 R. When I got the X Pro-1 in December 2012 I started with the XF 18/2 and the XF 35/1.4. While I loved the output of the XF 35/1.4 I hated its pedestrian focus speed which made it almost impossible to use for street photography.
It's still not the fastest lens on the planet but on the X Pro-2 it is perfectly useable for candids like the little scene above. When I saw the family sitting there in the beautiful soft afternoon light I knew that I had to take the image. So I prepared the camera by setting aperture and put the AF focus field to the lower half of the frame. When I passed by I raised the camera to my eye, framed and took the shot. The camera focused fast and confident. It only took a second or two. If you look at the image it is clear that nobody realized that I just took this image.
You don't have a lot of time to take such a shot. I'm white, I'm tall and I have a camera. I stick out here much more than I do in the center of Vienna. So it is very important that the camera works as quick and reliable as possible. With the X Pro-1 I mainly shot with the 14mm lens and without AF to be able to capture the moment. Now I'm back to autofocus  for almost all situations.
FUJIFILM X-Pro2 (35mm, f/4, 1/550 sec, ISO200)

FUJIFILM X-Pro2 (14mm, f/8, 1/80 sec, ISO400)

FUJIFILM X-Pro2 (14mm, f/5.6, 1/150 sec, ISO200)

I finally have found my perfect set of lenses for my business trips. The most important thing here is that the equipment is light and small but of course it should still be very capable. Basically the idea of mirror less: To have a camera system that is smaller and lighter than a DSLR system but just as capable.
With some lenses, especially with the f2.8 zooms, you wonder what is left from the weight advantage of mirror less. A Canon 6D combined with f4 zooms would be very much the same. Same is true with the super fast primes like the 16/1.4,  the23/1.4 and the 56/1.2. Don't get me wrong. I have those fast primes and I love them for what they can do but it's hard to ignore that the size, weight advantage is gone as soon as you put them on the camera.
My new set of lenses to travel light:
The three lenses I used on this trip are all small and light. The XF 14/2.8 R covers the wide angle part just perfectly. The wider view helps to capture more of the scene and also helps a lot with falling lines because you don't have to tilt the camera as much to cover the building.  The XF 23/2 WR is the perfect allrounder. It gives a field of view that works for most situations. I traveled to Eastern Europe with nothing but the Fuji X100 and I was surprised how versatile this lens is. And the fact that it is small and light, focuses very fast and that it is weather sealed makes it even more attractive.
And last but not least the XF 35/1.4 R. A truly great lens. Even though the XF 56/1.2 R is slightly  sharper and offers better subject isolation I prefer the 35/1.4. The 56/1.2 is too long for my taste which makes it a kind of portrait only lens. For most portraits I prefer to include the surroundings and therefore I shoot with the 35/1.4 or even with one of my 23mm lenses. The XF 35/1.4 R simply is more versatile and that's an important thing if you limit yourself to just three primes. Why not the newer, faster focusing and weather sealed XF 35/2 WR? I prefer the rendering of the 35/1.4 and I like the fact that it is one stop faster but hardly heavier than the new lens so I'm willing to compromise on AF speed.
It's December in Northern India and that means winter and the people dress accordingly. Especially when it comes to their kids only the warmest pullovers and jackets are good enough like in the image below. I think I should mention that the temperature was 25 degrees Celsius that day.
I asked if I could take a family shot and they agreed. They had no email address so I could not give them the photo. If I would go to India for vacation I would get a small printer for those occasions.
FUJIFILM X-Pro2 (35mm, f/2, 1/1250 sec, ISO200)

FUJIFILM X-Pro2 (14mm, f/9, 1/200 sec, ISO200)

FUJIFILM X-Pro2 (23mm, f/8, 1/80 sec, ISO320)

I love to put people in my images. People give the viewer a sense of scale. What's a gigantic waterfall without a hiker in the frame that shows its true size. For those nature shots you might have to wait some time to get a lonely hiker into the frame. In India it's the other way around. There are so many people that it's hard to include only one or two in the picture and it's almost impossible to get a shot like the one below without people getting in between you and your subject.
I wanted to take a shot of the couple in front of the beautiful bows of the building. I opened up the lens and waited until there was nobody else in between me and them. When I finally had a clear view their kid looked up and stared at the ceiling and I knew I had the perfect shot. An image that illustrates the size of the building.
FUJIFILM X-Pro2 (35mm, f/2, 1/1700 sec, ISO200)

FUJIFILM X-Pro2 (23mm, f/2.8, 1/80 sec, ISO500)

When I left the building I saw a big statue of an elephant made of black stone. A couple of minutes later I saw a real elephant close to Connaught Place taking part of the rush hour traffic in New Delhi. I was amazed how fast this fully grown elephant bull was walking. He did not slow down the traffic at all.
What a lovely day! Beautiful light at a great location and the first time I saw an elephant on the road in New Delhi. No way I would ever spend a day at the pool!
FUJIFILM X-Pro2 (23mm, f/2, 1/200 sec, ISO200)