FUJIFILM X-T1 (55mm, f/7.1, 1/125 sec, ISO200)

This year in June I spent an amazing three weeks in California. But that is not the story and its hardly real news. I went there the last 4 years and also in 2010. This is about camera gear.
I switched to digital in January 2002. I bought a second hand Nikon D1 and I never looked back. In 2007 all my camera gear was stolen and I used the opportunity to switch to full frame with the Canon 5D. Since then I shot full frame especially on my main vacations. But on my first trip to the USA in 2010 the camera I shot the most was a Sony NEX 5. I just loved the experience that something so small can give me high quality images.
Since then I always had a mirror less camera as a side shooter and in 2014 I took nothing but my Fuji X gear (Fuji X-T1 and Fuji X Pro-1 plus lenses) because I had a broken collarbone that just healed before the trip and didn't want to carry a heavy backpack. Last year I returned to full frame with a Sony A7R plus a Canon 6D with the following Canon lenses: 16-35/4 IS, 24-70 II, 70-200 II.
But this year I bought a Fuji X Pro-2, finally sold my Canon gear and got the Fuji XF 10-24 OIS, the Fuji XF 55-200 OIS and the Fuji XF 16 WR and returned to California.
FUJIFILM X-T1 (81.9mm, f/9, 1/240 sec, ISO200)

FUJIFILM X-Pro2 (16mm, f/1.4, 1/80 sec, ISO3200)

I always loved full frame sensor cameras for their better high ISO picture and better DOF control but since I started to shoot the Fuji X Pro-2 the difference to my full frame cameras has become too small to justify to lug heavy cameras and lenses around. The X Pro-2 sensor is as close as it gets to full frame and fast primes like the 16mm or the 23mm give me excellent DOF control. Plus the shooting experience is much better with the X Pro-2.
But the biggest difference of course is size and weight. For this vacation I took the following gear:
Fuji X Pro-2
Fuji X T-1
Fuji XF 10-24 OIS
Fuji XF 18-55 OIS
Fuji XF 55-200 OIS
Fuji XF 14 R
Fuji XF 16 WR
Fuji XF 23 R
Fuji XF 27
Practicably almost everything I own. I only left the XF 35/1.4 and the XF 56/1.2 at home. All the gear listed above fits into a Think Tank Streetshooter back bag. This is a rather small but surprisingly roomy camera bag. I also brought the Think Tank Retrospective 5 and took it for city walks in San Francisco and Las Vegas and every time I wanted to keep it simple. In those cases I mostly took nothing but the X Pro-2 plus either the 14mm or the 16mm and the 27mm.
FUJIFILM X-Pro2 (99.8mm, f/5.6, 1/200 sec, ISO320)

FUJIFILM X-T1 (13.2mm, f/9, 1/400 sec, ISO200)

FUJIFILM X-Pro2 (200mm, f/9, 1/1800 sec, ISO200)

How did work? What was the main difference in between 2014 where I also shot nothing but Fuji and this year? Well the most obvious difference was that I now had the 10-24 and the 55-200 (it replaced my 50-230) and that I added the fantastic 16mm prime but the biggest difference was the X Pro-2.
It's such a great camera! Yes I said it before: This camera munches through batteries like Homer Simpson through a box of donuts but beside that there is no reason to complain. The Fuji X Pro-2 is a fast responding camera and its EVF is fantastic. It is super bright especially in bright conditions where I barely could see the image in the EVF of my X-T1. I can now confirm that the bright EVF is the main reason for the very high battery consumption of the X Pro-2. When I shot it on the beach it drained the battery very fast but in the Monterey aquarium the battery lasted forever. I only shot in high performance mode but switched back to battery save mode one time because I forgot the spare batteries in my other bag.
But it is not only the EVF that makes it hard to switch back to the X-T1. The X-T1 feels slow and unresponsive in comparison. Less enjoyable to shoot with. And of course there is the image quality. There is a real difference in between 24MP and 16MP. I prefer to shoot with two cameras because it helps me to avoid to change lenses but it meant a compromise on image quality. I ended up using the X Pro-2 with the lens that I plan to shoot more and put the other lens on the X-T1. In most cases the 55-200 was mounted on the X-T1 except when I shot wildlife or surfers.
Originally I had no plans to get an X-T2 but now I know that I either get an X-T2 or simply another X Pro-2 before my next vacation. The X-T1 is a great camera but compared with the X Pro-2 it felt like my X Pro-1 felt compared with the X-T1 two years ago: outdated!
FUJIFILM X-Pro2 (16.6mm, f/8, 1/60 sec, ISO320)

FUJIFILM X-Pro2 (10mm, f/10, 1/350 sec, ISO200)

I will cover the lenses and the statistics in another blog posts soon but what I can say right now is that of course the 10-24mm and the 55-200mm were the lenses I shot with most of the time. Followed by my all time favorite the 14mm. This is what I expected before the trip.
What truly surprised me was how often I shot with the 16mm and with the 23mm despite their weight and size. Those are truly fantastic lenses and they can make the difference. Those lenses can give me that shallow depth of field associated with full frame cameras. One of my favorite shots is the very last picture of this blog entry. My wife looking out of the window of our hotel room in San Francisco. I took a couple of shots also with smaller apertures but my favorite by far is the one with the lens shot at f1.4.
As much as I love the X Pro-2 I still think that the real beauty of the Fuji X system is in its lenses. You can have compact and light high quality zooms like the 10-24, the 18-55 and the 55-200 and you can get fantastic primes like the 14, 16 or 23 or the others to add some magic. And while the 16mm and the 23mm are a little too heavy for my taste they are still compact and light compared to full frame lenses. Before this vacation I planed to replace the 23/1.4 with the upcoming 23/2 but now I'm not so sure anymore. f1.4 makes a lot of sense!
Same is true for the new star in my camera bag: the fantastic Fuji XF 16/1.4 WR.
FUJIFILM X-Pro2 (16mm, f/3.6, 1/100 sec, ISO500)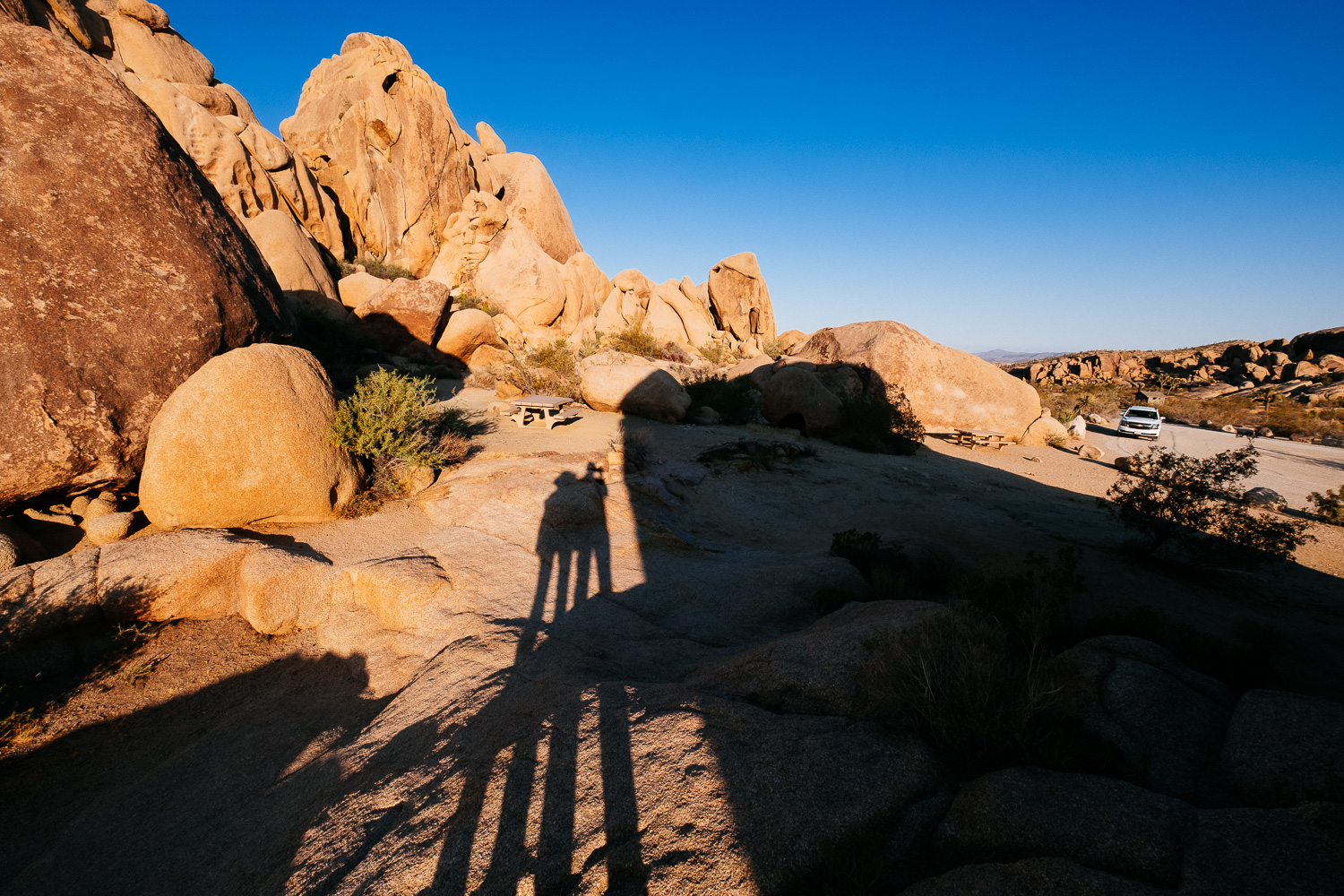 FUJIFILM X-Pro2 (10mm, f/10, 1/240 sec, ISO200)

This blog post contains only two images taken with the 16mm but this is an amazing lens. It is so versatile because of the close focus distance and the super fast aperture. I think it is the perfect social lens because it can cover a group of people and it allows for fast shutter speeds in poor light.
I put two lenses in my camera bag for the Monterey Aquarium: the 10-24/4 OIS (because of its coverage and because of OIS) and the 16/1.4. The 10-24 didn't work at all because you need to have a fast shutter speed for most fishes so I swapped it for the 16/1.4 at the first tank. I should have brought the 23/1.4 instead of the 10-24. I also shot it on our evening walk in Las Vegas where the lens performed just great. And I always chose the 16mm to take pictures of our food. But since our food was mostly burgers or sandwiches there is not much that I can show here. It is a great lens for food photography and all other close subjects too. Close up subject against a beautifully blurred background. It even works for environmental portraits if you don't get too close to your model. Out of focus rendering is just beautiful. I haven't thought that this is possible for such a focal length.
The 16mm is a real winner for me and like the 23mm I will not replace it with a slower version if there will be one in the future.
FUJIFILM X-Pro2 (24mm, f/11, 1/950 sec, ISO200)

FUJIFILM X-Pro2 (13.2mm, f/9, 1/340 sec, ISO200)

What else? Maybe enough gear talk already. I should say something about the pictures of this blog post. Those are some of my personal favorites of the trip. I already talked about the last shot but I want to pick out three more shots.
The first one is taken in Death Valley at the iconic Zabriskie Point. For the first time I was able to capture its beauty at sunrise because we stayed in the park at the hotel in Furnace Creek and drove there before breakfast. It happened that we were in Death Valley on the 20th and 21st of June so I broke my heat record with over 50 degrees Celsius. The air-condition in our room couldn't handle the heat so we had about 30 degrees in the room and the cold water from the tap was warm enough to take a shower but it was well worth it. Zabriskie point is a great location but at sunrise it's pure magic!
The other image I want to pick out is from the Sequoia National Park. Even though we have been in the USA a couple of times before it was the first time we visited this park. Those giant, up to two thousand year old trees are breathtaking but they are also almost impossible to capture because they are simply too big to fit into the picture. So I decided to take an image of two tree trunks in front of normal trees. I placed my wife at the second trunk to give the viewer an idea about their size.
The last image I want to highlight is the image right below the tree shot. It is taken in Death Valley and it shows a point called "artist's palette" which refers to the colorful rocks in the background. As mentioned above it was over 50 degrees that day and I was exhausted from a full day of sightseeing in the park. In short: I was too lazy to walk down to the colorful rocks. So I took a couple of shots with the tele-zoom instead when I realized that the evening sun cast a nice shadow of me. I swapped to the 10-24 and took a shot at its widest setting to show how small we are in this hostile landscape.
The ultimate tip at the end: Less is more!
Those images are taken with different cameras and with different lenses but they have one thing in common (beside the shot on the pier): They were all taken either in the morning or in the evening were the light is soft and warm and the contrast is low.
When we travel to foreign places we tend to travel too fast to cover as many locations as possible. It's too easy to fall into this trap. We visit most places during the day, take some shots and rush to the next location. As a result we end up with a lot of images taken in harsh daylight or night shots taken after the blue hour.
I have been to Death Valley before but this year I stayed there overnight instead of to just drive through it on my way to Las Vegas. That way I was able to cover the park in its real beauty. And this is true for every location. Within the last couple of years I have learned to travel slow or at least much slower than before. I have finally learned that less is more.
FUJIFILM X-Pro2 (23mm, f/1.4, 1/60 sec, ISO640)