FUJIFILM X-Pro2 (16mm, f/2.8, 1/60 sec, ISO400)

Ok. Maybe an odd title for a blog post but it is related to a very special shooting experience with the Fuji X Pro-2 that I had in Vietnam last week. Beside that I'm not enlightened at all (yet).
And of course it also has to do with my obsession to use song titles for my blog entries. If you listen to Van Morrison's song its clear that he also struggles with enlightenment.
Enough about the title but before I talk about the Fuji X Pro-2 some words about the location. It is the Emperor Jade pagoda in HCMC (or Saigon), Vietnam. If you ever plan to visit the place it is important to either learn the correct pronunciation of its vietnamese name: Chua Ngoc Huang which is next to impossible or to simple write down the name or address on a piece of paper and hand it to the taxi driver. If you don't you will end up standing in front of the wrong temple and you will find yourself playing charade with the taxi driver. I tried to play a fish (because there is a pond with fishes and turtles in front of the temple) but a couple of days later learned that my attempts were all wrong.
FUJIFILM X-Pro2 (16mm, f/4, 1/60 sec, ISO800)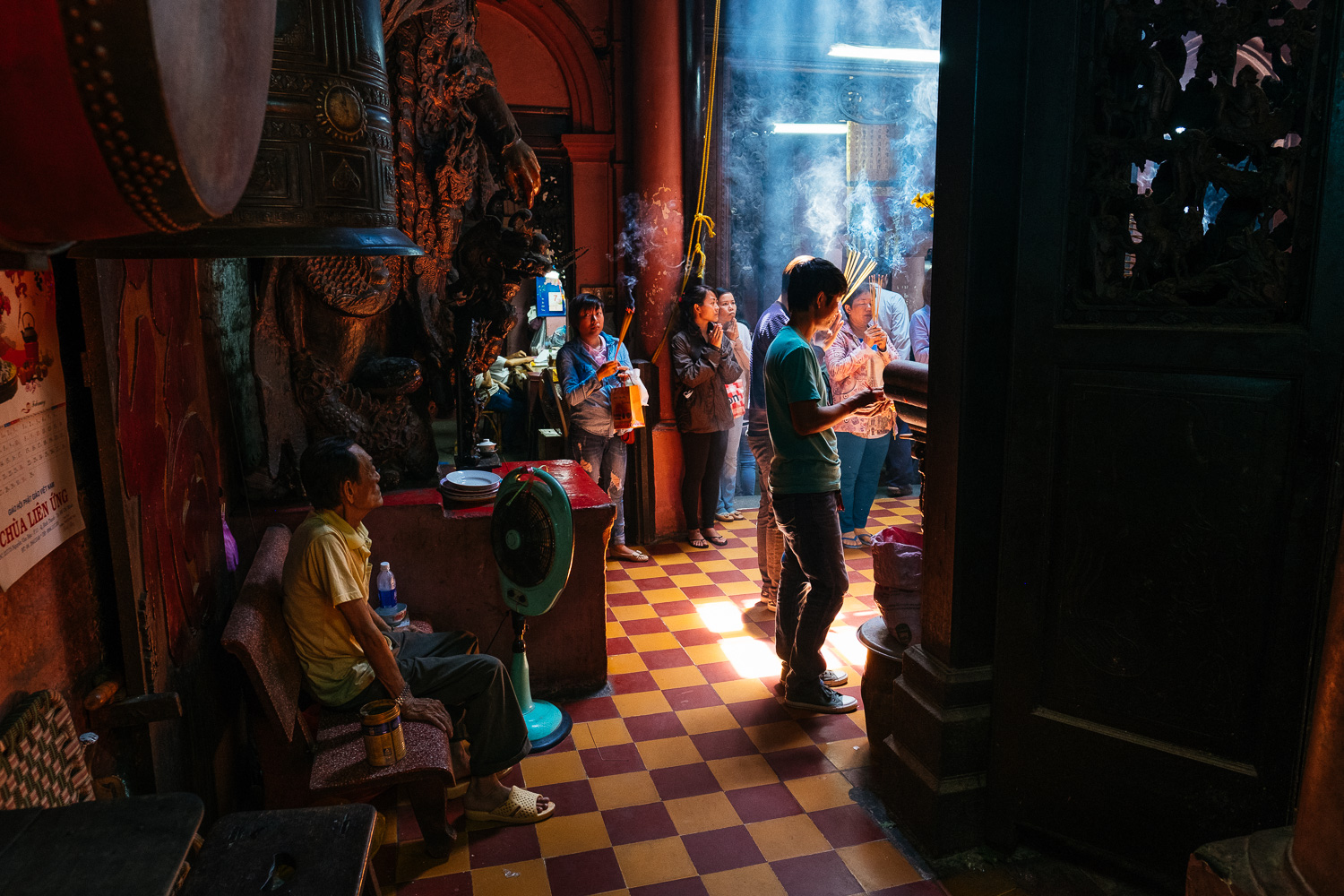 FUJIFILM X-Pro2 (16mm, f/4, 1/60 sec, ISO800)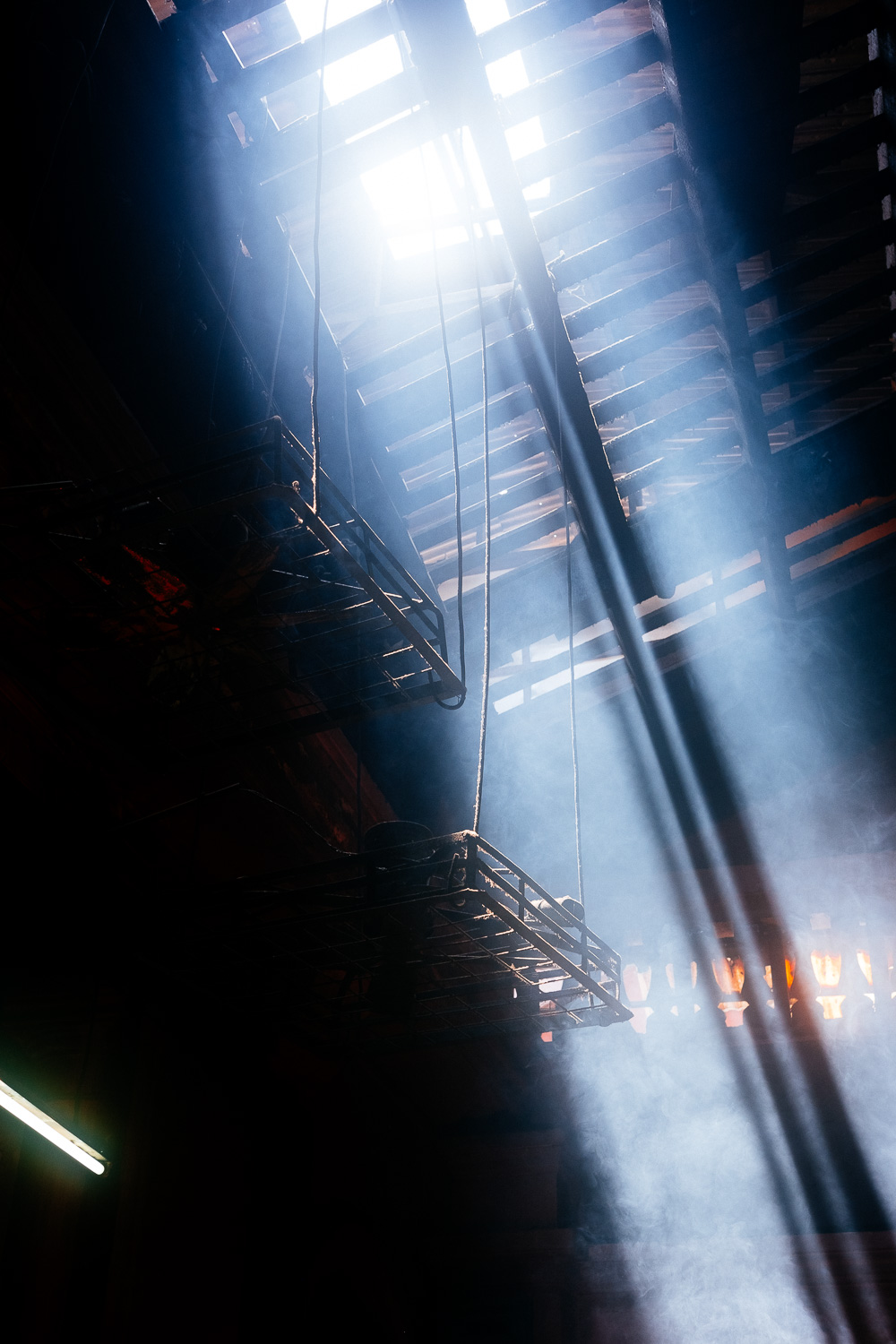 FUJIFILM X-Pro2 (27mm, f/5, 1/60 sec, ISO400)

The pagoda is rather dark because there is lots of dark wood but there is also plenty of daylight coming from the ceiling. On a bright day the sunlight that falls through the wooden grid openings in the ceiling and the massive smoke from the joss sticks create wonderful rays of light. It is just magic! That's the reason why I came here again. There is another blog post from my first visit here.
In my first visit I shot with my favorite lens the Fuji XF 14/2.8 R. This time I shot mainly with my new Fuji XF 16/1.4 WR. It is a fantastic lens and it can give very special results but I think I prefer the wider view of the 14mm. I also prefer it's much smaller size and weight. The 16/1.4 is a rather big and heavy lens for a mirrorless system.
Before I talk about the camera experience I should say something about dynamic range and my post processing. I don't like to spend time in front of my computer but I still prefer to shoot RAW. Th RAW format just gives me more flexibility and it is easier to correct color casts than with JPEG files. I see them as negatives where JPEGs are finished prints. I would always prefer to get back to the negatives to be able to create a better pictures in the future if my pp skills improve.
I shoot RAW but I prefer the contrasty look of slide film. I mainly use VSCO's Velvia 50 LR preset and it was the same with this shots. Normally I take it as it is, maybe change white balance a little but no other changes. I like high contrast and black shadows but sometimes I lift the shadows if there is something of interest I want to show. Like in the second image above. The worshippers and the guy with the yellow shirt who works in the temple. I still used the Velvia 50 settings but increased the dark tones by as much as 89%!  That's some heavy shadow lifting but it still looks ok to me. In the other shots I left the dark shadows of the Velvia setting because I think it works very good for most subjects.
FUJIFILM X-Pro2 (16mm, f/4, 1/60 sec, ISO400)

FUJIFILM X-Pro2 (16mm, f/4, 1/60 sec, ISO400)

FUJIFILM X-Pro2 (16mm, f/2.8, 1/60 sec, ISO400)

Now to the special shooting experience. When I started to shoot in the temple I was in aperture priority mode as most of the time with the ISO set to Auto-ISO and used the exposure composition dial to deal with the light situation. But almost every single shot needed a different exposure compensation depending on how much I shot into the light or if I shot a darker corner in the temple.
The Fuji X Pro-2 shooting experience:
Soon I changed to full manual and that completely transferred the shooting experience. This is how the Fuji X Pro-2 should be shot under those conditions. I set ISO to ISO 800 and later to ISO 400 because there was enough light and set the shutter speed to 1/60s to avoid unsharp images caused by camera shake. Maybe 1/30s would also have been good enough but I always prefer to be on the safe side. There is nothing worse than to loose a shot just because of camera shake.
Now I was able to focus on the subject and composition without to worry about exposure. Sometimes I adjusted exposure a little bit with the aperture if necessary but for most of the images I didn't need to make any adjustments. Shooting full manual just works fantastic on the X Pro-2. I saw a lot of complaints about the complicated ISO/shutter speed-knob but I love it. I think is is an extremely elegant solution. I also had no problem to read the ISO value in the small window even though I have bifocal glasses.
The next thing I love about the X Pro-2 is the little joystick to move the focus point around. And there are so many AF points now that cover almost the entire frame. There is no need to focus and recompose. Just put one of the many AF points over your subject and take the shot. If you shoot like that the Fuji X Pro-2 gives you the best shooting experience of any modern camera today. It's like shooting a Leica M. The only difference is that a fast and precise autofocus helps you to get most out of the excellent lenses. With the X Pro-2 the hunting in low light is gone. It focuses just like my Canon 6D but instead of one cross type sensor in the middle of the frame I now have 273 AF points spread out over the whole frame to choose from.
There are still better cameras out there to shoot action but for everything else the involving shooting experience of the Fuji X Pro-2 is hard to beat. I had a lot of cameras (far too many) but my absolute favorites regarding shooting experience were the Fuji X100 and the Fuji X Pro-1. Slow and quirky cameras that I loved and also hated at the same time. The Fuji X Pro-2 gives me exactly the same rewarding shooting experience just without the headache and frustration because the slowness and quirkiness is gone. And the shutter sounds great too.
FUJIFILM X-Pro2 (16mm, f/4, 1/60 sec, ISO800)

FUJIFILM X-Pro2 (16mm, f/4.5, 1/60 sec, ISO400)

FUJIFILM X-Pro2 (16mm, f/4.5, 1/60 sec, ISO400)

Back to the Emperor Jade pagoda. It's main attraction are the fantastic light rays but they don't look the same all time. They look best if there is enough smoke in the room from the joss sticks. Only problem is: The smoke burns in your eyes and that's why every couple of minutes the staff turns on the big ventilators to suck out the smoke. But when the smoke is gone there are no rays of light. So if you should visit the place and if you don't see any light rays just wait a couple of minutes.
You should visit the pagoda around noon even though the staff in the hotel will recommend to go there in the late afternoon before closing time because it is less busy then. But of course in the soft evening light the rays of light will be much less pronounced. It also makes no sense to go there on a rainy or overcast day. This place needs strong sunlight to truly shine. It is generally a good idea to use the mid of the day to visit museums, palaces or temples because there is no chance to take good shots in the harsh sunlight and it helps to avoid to get a heat stroke.
FUJIFILM X-Pro2 (16mm, f/2.8, 1/60 sec, ISO400)

FUJIFILM X-Pro2 (16mm, f/2.8, 1/30 sec, ISO800)

In my X Pro-2 review I complained about the battery life because it was worse than on any Fuji X camera I have owned before. I guessed that the main reason is the new and vastly improved viewfinder. This viewfinder is so sharp, fast and bright that it almost looks like the real thing. As a consequence it eats battery like crazy. That's true in very bright conditions. Indoors and in low light it is a different story. The EVF is much darker in low light as it tries to mimic a real viewfinder and because of that battery life is back to normal.
Now I extensively raved about the Fuji X Pro-2 – again. Is there anything I don't like about it? Yes there is one thing: I wish it would be a little lighter. I love the size but it has become much heavier than the X Pro-1 and combined with a lens like the Fuji XF 16/1.4 WR it is almost as bulky and heavy as a DSLR. But its form is not as ergonomical and as a consequence it feels a little awkward to hold. It handles nice with smaller lenses but I think I will get an extra grip to make it more comfortable when I shoot it with larger lenses.
FUJIFILM X-Pro2 (16mm, f/1.4, 1/550 sec, ISO200)