FUJIFILM X-T1 (14mm, f/5.6, 1/40 sec, ISO1250)

I have been to HCMC, Vietnam a couple of times already but I have never been to this place before. I'm glad that I visited it on my second last trip. What a location!
A couple of months ago I looked at some beautiful images on dpreview. It was a post by  geraldPP from Cambodia and it was called "Pictures from Saigon". I loved the images. One was taken in a temple that I didn't know. Luckily he replied my question and so I was able to visit the Jade Emperor pagoda on my next trip to Vietnam. I spend a weekend in HCMC and the first thing I did on Saturday was to go to the pagoda. It was a bright and sunny day in HCMC but it was dark inside the temple.
FUJIFILM X-T1 (20.5mm, f/8, 1/30 sec, ISO200)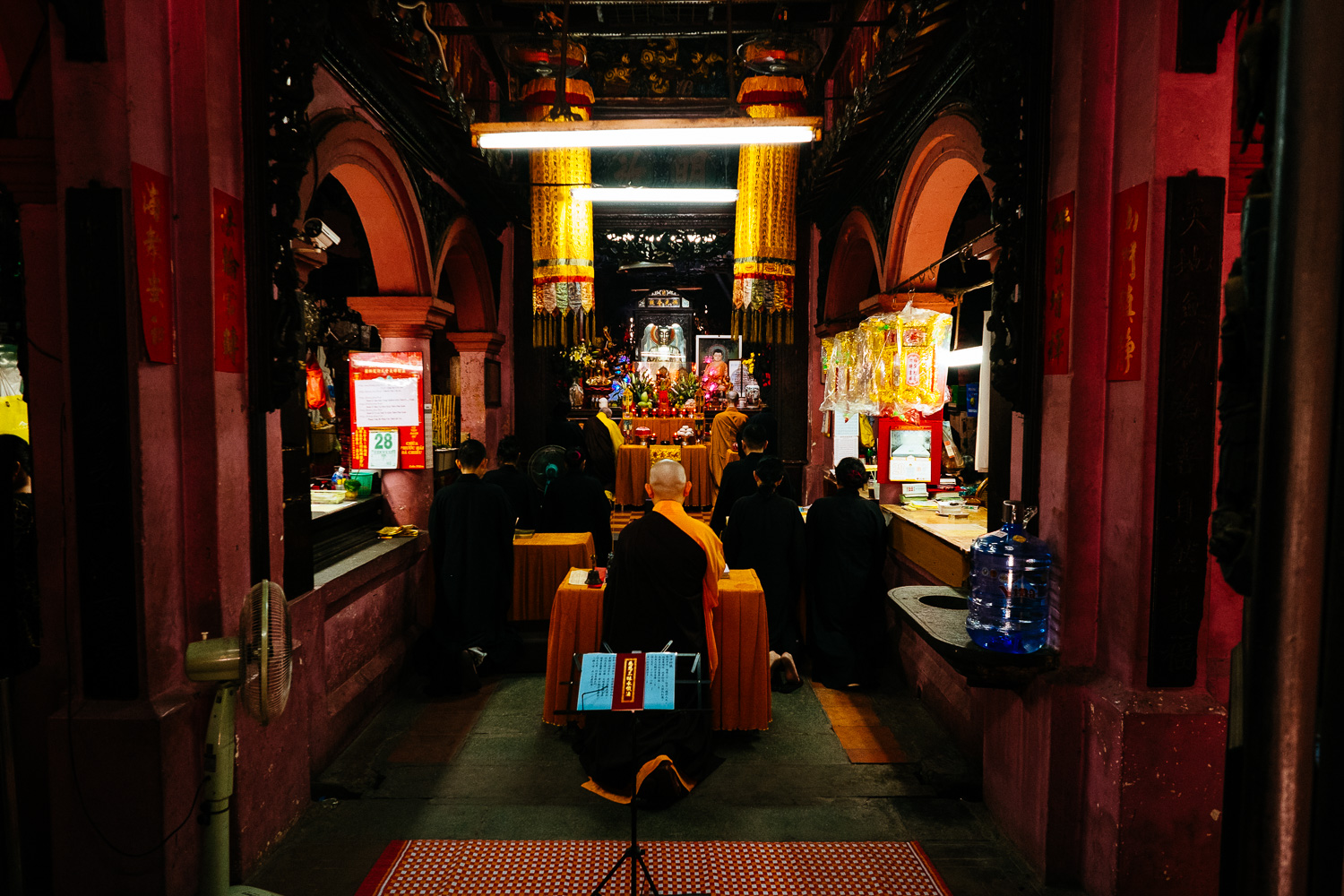 FUJIFILM X-T1 (14mm, f/4, 1/60 sec, ISO2000)

I was there early but it got crowded very fast. There were many prayers but also tourist. A truly busy but also very special place.
The walls are painted red or of dark brown wood and the ceiling is blackened by the constant smoke of candles and joss sticks. There are detailed wood carvings and everything has that beautiful patina that looks fantastic in images.
FUJIFILM X-T1 (55mm, f/4, 1/40 sec, ISO1250)

FUJIFILM X-T1 (18mm, f/4, 1/40 sec, ISO400)

FUJIFILM X-T1 (14mm, f/5.6, 1/40 sec, ISO1250)

But the best thing were the light rays. They just looked stunning. That's why I made them the main subject in my favorite shot. The strong tropical sun sunlight bursting through the openings at the ceiling were spectacular. Only once in my life I saw similar strong light rays. It was in an old but still running factory in Eastern Europe. I didn't have a camera with me that day and my smartphone back then was an early generation blackberry.
This time I had not only a very capable camera but also a very good smartphone (my iPhone 6+). Here is the version I took with it. I think it is pretty impressive for a phone but I uploaded the full size image to give you the chance to see why it still makes sense to carry a camera.
Apple iPhone 6 Plus (4.15mm, f/2.2, 1/15 sec, ISO50)

FUJIFILM X-T1 (14mm, f/5.6, 1/30 sec, ISO2000)

FUJIFILM X-T1 (14mm, f/3.6, 1/30 sec, ISO640)

But I have a second favorite shot. It's the one above. It gives a prefect idea about the place. That's why I love to shoot with the 14mm lens. It gives you the chance to include much more of the scene. The main room with the prayers and those beautiful light rays, the old guy behind the fan watching them to the young lady on the right side of the frame.
The 14mm has another big advantage too. It is so wide that most people underestimate its field of view. The shot above is a good example and the next one too. I think the guy was wondering about my subject but my subject was him. Leaning on his beautiful old Opel.
For most images I have chosen the extremely contrasty VSCO Velvia film preset. I just opened the shadows a bit in post but of course if you like the HDR look those shots are not for you. I was a slide film person and I always loved high contrast. That's why I use the slide film presets most of the time.
FUJIFILM X-T1 (14mm, f/5.6, 1/40 sec, ISO800)

FUJIFILM X-T1 (14mm, f/4, 1/40 sec, ISO640)

FUJIFILM X-T1 (14mm, f/4, 1/40 sec, ISO1250)

The pagoda was very busy but luckily I was there before the masses. It pays to leave hotel a little earlier. I was also lucky that it was sunny that day. HCMC is plagued with smog because of the 2 million motorcycles that are constantly rushing through the city.
The first time there I spent roughly 40 minutes on the street before breakfast shooting the morning traffic. Already in my business suit but the reaction of the people was amazing. Many of them gave me a smile and I immediately fell in love with Vietnam.
Vietnam is such a great place and it is definitely one of my preferred destinations when in Asia. I only know Hanoi, HCMC and the Ha Long Bay so far but I will spend a vacation here some day to explore the rest of the country.
FUJIFILM X-T1 (14mm, f/5.6, 1/40 sec, ISO200)