FUJIFILM X-T1 (50.5mm, f/7.1, 1/1500 sec, ISO200)

Sometimes all you need to do is to push the shutter button. And to be at the right location of course.
This wasn't my first time in India but the first time I had the chance to visit the Taj Mahal. Everybody knows the building even if they never saw it in person and there is a simple reason why. This is the most amazing and beautiful building of all times. I have traveled a lot and I have seen many beautiful places but this one is best. It is perfect.
I already wrote about the feeling I had when I passed the first gate in my previous blog post that also contains my favorite shot of the Taj Mahal. You can find it here. In this blog post I want to focus on a lens that I don't use that much and that usually stays at home when I go to Asia. The Fuji XF 18-55/2.8-4 R LM OIS or simply the kit lens.
FUJIFILM X-T1 (31.5mm, f/7.1, 1/640 sec, ISO200)

FUJIFILM X-T1 (50.5mm, f/8, 1/750 sec, ISO200)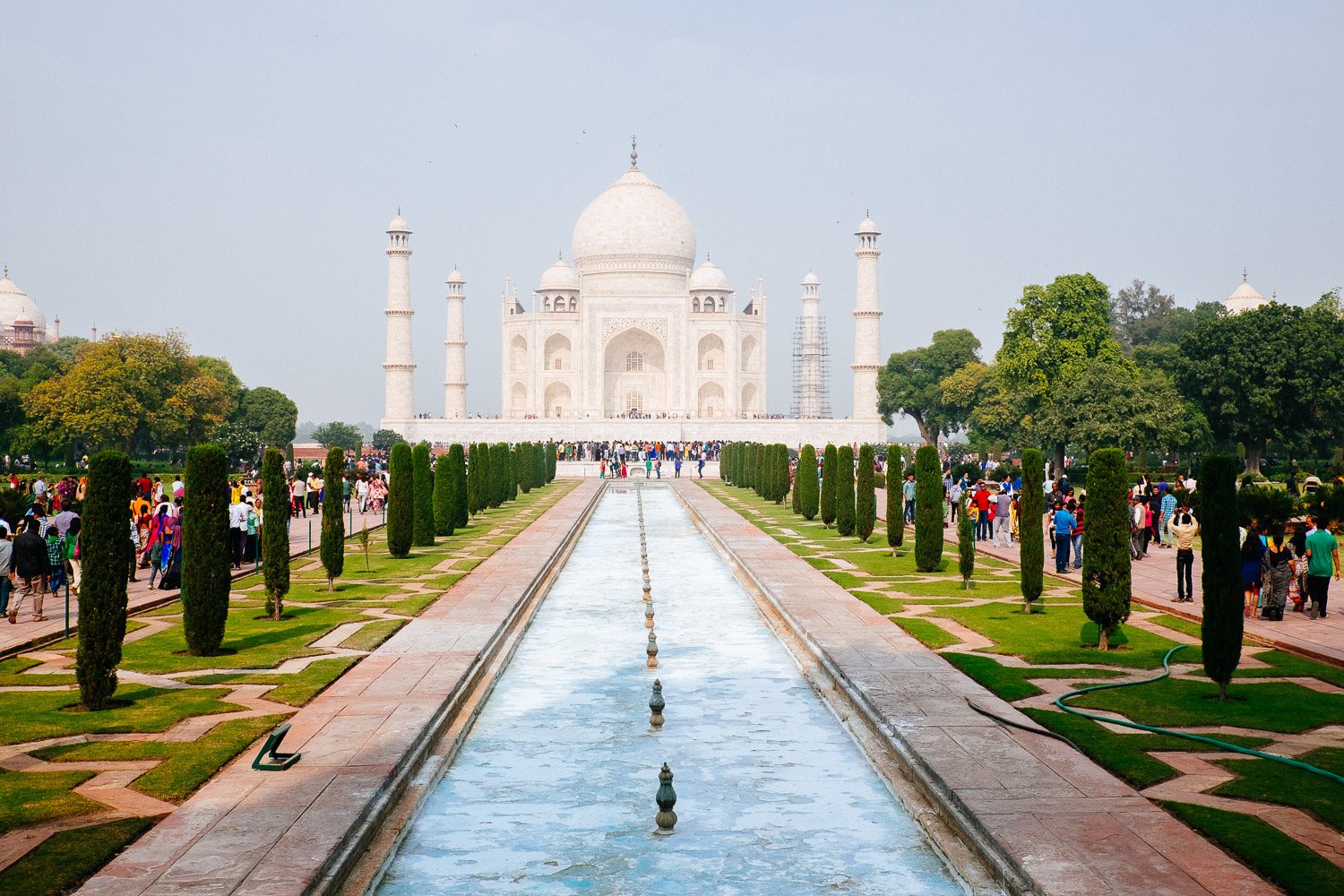 FUJIFILM X-T1 (24.3mm, f/8, 1/550 sec, ISO200)

When it was clear that I would have the chance to visit the Taj Mahal I thought about which lenses to bring beside Fuji's 14mm lens that is with me since my very first business trip to Asia. I would for sure take the 27mm because it's super small and it weighs next to nothing. But I knew that I would need something longer to have some compression and that the 35mm would not be long enough and too close to the 27mm. The 56mm would offer enough compression but of course it would be too long most of the time and I didn't like the idea to switch in between three primes all the time. I'm a one lens person and rarely swap lenses during a shooting.
At the end it didn't take me too long to figure out that the best option would be to simple bring the kit lens. I think I'm a genius. 😉
The kit lens is a strange thing. I rarely take it with me on my business trips but every time I do I ask me why I don't shoot with it more often. This is a great lens. Of course I wish it would start at 16mm and in a perfect world it would be a 16-70/4 but only if Fuji manages to keep its weight and size at same the level or at least very close. But beside the fact that its range is a little small I can't find anything negative. The image quality is great, AF is fast and silent and IS works. I love the fact that it shares the lens hood with the 14mm lens and that it balances very well with the camera.
I know that prime aficionados will tell you that you always can zoom with your feet but of course that's not true and here is why:
Sometimes you have a given viewpoint where you can't move forward or back. The first three images above are good examples. The viewpoint is defined and you can't step forward unless you can walk on water.
Different focal lengths have a drastic effect on how the image will look. Just take a look at the two images below. The first image was taken with the lens at 55mm. It compresses almost like a real tele lens. The second shot taken at 18mm looks nice and wide.
In addition you can frame very precisely and you can balance foreground and background by adjusting the focal length according to your subjects need.
But the best thing about the kit lens is that it disappears when you shoot it. I mean that it doesn't distract you from your subject. Its short range is still surprisingly versatile and its so compact that it never becomes a burden. This is the main reason I didn't buy the 18-135 when it became available. I would love to have the  the added range but it comes at a high price. This lens is simple to big and heavy as a walk around lens.
FUJIFILM X-T1 (55mm, f/5, 1/1500 sec, ISO200)

FUJIFILM X-T1 (18mm, f/6.4, 1/850 sec, ISO200)

FUJIFILM X-T1 (18mm, f/8, 1/350 sec, ISO200)

So why do I leave the lens at home most of the time when I got to Asia? The answer is simple. My trips are business trips. I practicably never leave the big cities. For crowded cities, narrow spaces and buildings the 14mm is the perfect . Even for street photography because everything is very close to you and the 14mm lens gives the viewer the chance to immerse into the scene and sometimes it helps to open up tight spaces if necessary. The kit lens simply isn't wide enough.
If I would have a focus on landscapes I would definitely bring the kit lens and most likely a tele zoom. The reason that I mainly shoot primes on my Asia trips is because they work perfectly for what I need. The 14mm, the super light 27mm and the 23mm are the lenses I shoot with most of the time. The kit lens can't give me the coverage of the 14mm lens and it can't give me the subject isolation of the 23mm.
But I don't think that primes are superior in general and that primes are the only serious way to shoot. On my Canon 6D the 24-70/2.8 II works fantastic and replaces a bunch of primes plus every focal length in between in one single lens without scarifying quality. It even allows to play with depth of field. That's why this lens replaced my fast primes. The option to play with DOF is of course limited on the Fuji kit lens but if you shoot mostly landscapes at f8 or f11 it is as good as the primes.
FUJIFILM X-T1 (55mm, f/10, 1/300 sec, ISO200)

FUJIFILM X-T1 (55mm, f/10, 1/300 sec, ISO200)

FUJIFILM X-T1 (55mm, f/10, 1/300 sec, ISO200)

I need to come back to the building one more time. The Taj Mahal is amazing and everybody knows its beauty but what I didn't realize before I got there to see it in person is how tall this building is. No matter if you shoot a waterfall, a communistic statue or a cathedral it always helps to include some people in your shot to give the viewer an idea about its size. If you shoot a waterfall in Norway it can take some time to get the chance to put a person into your frame. Not so at the Taj Mahal. This is India. An 1.3 billion people country and the Taj Mahal is its most visited spot. People are lining up everywhere.
The three images above are one shot and two crops out of the first image. They demonstrate the size of the building. All shots are 1500 pixels wide. Just click on the images to get the bigger version. The size and the level of detail of the building is amazing. It is all made of white marble (that suffers from the air pollution and starts to get a yellow tint) and full of ornaments and inserts.
But the most amazing thing is that the Taj Mahal is not a palace, it is nothing but a gigantic tomb.
FUJIFILM X-T1 (20.5mm, f/13, 1/280 sec, ISO200)