FUJIFILM X-T1 (56mm, f/1.2, 1/250 sec, ISO250)

About two weeks ago I was in the zoo and my new Fuji XF 1.2/56mm was the longest lens I had with me. It turned out to be the perfect lens to shoot the king penguins.
I love Penguins and I'm not the only one. I think their main attraction is that they walk upright and almost look human. They a great to watch but unfortunately the king and rock hopper penguins in the zoo in Vienna can't stay outdoors. The air is not cold and not clean  enough. They are behind glass in a rather depressing enclosure. I truly hope that some day the penguins will also get the room that the deserve. The brand new enclosure for the polar bears is amazing.
FUJIFILM X-T1 (56mm, f/1.2, 1/250 sec, ISO500)

FUJIFILM X-T1 (56mm, f/1.2, 1/250 sec, ISO400)

FUJIFILM X-T1 (56mm, f/1.2, 1/250 sec, ISO250)

It is also rather dark inside with strange fluorescent lights. The glass is think, reflective and dirty and the background is a total mess. So it is not a piece of cake to get a good shot.
I used the 1.2/56 wide open at f1.2 to blur away the busy backgrounds and to keep ISO low. Especially the first shot would be unthinkable with a slower lens. The blue bar (a window) would be even more distracting with a slower lens. Apart from the messy background I love the shot. They look like an old couple. They stand as close to each other as possible so that their bellies almost touch. Lovely.
Usually the Auto-WB of the Fuji works great but in this environment it also had its problems. It took me a while to find the best color temperature to get the look I liked. I went for a slightly colder look because to enhance the blue cast of their grey coats. It gives a nice contrast to the yellow feathers and the orange beak.
FUJIFILM X-T1 (56mm, f/1.2, 1/250 sec, ISO400)

There was a second couple taking care of their young. Their chick was already almost as tall as them. It was even fatter than its parents and covered in the typical brown juvenile coat. It must be a lot easier for them to foster their young compared to their wild cousins in South Georgia. Though there is plenty of food in a zoo both parents looked much thinner than the other penguins.
I loved that the parents always stood close to their young to protect it. In the last image one of them even touches it with its wing like taking their baby on the hand. I love birds but  penguins are the only ones that really look human. They are clumsy like toddlers on land, they can't fly but they truly perform under water. King penguins can dive up to 240 meters. And they can live in an environment where we would not survive a single snow storm.
Tough little guys.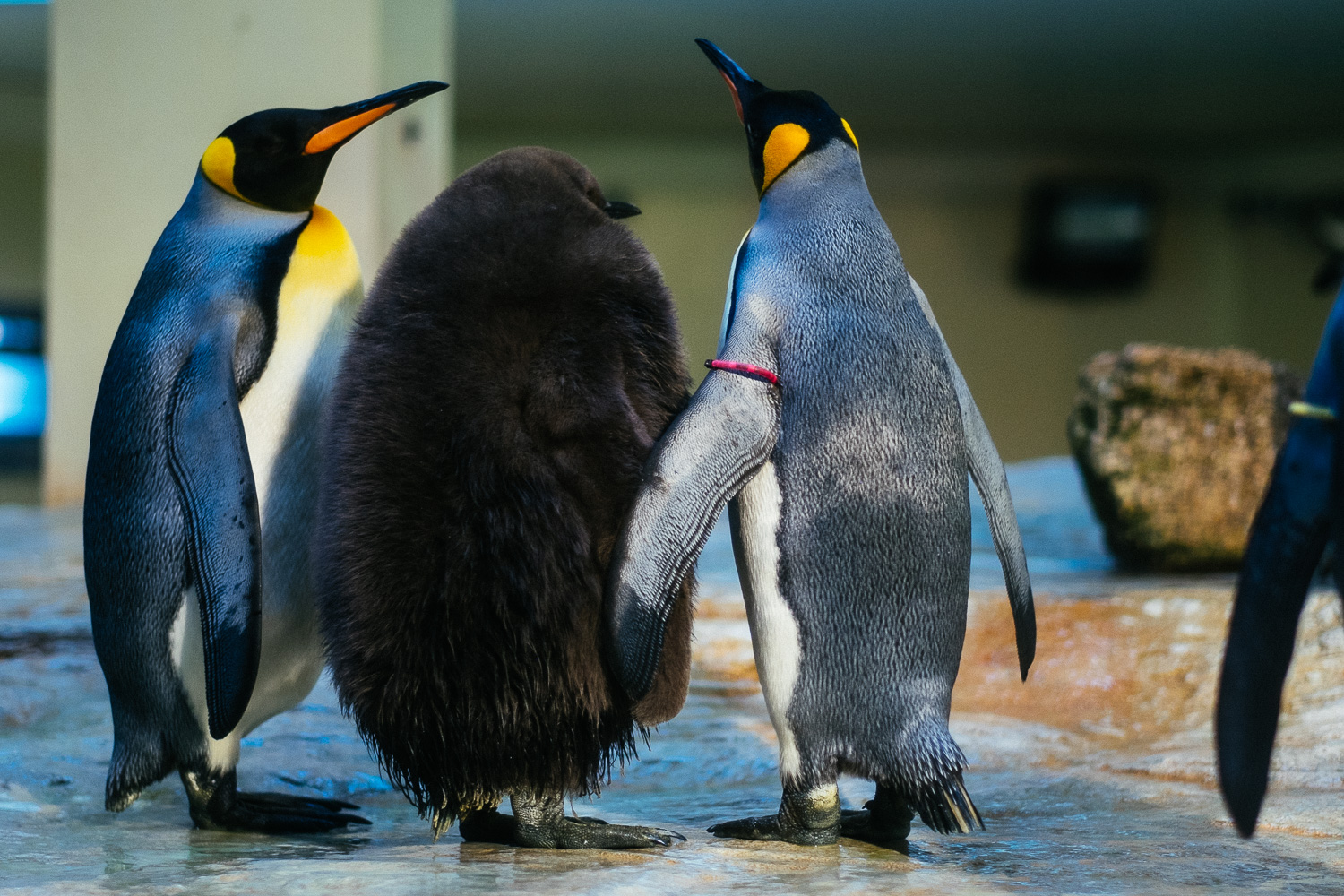 FUJIFILM X-T1 (56mm, f/1.2, 1/250 sec, ISO400)