FUJIFILM X-Pro2 (23mm, f/2, 1/2400 sec, ISO200)

I always wanted to use the title of one of my favorite movies for a blog post but of course I needed to visit Japan first. Now I did so finally I can.
What a trip! This was the first time I read two books before traveling to a country and I was still not prepared. It was an overwhelming experience and I wish that I had more time there. But it was a business trip so photography was restricted to after work and the first afternoon the day I landed in Osaka. I managed to get some good sleep on the plane so I went out for sightseeing right after I checked in and had a shower.
FUJIFILM X-Pro2 (14mm, f/2.8, 1/160 sec, ISO640)

Unclear of where to go first I decided to go to the Osaka station to get some food. Of course it had to be Sashimi. It was great and while my plan was to visit the Osaka Aquarium next I stumbled over Yodobashi. Of course I had to go there first.
In case you don't know Yodobashi. It is a Japanese camera/electronics chain. It's biggest store is located in Akiba/Tokyo but this one in Osaka is not bad too. It is 12 stories high  and though the 4 top stories are for car parking, the 8th floor is a restaurant and there is the chance to buy clothes or bizarre Manga DVDs and books there is still enough space left for camera gear and electronics.
Cameras is one floor only but you can find every camera, lens, camera bag, tripod of every important manufacturer and that includes exotic or vey expensive stuff like all Sigma cameras, all Zeiss Otus lenses and the big glass from Canon and Nikon. We still have some nice camera stores in Vienna but this is completely different. Everything is there and even better everything can be tested because it is out of it's box. I was a little sad that I missed Photokina again this year because I was in Japan at the same time but I think this is a better experience. No need to stand in line to touch your object of desire for a couple of minutes. I felt like a five year old boy in a candy store!
FUJIFILM X-Pro2 (14mm, f/6.4, 1/340 sec, ISO200)

FUJIFILM X-Pro2 (14mm, f/4.5, 1/160 sec, ISO1000)

After I spent some time at the photography section I explored some other parts of the store. One of the most impressive thing for me was the mobile audio section with a headphone department that is about 3 times bigger than the average supermarket in the place where I live. And again everything was ready for testing (including in ear headphones!) except for the most expensive stuff where you need to ask a clerk to open the showcase. Like for those 4.000 USD in-ears.
But I had no time and no 4.000 USD to spend on earphones so I moved on to the other sections. But more of that later in a blog post dedicated to Yodobashi and Bic Camera.
FUJIFILM X-Pro2 (14mm, f/2.8, 1/200 sec, ISO4000)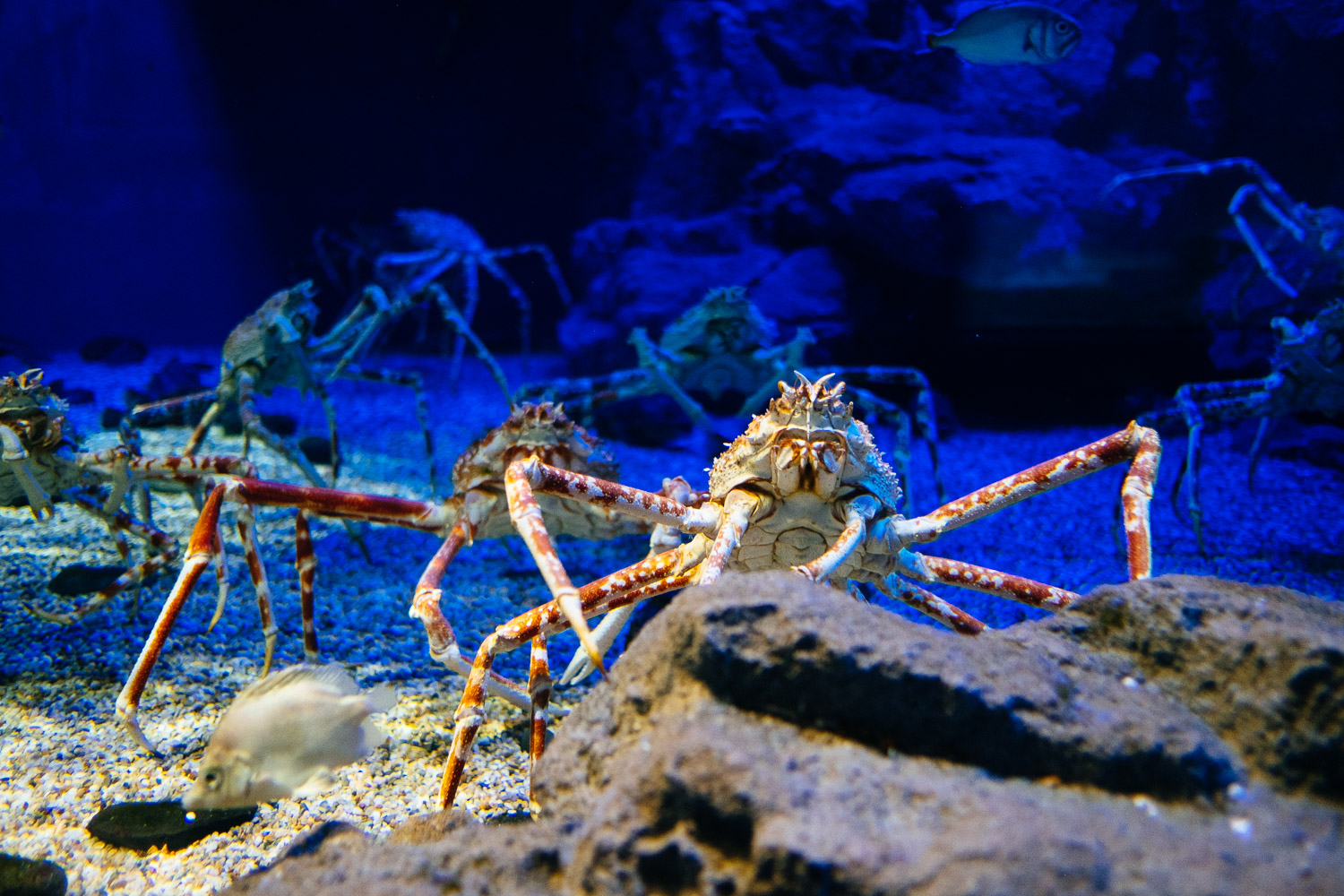 FUJIFILM X-Pro2 (23mm, f/1.4, 1/60 sec, ISO1000)

But now to the location I originally planned to see: The Osaka Aquarium. One of the biggest Aquariums in the world. The fact that they have whale sharks in a gigantic tank was the main reason for me to visit the place. I always wanted to see the worlds biggest fish.
I wasn't disappointed I only wished that would have taken a better picture to do this fish justice. The 14mm is just too wide so the people in front look large compared to the whale shark further back. The Osaka Aquarium currently has two whale sharks in one big tank in the centre of the building. You enter at the eight floor and spiral down to the exit.
There is a lot of controversy regarding whale sharks in aquariums since they do not do well in captivity. I think if we want the people to understand that our oceans should be protected they need to understand why. In order to make them understand why you need to show them its beauty. It's the same with polar bears or any other large animal in a zoo. But the people need to be able to experience those animals to know that they are worth to be protected.
Even though I love to see marine wildlife I have to admit that I also love to eat it. I especially love Sashimi and Sushi so I was very happy when my local partner brought me to a small Sushi restaurant in Tokyo. It offered only 8 seats and there is no chance that I would find such a place myself or to order something.
FUJIFILM X-Pro2 (14mm, f/3.2, 1/60 sec, ISO2000)

FUJIFILM X-Pro2 (14mm, f/8, 1/200 sec, ISO640)

FUJIFILM X-Pro2 (23mm, f/2, 1/125 sec, ISO320)

My hotel was very close to Shinjuku station. With an average of about 3.5 million passengers a day it is the busiest train station in the world. And one of the most complex too. Not sure if I would find the eye again. I missed to find the exit to my hotel most of the time so I preferred to walk above ground and to use the Tokyo tower as a point of orientation. From the breakfast room I could see the tower but the view from my hotel room at the 27th floor was even better. The second night in Tokyo I had to chance to take some images at the blue hour.
I think this is the most impressive view I ever had from a city hotel room!
FUJIFILM X-Pro2 (14mm, f/2.8, 1/40 sec, ISO1600)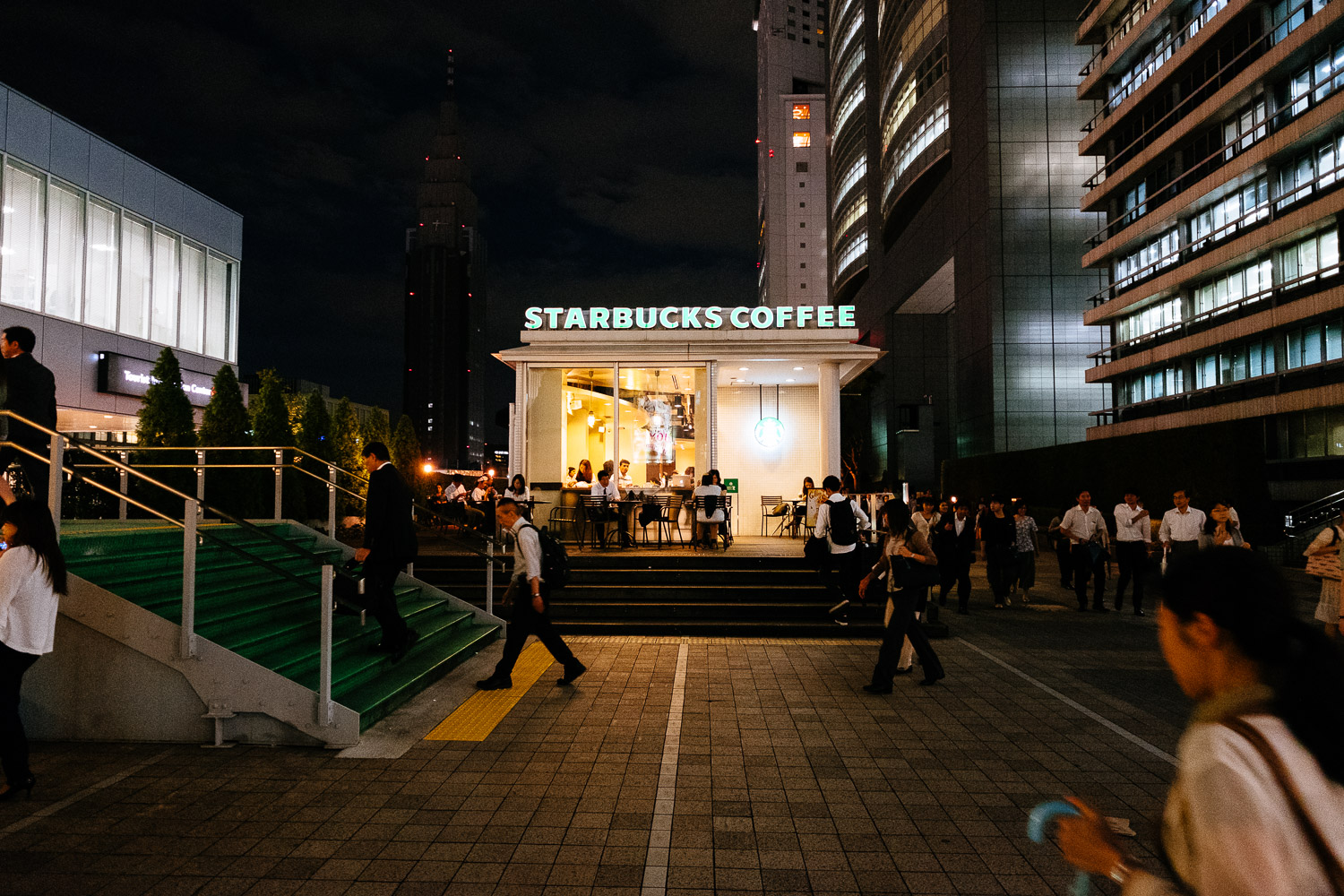 FUJIFILM X-Pro2 (14mm, f/2.8, 1/60 sec, ISO5000)

FUJIFILM X-Pro2 (23mm, f/1.4, 1/160 sec, ISO200)

After it went dark I got out of the hotel and witnessed the office people to start their way back home. Originally I planned to go down to the train platforms to watch the pushers but when I saw thousands of people rushing into the station I changed my mind and went for dinner instead.
There is no point in watching those poor souls to be pushed into the trains by station attendants. And to be honest I did not feel comfortable at all in the station. It was far too busy and it made me dizzy to watch the people moving around. I took two short video clips with my iPhone and moved on.
The picture below shows an overview about JR (Japan railway) trains in Tokyo. Of course there are even more trains but from other companies. If you click on the image you will recognise that everything is written in Japanese which makes it a little tricky for foreigners to find the right train.
FUJIFILM X-Pro2 (14mm, f/5.6, 1/80 sec, ISO320)

FUJIFILM X-Pro2 (14mm, f/6.4, 1/15 sec, ISO200)

FUJIFILM X-Pro2 (14mm, f/4, 1/80 sec, ISO800)

On the last evening in Tokyo I went back to Osaka by train. Thankfully one of my local partners brought me to the right station and left me close to the platform. I was a little too early so I had the chance to watch one Shinkhansen to leave the station before mine arrived. I took the Nozomi Express which has only four stops in between Tokyo and Osaka and takes less than 2,5 hours for the 515 kilometres. Top speed is 300km/h but even more impressive is that the average speed is 206 km/h including the stops. Try to beat that with a car!
There is simply no reason to take the plane. Guess when Japan started to use those high speed trains? In 1964! Yes, the Shinkansen train system is more than 50 years old! Of course back then top speed was "only" 220 km/h. The top speed of the fastest road car in 1964 was 204 km/h. Not a single person ever died in an Shinkhansen accident! Again: Compare that to cars!
As you can see from the EXIF data I used only two lenses. My all time favourite, the fantastic XF 14/2,8 R and the great XF 23/1.4. I also brought the 56/1.2 but I did not shoot with it a lot. I wanted to purchase the new XF 23/2 but learned that I was a couple of days too early. It comes out on the 6th of October.
Now I already wrote too much but missed to mention how great the people in Japan are. I have never met so helpful people outside of Canada. They are fantastic. Even though most of the people I have asked for help didn't speak any English they still tried to help.
Japan is a great country. It is as clean, safe and organised as Switzerland but at the same time it's as exotic as India. "I'll be back!"
FUJIFILM X-Pro2 (14mm, f/2.8, 1/125 sec, ISO640)