FUJIFILM X-Pro2 (14mm, f/8, 1/800 sec, ISO200)

I have been to Hyderabad a couple of times but somehow managed to miss its biggest attraction. But not this time!
Imagine impressive Persian monuments older than the Taj Mahal but just as beautiful located in a quiet park almost unspoiled by visitors. Welcome to the Qutub Shahi Tombs, Hyderabad most well kept secret. In any other country of the world this would be the top tourist attraction but not in India. There is such a vast amount of historical important buildings and monuments that such an amazing place is not even listed under the top attractions in Hyderabad. On trip advisor it is just number 18! Another example that such platforms are pretty useless. For me this is THE top attraction of the town.
FUJIFILM X-Pro2 (23mm, f/5.6, 1/1100 sec, ISO200)

FUJIFILM X-Pro2 (23mm, f/10, 1/420 sec, ISO200)

FUJIFILM X-Pro2 (35mm, f/8, 1/550 sec, ISO200)

It is not well maintained but the government and the Tata group have started a big restoration project which will transform the place. I guess the local government will start to promote the tombs once their restoration is completed. And I expect that there will be thousands of visitors every day and hundreds of vendors and guides at the parking lot. Just like at the other top tourist attractions in India.
I'm glad that I had the chance to visit this place now. It is important to maintain those monuments to avoid that they collapse and slowly vanish but with every restoration you always lose something. At the moment this is a sleeping beauty like an old neglected castle and garden. There is decay everywhere but the beauty of the old buildings is still there. Maybe I'm just a hopeless romantic. I hope the restoration won't destroy this magical place.
FUJIFILM X-Pro2 (14mm, f/8, 1/220 sec, ISO200)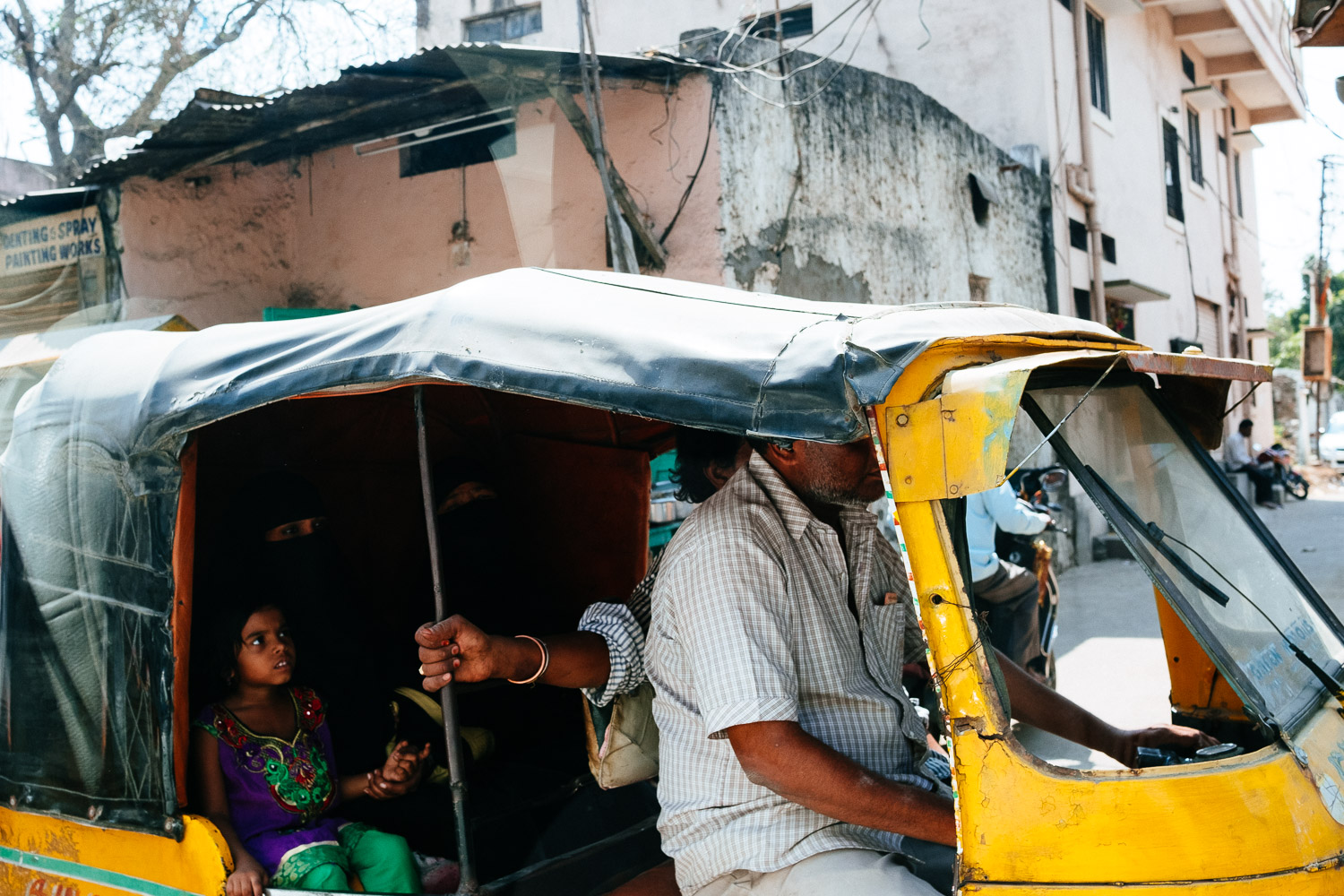 FUJIFILM X-Pro2 (23mm, f/5.6, 1/500 sec, ISO400)

FUJIFILM X-Pro2 (23mm, f/5.6, 1/500 sec, ISO500)

After the Qutub Shahi Tombs I decided to go to the Chowmahalla Palace. I have been there before and I liked the place a lot. But the main reason to go there again was to visit an indoor location during the lunch time. Even though it was February the sun was already very strong so I had to get inside to avoid a massive sunburn.
On my way to the palace I snapped some shots out of the car. The 23/2 WR is the perfect lens for that. Wide enough to capture the scene and its super fast AF makes sure that you don't miss the moment. When I saw the little girl in the three wheeler I raised the camera and pushed the shutter button. There was zero delay. The camera focused instantly and took the image. In the past I used to shoot in zone focus mode in order to be fast enough.
The little girl is not alone. If you take a closer look you will recognise that there are two women sitting next to her.
FUJIFILM X-Pro2 (14mm, f/4, 1/60 sec, ISO400)

FUJIFILM X-Pro2 (14mm, f/4, 1/60 sec, ISO320)

Above are two shots from the palace. If you want to see more images of the palace just follow this link. I took them three years ago, different camera but same lens. Three years ago I shot nothing but the Fuji XF 14/2.8 R when I was inside the palace. I bought it more than 4 years ago and even though I bought many more Fuji lenses this is still my favourite lens. Excellent sharpness, zero distortion and for me this focal length is the perfect balance of just wide enough to capture the whole scene but at the same time it is also not too wide.
I also have to the 10-24 OIS but for me the 14mm works just better. The 10-24 is perfect for landscapes and especially seascapes but for architecture I prefer the prime. I also like the fact that it is compact and light.
FUJIFILM X-Pro2 (14mm, f/7.1, 1/900 sec, ISO200)

FUJIFILM X-Pro2 (14mm, f/6.4, 1/950 sec, ISO200)

FUJIFILM X-Pro2 (23mm, f/7.1, 1/420 sec, ISO200)

After the palace I decided to visit the Charminar but because of the huge number of visitors I decided not to climb upstairs this time. It was Saturday and that's why it was extremely busy. Too busy for my taste. I hate big crowds but somehow I manage to adopt when I'm in Asia but there is a limit. To climb a narrow staircase together with hundreds of people is still not an option for me.
After a short visit of the nearby old mosque it was time for me to get back to my hotel. Beside two bottles of water and a coconut I didn't eat or drink. I was busy taking images. Just a perfect day!
FUJIFILM X-Pro2 (23mm, f/8, 1/500 sec, ISO250)