FUJIFILM X-Pro2 (14mm, f/6.4, 1/340 sec, ISO200)

I can't remember exactly the time when I felt like that. I guess I was five and I was inside a candy store.
As soon as I entered I was in a new world. Yodobashi Camera. The biggest camera store in the world. An amazing place. According to Wikipedia the first store located in Shinjuku/Tokyo sold 1/3 of all SLRs sold in Japan in the 70s. And I guess that was not a small number. I visited the old store in Shinjuku/Tokyo at the end of the week since it was very close to my hotel but this is about the Yodobashi camera store in Osaka. 12 storeys high though the top 4 are a parking garage and the 8th floor is a food court.
On my trips through South East Asia I got the impression that photography with a real camera is dead. Everyone just shoots pictures (mostly selfies) with her/his smartphone. Often I was the only one with a real camera. But not here. Classical photography is alive and kicking in Japan and in this store I can see why.
FUJIFILM X-Pro2 (14mm, f/3.6, 1/160 sec, ISO640)

FUJIFILM X-Pro2 (14mm, f/4, 1/160 sec, ISO800)

FUJIFILM X-Pro2 (14mm, f/4, 1/160 sec, ISO800)

just imagine a camera shop where you can find every camera or lens from every brand. Even real exotic stuff like Sigma Quattro or Zeiss Otus lenses. In addition all camera bags from LowePro, ThinkTank, Tenba or Artisan&Artist. And of course there are tripods, monopods, table tripods and tripod heads from Gitzo and co. Amazing!
Think of everything and more. I always thought that Vienna is privileged because there are still a lot of camera stores despite all the online shops but of course the shops in Japan are a completely different story. Most of all because of their size. I know a couple of good stores in Vienna but they are still rather small and even though they have a large selection of cameras and lenses usually they have nothing on display. In Vienna you walk in a store and ask to see camera A or lens B and it will be brought to you to check it out. It's more like a pharmacy. Don't get me wrong. I can live with that but sometimes it would be nice to play with everything like a five year old child without the need to involve a sales guy.
And boy they let me play! I guess the fact that I'm a foreigner helped as most sales people don't speak any languages.
FUJIFILM X-Pro2 (14mm, f/4, 1/160 sec, ISO800)

FUJIFILM X-Pro2 (14mm, f/4, 1/160 sec, ISO500)

FUJIFILM X-Pro2 (14mm, f/4, 1/160 sec, ISO640)

FUJIFILM X-Pro2 (14mm, f/4, 1/160 sec, ISO1000)

FUJIFILM X-Pro2 (14mm, f/2.8, 1/160 sec, ISO400)

There are some exceptions though. The Zeiss Otus lenses were in a show case. But I didn't care about the Zeiss Otus or the super tele lenses from Canon and Nikon or the Sigma dp2 quattro that only E.T. can hold comfortably. I cared about Fuji X and of course I put some lenses on my X Pro-2. Like the XF 35/2 and the XF 90/2 and was impressed with the focus speed and the 90/2 is a Bokeh machine. Unfortunately the XF 23/2 was still a "coming soon"-item when I was there end of September.
I also played a little with the X-T2 with battery grip and was surprised that it felt almost as substantial as a DSLR. But I don't think that's a disadvantage especially with the bigger lenses. A very nice camera that I plan to get before my next big vacation. To be able to shoot with two cameras without scarifying image quality. Once you got used to the files of the X-Pro 2 it's hard to go back to the old sensor.
FUJIFILM X-Pro2 (14mm, f/2.8, 1/160 sec, ISO250)

FUJIFILM X-Pro2 (14mm, f/2.8, 1/160 sec, ISO400)

FUJIFILM X-Pro2 (14mm, f/2.8, 1/160 sec, ISO320)

But Yodobashi camera is not only about cameras and lenses. They sell computers, TVs, Audio, games and DVDs including the so called special interest section which seemed a little bigger here. And maybe a little bit more special.
Of course I could only rely on the pictures as I don't speak Japanese so the only option would have been "Achtung Girls und Panzer". An obviously WW2 inspired Manga book focused on girls in school uniforms on tanks. I didn't spend a lot of time in this section. Honestly!
But I spent substantial time in the headphones department. While classical hifi or high end was absent (I guess there are specialised stores for that) the mobile audio department was the size of an average supermarket. And again: Everything is available to for testing even in ear phones! Except for those ear phones for 3.500 USD where you need to ask the sales person if you want to have a closer look.
Regarding the other in ear phones I have to admit that after some initial hesitation I tried some of them myself. I still regret that I haven't got one of them but if I listen to music on my phone I'm usually in a plane and there nothing beats Bose head phones.
FUJIFILM X-Pro2 (14mm, f/4.5, 1/160 sec, ISO1000)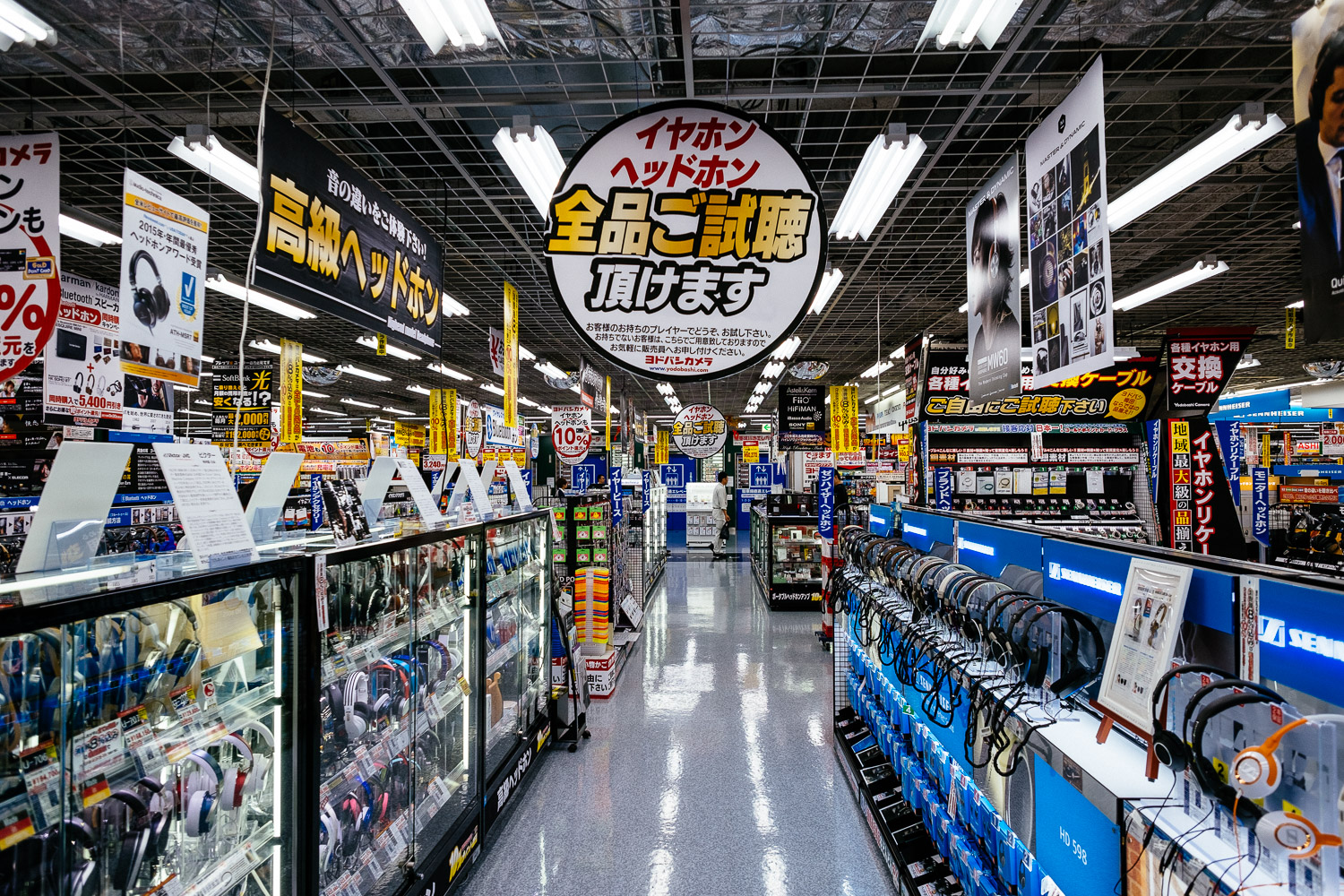 FUJIFILM X-Pro2 (14mm, f/4, 1/160 sec, ISO320)

I have to admit that this was not the last camera store I visited while I was in Japan. I also checked out one Bic Camera store in Tokyo extensively and the first Yodoabashi Camera store close to my hotel where I bought the Fuji grip for my X Pro-2.
On my way out from my first Japanese camera store I saw this sad looking boy with the ad-sign standing behind Pepper. Pepper is the humanoid robot that looks like a white version of C-3PO from Star Wars. The first time I saw Pepper was in the lobby of my hotel in Osaka. He or it works as a kind of information counter. Maybe he even speaks English. Next time I have to give it a try.
FUJIFILM X-Pro2 (14mm, f/2.8, 1/160 sec, ISO200)