FUJIFILM X-T1 (14mm, f/5.6, 1/60 sec, ISO1000)

I once described Singapore as "safe but boring". While that's not totally inaccurate it is still a rather unfair statement.
Singapore doesn't come close to India or Vietnam or most of the other countries in Asia when it comes to street photography but it has its own attractions. Some of them are rather new like the Marina Bay Sands hotel and the fantastic view from its top platform. Or the Cloud Forest dome in the Gardens at the Bay.
FUJIFILM X-T1 (14mm, f/5.6, 1/60 sec, ISO400)

FUJIFILM X-T1 (14mm, f/5.6, 1/60 sec, ISO320)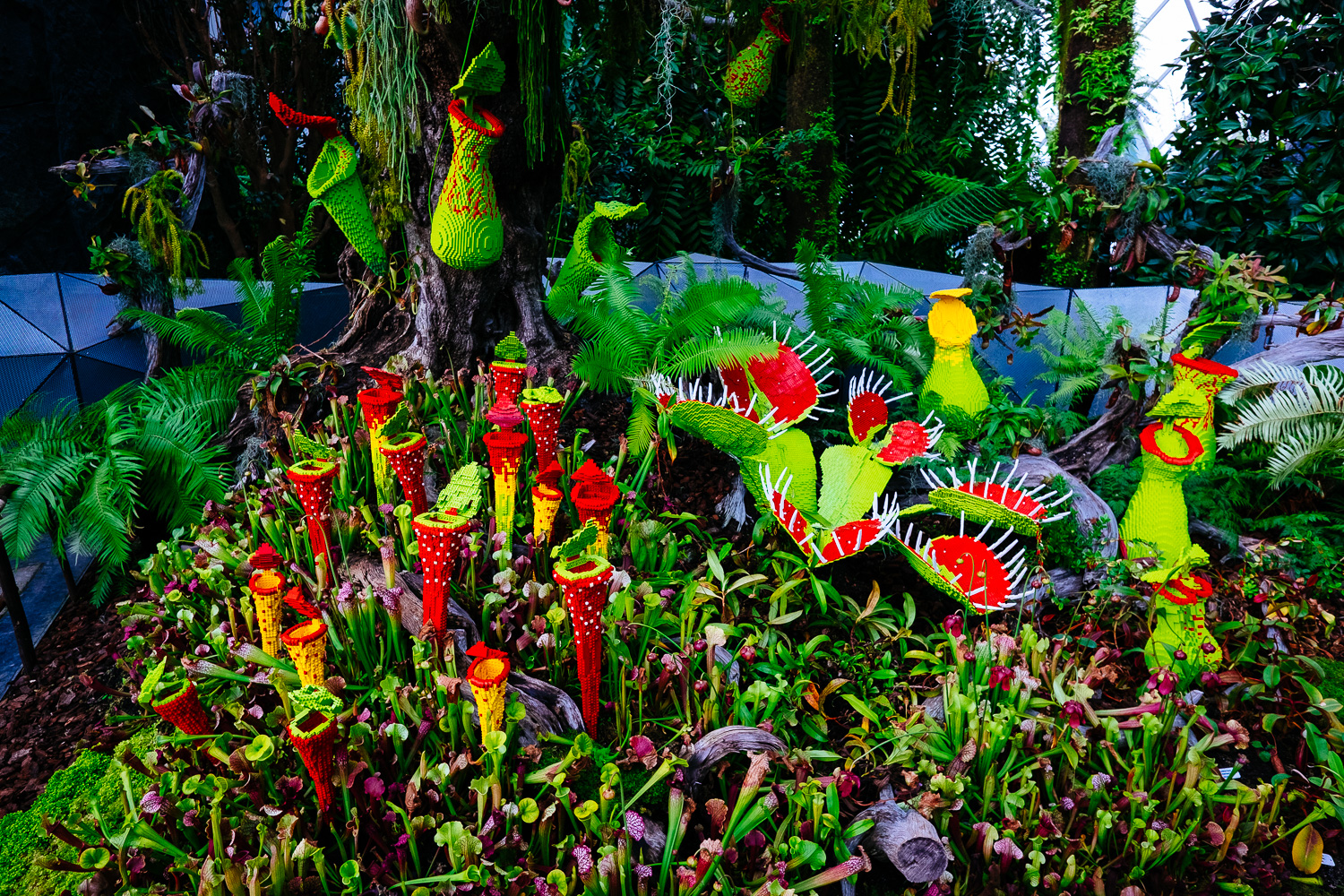 FUJIFILM X-T1 (14mm, f/5.6, 1/60 sec, ISO800)

Just before I entered the elevator to bring me up I could not resist to take an image of those plants in the picture above. If you read this blog post on an iPad or smartphone you might not see it but just click on the picture and you see that they are all made of Lego stones. Looks quite impressive to me. Beside those obvious fake plants everything else here is real. Real flowers and ferns, real water falling down and real fog clouds.
The most impressive thing here is that even though the building doesn't look that big from the outside it is very spacious inside and the views are really special. Below is one with the amazing Marina Bay Sands hotel in the background.
FUJIFILM X-T1 (14mm, f/4, 1/60 sec, ISO200)

FUJIFILM X-T1 (14mm, f/5.6, 1/60 sec, ISO1000)

FUJIFILM X-T1 (27mm, f/5.6, 1/60 sec, ISO500)

But the most dramatic views are offered from the high platforms and bridges. It is hard to show that in a picture and that's why I took the shot above where you can see the young lady has a tight grip on both handrails and clearly doesn't feel comfortable to look down.
I would love to have a tele lens with me for some people on the bridge in the clouds shots but I haven't anything but the 14mm and 27mm lenses with me. Sometimes it is hard to see a shot but there is no way to take it because you don't have the right focal length with you. Maybe I already try to find a way to justify the purchase of the 90mm lens but I guess I should take my 56mm with me on a business trip first to see how it works out.
FUJIFILM X-T1 (14mm, f/5.6, 1/60 sec, ISO320)

FUJIFILM X-T1 (14mm, f/5.6, 1/60 sec, ISO320)

FUJIFILM X-T1 (14mm, f/5.6, 1/60 sec, ISO400)

At the end there is also one big advantage of course if you shoot with only one focal length for some time. You better understand how this focal length works and you will be able to anticipate the shot before you put the camera to your eye. You understand the necessary distance to cover a certain area without the need to look through the viewfinder.
I got so used to the short focal length and its great coverage that I always have a problem when I shoot with the kit lens. I'm always to close when using the kit lens and it seems that I'm never able to cover what I want to. It is also much harder to get some dynamic lines into the picture if the focal length is too long.
What if the light is poor?
The day I took those images it was overcast. Here close to the equator it leads into a very bland sky that looks just ugly and makes it very hard to take good pictures. The sky usually is still very bright at the same time which means it is also outside of what the dynamic range of the sensor can cover if you expose for your main subject. Such conditions are quite common in South East Asia and there is not a lot that you can do.
With such a poor sky you have three options:
pack your camera away and go for lunch or coffee
make sure that you exclude the sky in your shots
focus on indoor photography (i.e.: museum, temple, cathedral, …)
While technically I was inside those shots are clearly more like outdoor shots. The big difference here is that the roof structure of the building avoids the sky problem and the excellent dynamic range of the Fuji X-T1 helps to deal with the contrast.
FUJIFILM X-T1 (14mm, f/5.6, 1/60 sec, ISO640)