FUJIFILM X-T1 (14mm, f/8, 1/450 sec, ISO200)

Sometimes life is simple. Sometimes all you need is blue skies and palms. And a place you you can find both is Palm Springs.
You can see the blue sky and you can see the palms. What you can't see is the warm, dry desert wind. I can't tell you how much I love that wind and how much I miss is during winter here in Austria. When I started traveling in 1990 I mostly went to rather cold and wet places like Ireland, Scotland, Norway or Western Canada simply because I love the beautiful landscapes and the solitude that can be found there.
During my first trip to the South West of the USA in 2010 I found out that there are beautiful landscapes and solitude too. Maybe even more so than in the places I went before. I fell in love with the desert. Since the first trip I returned three times and soon I will have my fifth trip to the USA.
FUJIFILM X-T1 (18mm, f/9, 1/320 sec, ISO200)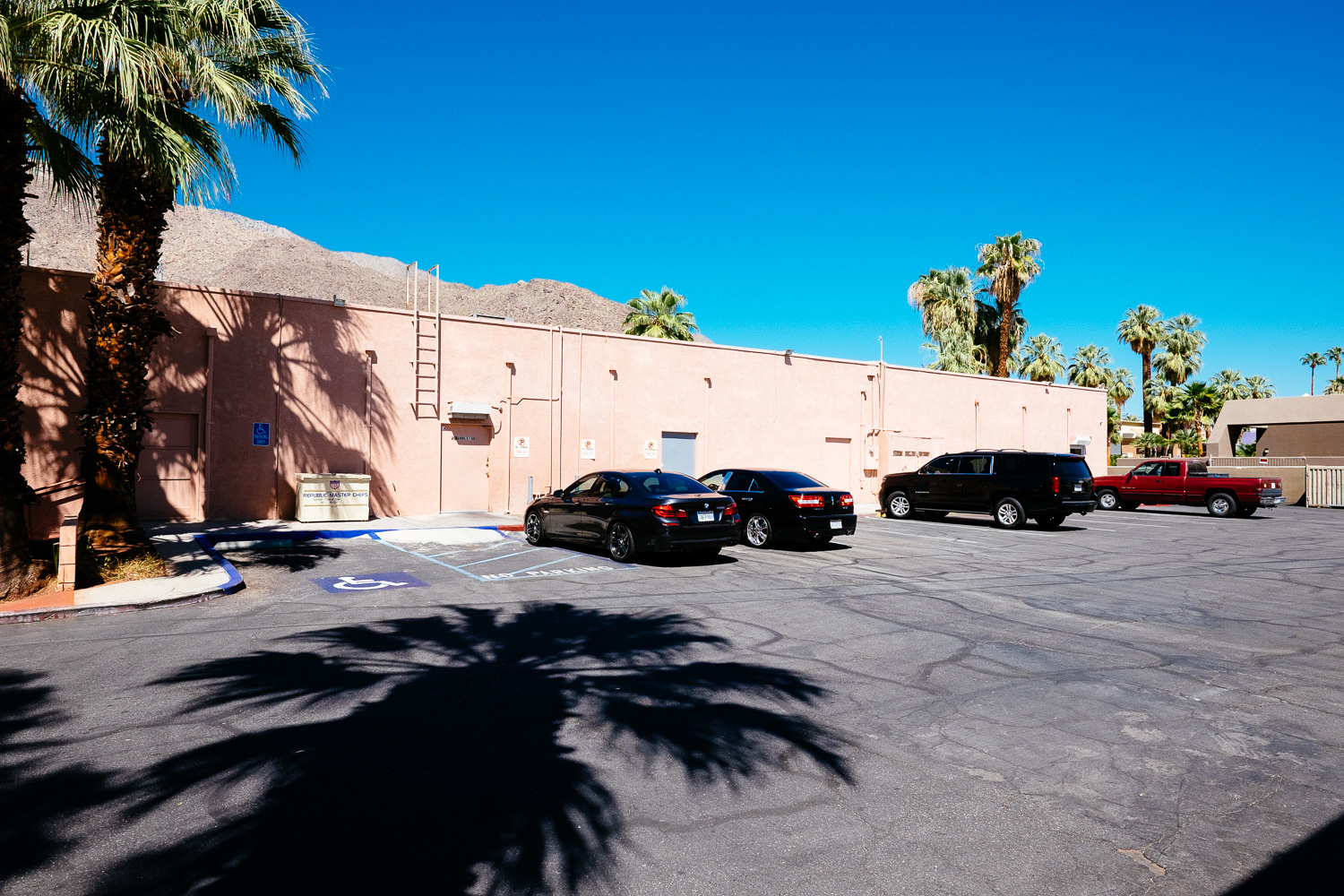 FUJIFILM X-T1 (14mm, f/8, 1/340 sec, ISO200)

I said that I love the isolation and the quietness of the desert but that is only one part of the story. The other one is that there is always a nice little town with everything you need everywhere you go. This country is most likely the most convenient one when it comes to traveling. Almost everything can be reached by car, there is an abundance of space and hotels and motels everywhere you go. And lets not forget the tons of fast food restaurants for a cheap and fast meal. This country is made for travel.
I love to travel but I start to understand why some citizens of the USA don't have a passport:
They have a good part of a whole continent to go around.
Traveling is much more cumbersome anywhere else.
Europe is crowded and its hard to get around by car in the bigger cities. Not to mention to get a parking lot there. In most Asian cities there are more people than space and traffic is horrible. To rent a car is not even an option in many places. You need to hire a driver.
And there are places where traveling is downright dangerous. Places where they will kill you to get your shoes and where the food or water is threateningly as a loaded gun.
When you travel in the USA the biggest threat is to get obese if you rely too much on fast food. I can deal with that risk.
FUJIFILM X-M1 (16mm, f/10, 1/350 sec, ISO200)

FUJIFILM X-T1 (25.4mm, f/5, 1/1200 sec, ISO200)

I need to admit that I also like the predictability. Everybody speaks English. You know exactly what you will get when you book a night in one of the hotel or motel chains. Once you know one of the shopping centers you know them all. There are no surprises and sometimes that's a good thing. It's like having a burger. You know exactly what you get. I like to eat exotic food but sometimes I just love to go for a cheeseburger.
To me the USA is the ultimate King of Convenience.
FUJIFILM X-T1 (14mm, f/8, 1/550 sec, ISO200)

Everything perfect? Not exactly. For a street shooter the South West of the USA makes as much sense as Hong Kong for someone who wants to photograph Bisons. There are better places for that. Just look at the images in this post. There are two things missing: Clouds and people.
A street shooter needs to go to India or Vietnam or similar places. There are amazing photo opportunities there. I really love to be in this crowded Asian cities. But there you are outside of your comfort zone most of the time. If your life needs a little drama this is it. If your life is exciting enough you might look for something else. You can either spend a vacation somewhere on a hotel pool or if you are still alive I recommend to explore the vast landscapes of the West. It hardly gets any better than this.
FUJIFILM X-T1 (14mm, f/8, 1/500 sec, ISO200)