FUJIFILM X-T1 (14mm, f/2.8, 1/125 sec, ISO3200)

I realized that I haven't posted anything from Asia within the last couple of weeks. I also start to miss the busyness and life on every corner. I think I'm ready for another trip.
Here are some from my trip to Hanoi in last November. I took a couple of shots while we were on our way to a famous fish cake restaurant in the old town. Take a closer look to the shot above and below. Now imagine to cross this busy cross road. It is an amazing experience. Sometimes frightening but always exciting.
FUJIFILM X-T1 (14mm, f/2.8, 1/125 sec, ISO3200)

FUJIFILM X-T1 (14mm, f/2.8, 1/105 sec, ISO6400)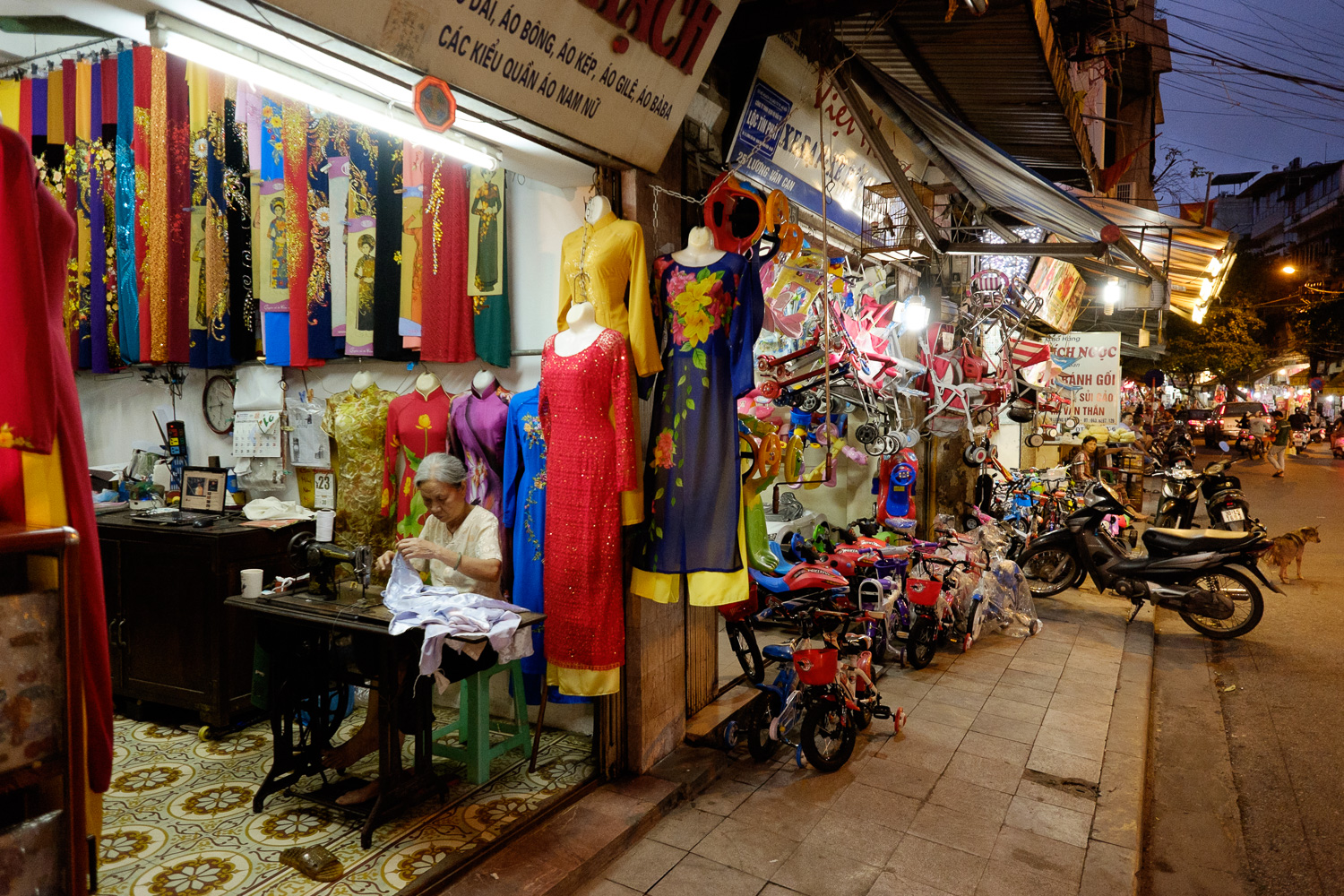 FUJIFILM X-T1 (14mm, f/2.8, 1/125 sec, ISO2000)

One of the most exciting things about Hanoi is that life takes place on the streets. The houses are very small and so people sit right in front of their homes or workshops. And of course there are the motorcycles. Thousands. Everywhere. They fill the streets and clog the sidewalks. You need to have some patience if you walk these streets.
It's unbelievable how I got used to shooting at high ISO. Insanely high ISO. A couple of years ago I struggled to use anything above ISO 800. Now I shoot at ISO 3.200 and even ISO 6.400 on a regular base and to be honest I feel restricted because my Fuji X-T1 doesn't allow to go above ISO 6.400 when shooting RAW. I really hope that the successor of the X-T1 doesn't have this limitation. I would love to see a firmware update that would allow the camera the use of higher ISO settings. My Ricoh GR shoots up to ISO 25.600 and I can't see a logical reason why my Fuji X-T1 doesn't.
FUJIFILM X-T1 (14mm, f/2.8, 1/125 sec, ISO4000)

FUJIFILM X-T1 (14mm, f/5.6, 1/110 sec, ISO6400)

High ISO is not about night shooting only. Just have a look at these images. I took them during the day. I set my camera for street shooting: f5.6, zone focus and shutter speed in Auto-ISO at 1/250s. But because of the darkness under the trees and the ISO limit of ISO 6.400 the shutter speed was just 1/125s. Not important for these shots but it would have been to slow to stop real action. Fuji has done an amazing job with the last firmware update of the X-T1 so I really hope that they get rid of this limit soon.
One last thing about the motorcycles in Hanoi or HCMC: It's true that they are everywhere and that they are annoyingly blogging all sidewalks but just for a second imagine the Vietnamese would all drive big pickup trucks and SUVs.
FUJIFILM X-T1 (14mm, f/5.6, 1/90 sec, ISO6400)