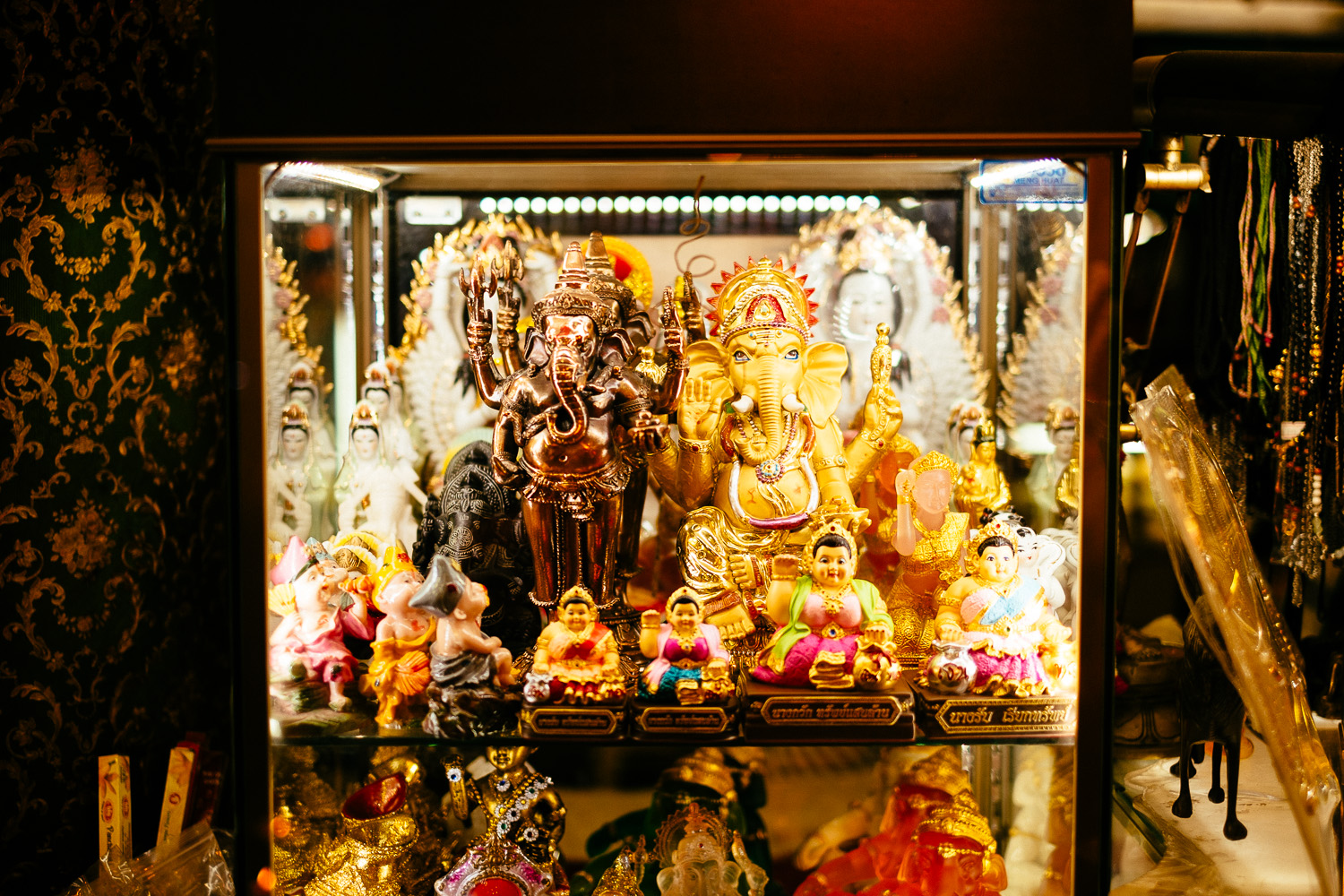 FUJIFILM X-Pro1 (35mm, f/1.4, 1/200 sec, ISO200)

I got some serious Fernweh. Why do I use the German word? Because itchy feet simply is not strong enough. I need a change of scene.
But at the moment I'm still sitting here in with my broken collarbone. I can't drive a car so I'm stuck. I love my house but I almost feel like I'm in prison. I'm used to travel a lot and if I don't travel I make day trips to the city or other nice places. I'm not used to just sitting there and watching TV. But since I can't go anywhere now I use to time to go through the pictures of my last year trips. There are still a lot of pictures I haven't posted so far. From the last week of my California trip and from my business trips to Asia.
Here are some from Bangkok. The elephant god temple was close to my hotel so I went there. I had no idea how it would look like. I expected something like the temples at the Batu caves in Malaysia but I was wrong. It looked more like a entrance to a subway station. It was just a small building on a crossroad but I wasn't disappointed. It shows what a big part religion and temples play in the every day life here. Very unlike to where I come from.
FUJIFILM X-Pro1 (14mm, f/2.8, 1/30 sec, ISO800)

FUJIFILM X-Pro1 (35mm, f/1.4, 1/50 sec, ISO250)

I always hesitate to take pictures in temples. In Europe it is the normal thing when you visit a cathedral. No matter if Barcelona, Paris, Vienna or Cologne or all the other big cathedrals: There are thousands of tourist taking pictures. They are tourist hot spots. This small temple here is different. No tourists with cameras. Just people on their way back home from work stopping by for prayers. If there is a priest I always ask for permission. So far they never had a problem with it. But in this temple there was none. So I sat down on a bench outside and watched the people go inside, pray and walk away.
FUJIFILM X-Pro1 (14mm, f/2.8, 1/60 sec, ISO1250)
 
FUJIFILM X-Pro1 (14mm, f/4, 1/60 sec, ISO2500)
 
FUJIFILM X-Pro1 (35mm, f/1.4, 1/60 sec, ISO320)

After a little while I decided that I have to walk in. I put off my shoes and stepped in. I tried to avoid to take any pictures of people in their prayers. This is a very private thing and I don't feel it's right to do it. Maybe it is not a big deal for them.
I got this impression in an Indian temple in Malaysia. The people looked at me but just because I was the only tourist. They were not bothered that I was there taking pictures. They were very relaxed and friendly. I generally got the impression that the majority of people I met in Asia so far are very tolerant and don't bother when I took their image.
I remember when I was in HCMC, Vietnam shooting pictures of the people passing by on their scooters. A lot of them gave me a smile or even waved their hand. Do the same thing in Austria, which I would not recommend also because of the lack of scooters, and they will look at you if as you are mad but only if you are lucky.
FUJIFILM X-Pro1 (35mm, f/1.4, 1/60 sec, ISO200)
 
FUJIFILM X-Pro1 (35mm, f/1.4, 1/60 sec, ISO400)

Inside I changed to the 35mm lens to focus on the statues. Because back then there was no minimum shutter speed in the Auto ISO menu I set the shutter speed to 1/60s to avoid blurred shot and set the aperture ring to A. In dark environments the camera will always shoot wide open to avoid high ISO settings but I still can use the exposure compensation dial to adjust to the light. It's the perfect workaround when you don't want to go all manual. But I'm more than glad that Fuji fixed it with the newest firmware update. I never understood why they forget to implement it in the first place. My X100 had it when it came out.
When I decide to travel light I take only two lenses: the 14mm and the 35mm. I can't believe how flexible this setup is. That way my Think Tank Retrospective 5 bag remains light and I'm able to put in 2 smartphones, my passport, my wallet and the small city map you get at hotel lobbies. When I shoot the bag holds just one lens and the stuff I mentioned above so it weighs close to nothing. And that really is a great thing! I consider to get the new 56mm lens but then I would loose that "take it easy" feeling.
One remark regarding the colors. They might be a little too yellow or too warm but trust me the original light came from the most horrible neon strip lamps you can imagine. They would perfectly suit a chicken factory but not a temple. So I just tried to get rid of the ugly greenish colorcast that spoilt the shot.
Almost forgot: Yes I did realize the small no photography sign but just before I went out of the temple.
FUJIFILM X-Pro1 (35mm, f/1.4, 1/60 sec, ISO400)
 
FUJIFILM X-Pro1 (35mm, f/1.4, 1/60 sec, ISO320)