Canon EOS 6D (70mm, f/4, 1/40 sec, ISO12800)

Not long ago all DSLRs were big and heavy. Than they became much more compact and today first models are almost as small as mirrorless cameras. Full frame cameras are different. Even the enthusiast models were bulky. Now that has changed.
When Canon introduced the 6D I wasn't impressed. They reduced too many features from the 5DmkIII. Especially the autofocus looked totally outdated. Just 1 cross sensor in the middle in 2012 just seems mad. Not to offer a 100% viewfinder or a second memory card slot also seems rather strange for a modern full frame camera.
I got my 5D in 2007 and did not update because of features ( mkII ) and price ( mkIII ). I was just not willing to pay 3.000 EUROs for a digital camera that will be old tech in a couple of years. That's also the reason why I never would buy a pro-DSLR again. Cameras today are more like computers and have to be updated on a regular base. The 6D looked like another camera to pass but because my 5D felt really old I gave it a try.
1. Camera body
Maybe this is it's biggest feature. This thing is tiny. Well at least if you come from a full frame DSLR. It's small and light and it feels perfect in hand. I have large hands but the 5DmkIII feels almost too big to hold it comfortably. The 6D is perfect. The rubber also feels much nicer than on the 5D or 5DmkII. It feels more expensive and better built than those two. But it's so small and light that it feels a little out of balance with the 24-105L and of course it's worse with the 2.8/24-70 II. The best match is the new 4/24-70 IS L. That's why I got it. The 6D + 24-70 IS is just 100 grams more than the Nikon D7100 + 16-85 VR and about the same size. That's just 7% more! Forget about full frame being big and heavy.
All the knobs are where they should be. To operate the camera feels very logically. It's a camera that goes completely out of the way of shooting. Only one thing: The wheel on the back should be bigger. It feels flimsy.
2. Performance ( AF and speed, exposure meter )
On paper the most significant drawback of the 6D is it's rather simple AF system. 1 cross sensor just fells wrong on an expensive camera. What did they think? This was almost a show stopper for me. I'm still the focus/recompose person and even on my Nikon D2H I used the center point most of the time. But I still don't like the idea to have no progress regarding AF from my aging 5D. But I was wrong. While the AF of the 6D looks like the one in the 5D on paper it is not the same.
The center point is extremely sensitive to light. It can focus where you can hardly see. It's amazing. And the AF is customizable in the menu. A fact that seldom got mentioned. You can set it to speed or accuracy priority depending on your subject.
The whole performance of the camera has been improved over the 5D and 5D mkII. The shutter is much more responsive and the viewfinder blackout is much shorter on the 6D. Everything feels  snappy. It's still not a sport camera but compared to the 5D it is a big step forward and it feels like a modern, very responsive camera.
Exposure meter: On my old website I said that the "matrix" exposure metering of the Canon 5D is less reliable than the one used in Nikon cameras. Well that is still true for the 6D but the metering has vastly improved and now it is very close to Nikon's matrix metering. If your subject is mainly very light or dark you still need to compensate or shoot full manual ( AUTO-ISO off! ) like I did in for the image below.
Canon EOS 6D (245mm, f/4, 1/1000 sec, ISO400)

3. Features
That feature that won me over originally was GPS. Yes I know that you can add this things on other DSLRs too. I know that there are special devices that record GPS data which you can than match with the camera data. There are also some smart phone Apps doing that. But nothing beats to have GPS built inside. No need to play with another piece of software. Just import pictures in LR and you are done. Perfect! I love that. No need to guess where the picture was taken a couple of years later.
Wifi: While I did not imagine that I would use this feature at all it is fun and there are possibilities I will fully exploit next winter. Putting the camera on a tripod in the garden close to the bird feeder while sitting cosy and warm on a sofa sounds tempting. I will definitely give it a try. Another way is to use your iPhone or iPad to take self portraits. Very cool feature. Or simply being able to send images taken with the 6D on location without the need to download them on the laptop. I'm sure that other camera makers will follow and include Wifi and GPS in their feature list. Finally DSLRs can do what your iPhone can do ( well almost ).
4. Image quality
Well I think that this is the most important point of any camera. While it is great to shoot a camera that gives a nice shooting experience if it lacks in the image quality department it's useless. Today even M43 offer very good quality, APS-C are even better so where is the point to shoot a full frame camera? Because they are even better than the best APS-C money can buy today. There is lower noise at high ISO, a better clarity and better per pixel sharpness. Simply better image quality.
Sure there is some noise at very high ISO settings but we are talking about noise that isn't blotchy and we are talking about crazy high levels. So if you think that self portrait is noisy take a look at the EXIF data. It's shot at ISO 12.800! And it is not taking in bright light like on many reviews. It's taken in a relatively dark area. 1/40@f4 at ISO12.800 dark! The 6D is almost lossless up to ISO1600. ISO6400 is perfectly usable and I would not hesitate to shoot at ISO25.600 if necessary.
Here are another two high ISO samples:
Canon EOS 6D (31mm, f/4, 1/160 sec, ISO4000)

Canon EOS 6D (24mm, f/4, 1/40 sec, ISO6400)

But it is not just about high ISO. It is also about dynamic range and most of all about per pixel sharpness. This was the most amazing thing on the 5D and this is what also sets the Canon 6D apart from APS-C cameras. If you use a very sharp lens like the amazing Sigma 1.4/85mm portrait lens you will clearly see the difference. I think it is also slightly better than the 5D mkII regarding per pixel sharpness.
Here is another self portrait with the 85mm lens ( I used my iPhone to compose and trigger the shot ):
Canon EOS 6D (85mm, f/2.8, 1/30 sec, ISO250)

You can see that I was quite exited regarding the Wifi feature. Meanwhile I use it very seldom but I think it has big potential for bird-, wildlife- and close up photography. The iPhone as a remote screen for very low or high camera positions ( ground or over a crowd ). What I always use is the GPS feature. It costs some battery life but it is well worth it. A truly great feature. Here is a Lightroom screenshot from my USA vacation. If you use a high resolution 27 inch display you can see it full size.
5. Conclusion:
Why is this camera on this website? A website dedicated to little big traveling cameras. Small cameras with a big sensor that are just perfect for traveling. Well: Talking the sensor size into account the Canon 6D is small, the sensor is big and GPS and Wifi makes it just perfect for travel photography.
The Fuji X system is great and I love my XP-1 and X100 a lot but nothing beats the flexibility of a full frame DSLR. I will never take it with me for my South East Asia business trips and I could also not imagine to take it for a city trip to New York or Rome but if the trip focuses on landscape and wildlife like i.e. in the USA, Canada, Ireland, Scotland or similar a DSLR will always be my first choice.
Does it do everything? Of course not. It's too slow for real action regarding AF and frame rate. It's reach is not good enough for wildlife unless you are willing to use Canon's supertele lenses. But you can always add the new Canon 70D. Total cost is about the same as for a Canon 5D mkIII but you gain reach, add a swivel screen and you have a spare body should there be a problem with your main camera while on vacation. The 6D was my only DSLR when I was in California so it also had to do some bird photography. Image taken with the "el-cheapo" Tamron 70-300VC. It shows that full frame with their lower pixel density are less demanding than high resolution APS-C DSLRs. Considering the price of the Tamron I find the results impressive even wide open. That lens costs less than a Canon tele converter!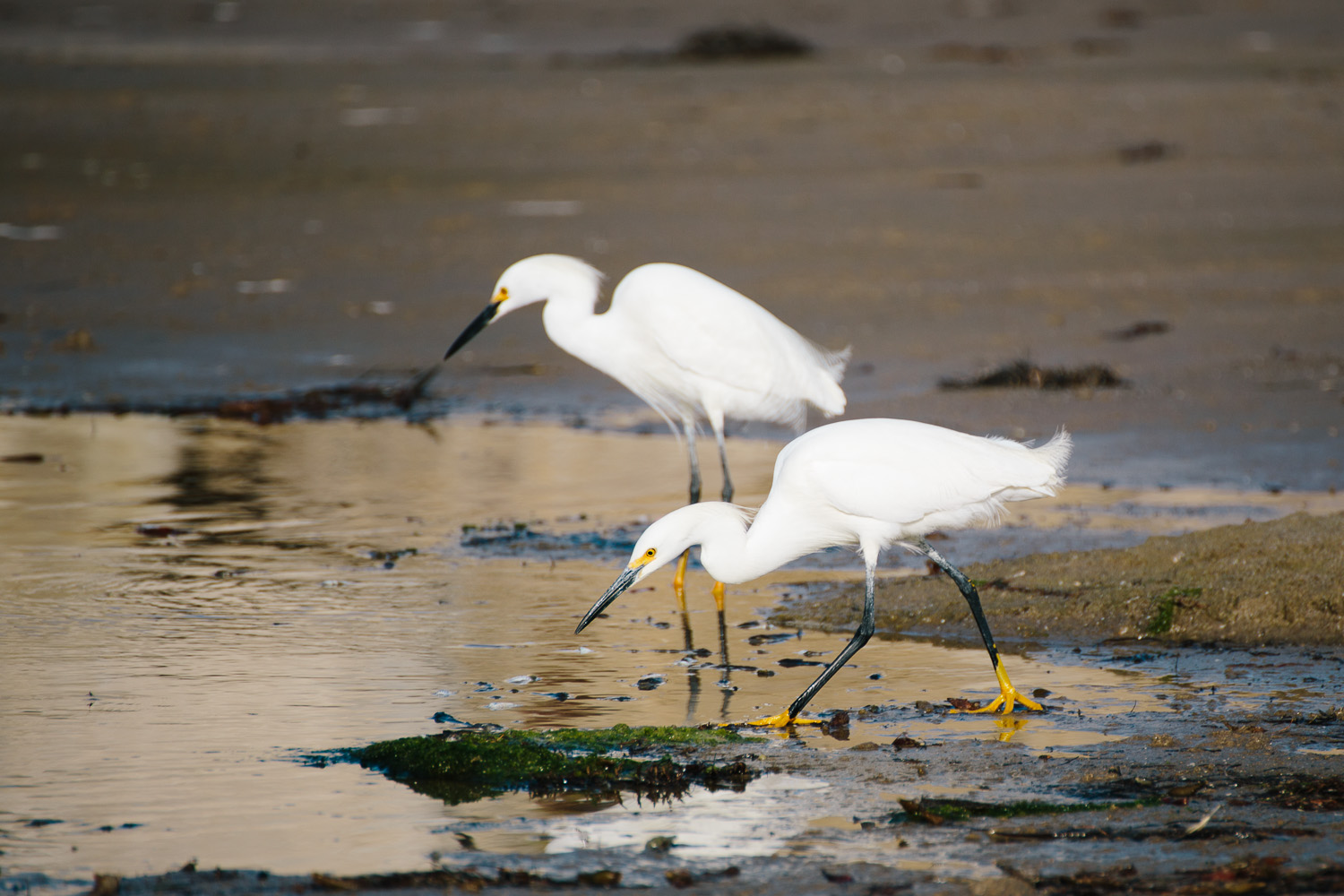 Canon EOS 6D (300mm, f/5.6, 1/1000 sec, ISO160)

For landscapes, portraits and travel photography this camera is just perfect. If these are your main subjects get it instead of the 5D mkIII and invest the difference in good glass. It deserves it.