SONY ILCE-7R (35mm, f/5.6, 1/100 sec, ISO100)

Time to stay at home, time to look back. This time to our favourite destination for the last couple of years. The USA.
In 2010 we went to the USA for vacation for the first time and since then we traveled there seven times in total. That makes the USA my favourite and most visited country followed by Ireland where I went five times.
It's cold and dark outside, Covid19 is still raging and we are going in and out of lock downs. There is a vaccine but it will still take at least another three months before things are back to normal or at least close to normal.
The perfect time to look back to our USA vacations. Where the weather is warm or even hot and the sun shines bright. This is part of the attraction plus the wide open landscape and of course the rental cars. So this flash back focuses on our rentals. In those seven trips I drove seven cars and one RV. Here are our vehicles in chronological order. We started with an RV because that's what we used on our three vacations in Canada. But what worked in Alberta and British Colombia wasn't the best option in the USA. At least not in the South West. In short: An RV makes way more sense in cooler weather. The trip was fun though and we fell in love with the country.
As you can see in the picture below our RV wasn't exactly compact. And surprise it was a big guzzler too with its V10 petrol engine.
Canon EOS 5D (65mm, f/9, 1/60 sec, ISO100)

Canon EOS 5D (92mm, f/13, 1/250 sec, ISO100)

Canon EOS 6D (53mm, f/9, 1/125 sec, ISO100)

Next vacation was in 2013. That year we decided to rent a car and stay in hotels that we often just booked the day before or even on the same day. We booked a full size SUV and I got even more than that. There was no Tahoe available so they had to hand me over a  Chevrolet Suburban. The classical soccer mum car.
My wife was angry when she first saw it because it was the first trip without an RV and now she thought we would be handicapped again because of the size of this vehicle. I was a little intimidated too when I drove out of the garage but despite the first shock the size of the car never was a real issue during the trip. The roads are wide and the parking lots are huge. And of course there was plenty of space for out luggage and the two of us.
Canon EOS 6D (28mm, f/9, 1/200 sec, ISO100)

Canon EOS 6D (28mm, f/11, 1/50 sec, ISO100)

Canon EOS 6D (24mm, f/10, 1/40 sec, ISO200)

The car was black and since the windows were tinted it looked like an undercover police car which earned us some respect on the road. Cool! While it wasn't exactly a Toyota Prius it wasn't a massive guzzler either. The 6 mile to the gallon in the picture is misleading that was when I pushed the pedal to the metal. Outside of town it wasn't that bad at all since most of the driving in the USA is cruising at rather low speeds.
When I sat down in my own car after three weeks of riding with the Suburban my SUV felt like in Mini Cooper.
Canon EOS 6D (70mm, f/11, 1/50 sec, ISO100)

FUJIFILM X-T1 (14mm, f/3.2, 1/850 sec, ISO200)

FUJIFILM X-T1 (27.7mm, f/9, 1/250 sec, ISO200)

FUJIFILM X-T1 (18mm, f/5.6, 1/50 sec, ISO200)

Next vacation happened just one year later and this time we started in Las Vegas. For the first two round trips we flew to San Francisco. And we chose a slightly smaller car this time. A standard SUV and I hoped that I would get a Jeep Grand Cherokee.
But there was none available and the clerk pointed to a white Toyota 4 Runner and told us it would be an upgrade. Well, the car looked ugly especially the interior and I told him that this is not an upgrade for me and I want to have something else. Finally he offered us a Buick Enclave. I wasn't thrilled with its looks but that was an excellent car. Very refined, quiet and comfortable. Smaller but much better than the Suburban with its smooth ride. And the ride was important since I had a slip disc issue just before the trip and really worried about my back. I used a lot of Bengay creme but mainly thanks to the excellent suspension I had no issues during the trip.
It didn't look cool at all but we both loved this car.
FUJIFILM X-T1 (14mm, f/8, 1/160 sec, ISO200)

FUJIFILM X-Pro1 (90mm, f/5.4, 1/200 sec, ISO200)

SONY ILCE-7R (21mm, f/5.6, 1/60 sec, ISO320)

Another year later. Las Vegas again but this time back in a full size SUV to avoid discussion at the rental station since the worst case here is a Chevrolet Tahoe and I can live with that. So a Tahoe it was. Black again but now the updated model which looked much better than the old Suburban. The best looking car so far that we got.
There is significantly less cargo space compared to the Suburban because of the massive third row that doesn't fold into the floor. Space was still plenty for us but if you plan to travel in a group of four and have a lot of luggage I recommend something bigger.
Canon EOS 6D (120mm, f/2.8, 1/3200 sec, ISO100)

FUJIFILM X-T1 (77.9mm, f/5.6, 1/250 sec, ISO400)

SONY ILCE-6000 (18mm, f/8, 1/125 sec, ISO100)

Another year later another Chevrolet Tahoe. This time in white and we started our trip from San Francisco again. This was the third time with a big Chevrolet and all I can say is that I still think that the boxy look very cool. The ride is not the most refined in the world. I think it  is closer to a truck than it is to a car. Simply don't expect the ride quality of the premium European or Japanese SUV.
But then again they look very cool in the pictures.
FUJIFILM X-Pro2 (24mm, f/10, 1/640 sec, ISO200)

FUJIFILM X-Pro2 (15.1mm, f/10, 1/680 sec, ISO200)

FUJIFILM X-Pro2 (16mm, f/6.4, 1/250 sec, ISO800)

Next trip happened in 2018. This time we flew directly to Los Angeles. What a great experience. A direct flight is just so much more comfortable. I chose to book a full size SUV again and hoped for a Ford Expedition. But there was none. The guy from the rental company offered a Nissan Armada which looked just plain ugly so I told hime to wait. Of course what they don't need is some stupid tourists with a ridiculous amount of luggage standing in their parking lot. So he offered us an Infinity Q80 which is the luxury version of the Nissan. Infinity is to Nissan what Lexus is to Toyota. Same, same but different. Very different.
In short: This was the best car that I had so far. It surpassed the Buick Enclave and it was way better than the Chevies. It was even bigger but the main difference was that it was simply in a different class. Excellent ride comfort and a very good auto-box. Nothing felt sluggish. The dashboard looked dated but otherwise the Infinity had a real premium feel to it. It's in a different category too and I guess that you only get it if you are lucky. What a great car.
FUJIFILM X-Pro2 (41.4mm, f/8, 1/280 sec, ISO200)

FUJIFILM X-Pro2 (22.7mm, f/8, 1/600 sec, ISO200)

FUJIFILM X-Pro2 (16mm, f/9, 1/300 sec, ISO200)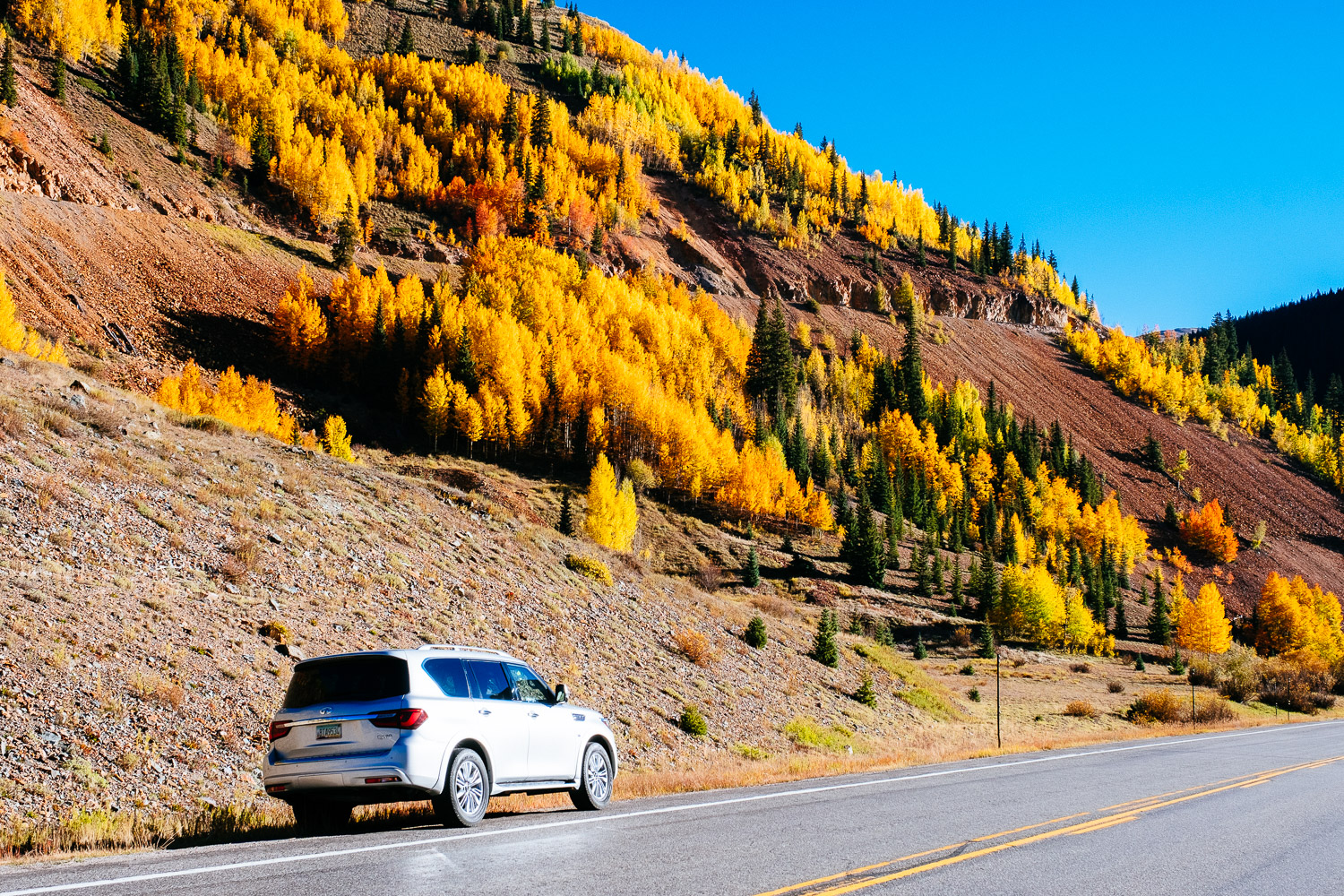 FUJIFILM X-Pro2 (29.2mm, f/8, 1/340 sec, ISO200)

As you probably can tell I just loved that car. But to my surprise this was the first car that ran into an issue. After an epic trip from the Pacific Ocean through the parks of Utah, all the way up to Antelope Island. From the warm sun of California to the first frost in the high altitudes of Colorado and back to the heat of Phoenix. This car ran like a charm until finally the engine lamp came on. Of course there is no way to ignore that because you want to avoid damage to the rental car but also you don't want to have an engine failure in the desert.
I knew perfectly well that I wouldn't be that lucky again but I needed to get it changed. When I arrived at the Alamo station in Phoenix they had no full size SUV available so they gave me a Nissan Murano and asked me to get back in the evening. When I came back I was back in a Chevrolet Tahoe again. This time in grey.
FUJIFILM X-Pro2 (23.4mm, f/8, 1/450 sec, ISO200)

FUJIFILM X-Pro2 (36.5mm, f/2.8, 1/2900 sec, ISO200)

FUJIFILM X-Pro2 (90mm, f/2, 1/7000 sec, ISO200)

On our way through the Joshua tree NP I parked our car beside a Volvo XC90. This is a large SUV in Europe but it looks compact beside our Tahoe. It's so easy to loose perspective in the land where the most sold vehicle is a Ford F150 truck.
Now I finally come to our last vacation in the USA. Autumn 2019. This vacation would be very different. For the first time we will travel the East part of the USA starting in New York city. So a direct flight again just like the last time but much shorter of course and because the East of the USA would be much more urban compared to the South West I decided to opt for a slightly smaller car. A standard size SUV and I finally got lucky and got a fancy specced Jeep Grand Cherokee. Guess it helps to be a faithful customer. This is the sixth time with Alamo within seven years and we always rent for three weeks.
While this is the smallest car that we rented so far in the USA it is still slightly bigger than my Volvo XC60. But it felt very similar to my car. The engine was quiet and the auto-box felt good too. A very nice, good looking and comfortable car.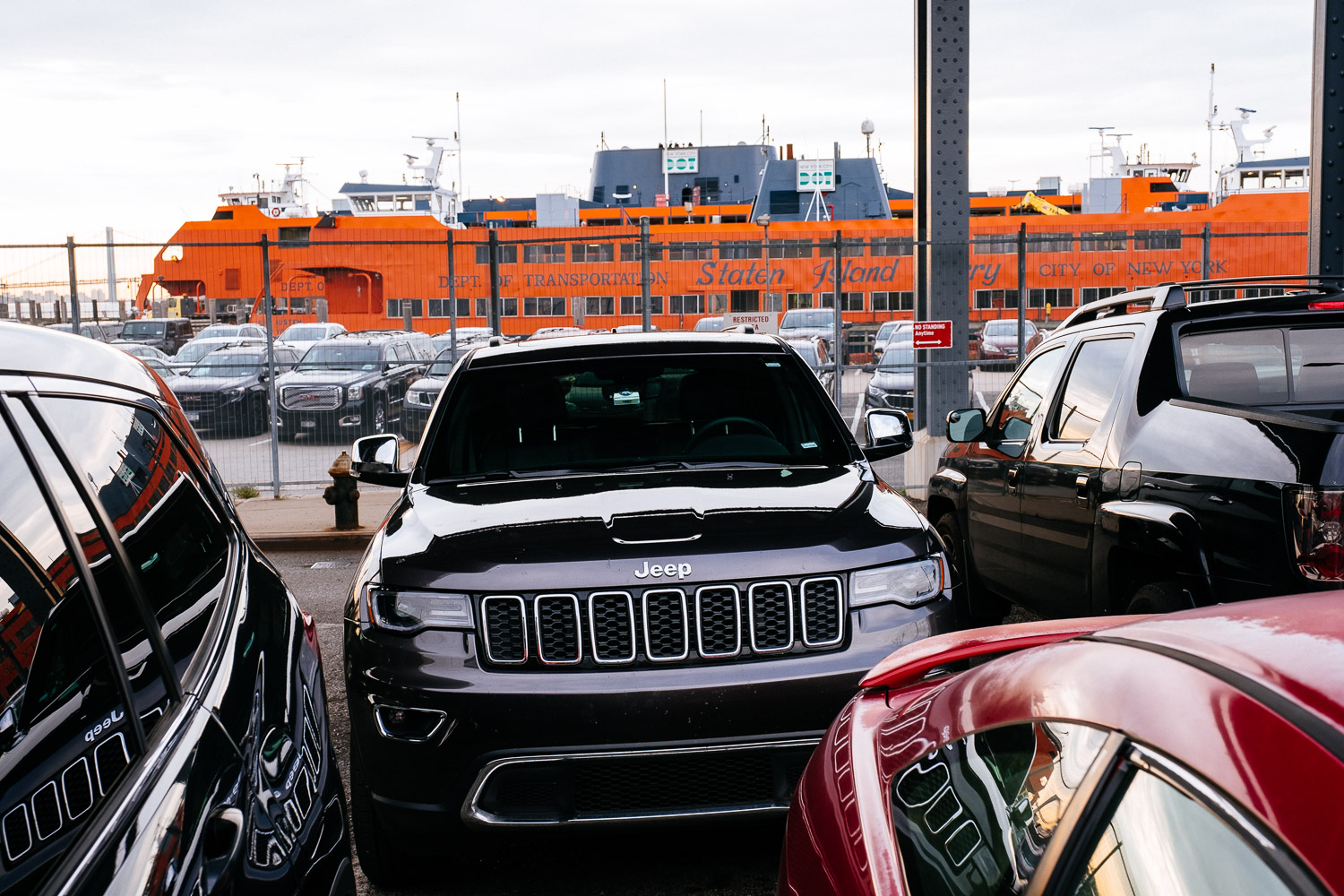 FUJIFILM X-H1 (27.4mm, f/5.6, 1/35 sec, ISO200)

FUJIFILM X-H1 (90mm, f/2, 1/450 sec, ISO200)

That was our last vacation in the USA but it will not be the last one. Right now the situation is quite bleak for most of us but I'm positive that there will be better days soon. We just need to be vigilant for a couple of more weeks before we will finally get our vaccinations and life will slowly get back to normal. Of course for some it is too late. Two million people died so far and it will be many more before this nightmare is finally behind us.
And after we defeated the virus we need to get the economy running again. But I'm positive. I think after being imprisoned and isolated for such a long time we will be hungry for life. And we will appreciate all those things that we took for granted: to be able to meet friends, dine in a restaurant, go to a cinema or theatre or to travel again. Or simply to give a good friend a long hug.
Soon we will be there. Take care!
FUJIFILM X-Pro2 (24mm, f/4.5, 1/220 sec, ISO200)