FUJIFILM X-Pro2 (50mm, f/4, 1/600 sec, ISO200)

The second day in New York City was hot and humid. We strolled through Central Park and 5th Avenue, somehow lost.
I'm sure that Central Park is a fantastic place at the right time of the year and in beautiful weather but today it wasn't. So we only took a short walk before we decided that it's enough, it just didn't work. We definitely need to return here in either even later autumn or spring.
We walked out of Central Park right into 5th Avenue.
FUJIFILM X-Pro2 (15.9mm, f/5, 1/200 sec, ISO200)

FUJIFILM X-Pro2 (11.5mm, f/8, 1/80 sec, ISO200)

FUJIFILM X-Pro2 (13.2mm, f/5.6, 1/90 sec, ISO200)

Right into the centre of the crazy rich and the crazy. Somehow those two seem to go together most of the time.
Of course there have always been crazy rich people. The richest of them all in Germany about 500 years ago. And of course there are Rockefeller, Carnegie and Vanderbilt and many others. Maybe this is just because everything looks better once it is 50 years or older but I have the impression that maybe 50 to 100 years back wealth often was combined with style and class. Benjamin Guggenheim refused to jump into a rescue boat when the Titanic sank. He dressed up to go down like a gentleman.
Today most of the rich look cheap and they act like that. They are like soccer players showing off their new wealth with their cars, boats and wives.
During my last trip to Japan I spent a Saturday morning in Ginza, Tokyo. The most expensive and exclusive shopping street in one of the most expensive cities in the world. It felt strange and sterile. The 5th avenue has mostly the same pointless up market boutiques and brands but at least it manages to look less sterile thanks to all the dirt and the noise. It is still boring though but we are here for the first time so we also have to see the boring staff.
FUJIFILM X-Pro2 (15.9mm, f/5.6, 1/50 sec, ISO200)

FUJIFILM X-Pro2 (12mm, f/8, 1/35 sec, ISO200)

FUJIFILM X-Pro2 (12mm, f/8, 1/30 sec, ISO200)

FUJIFILM X-Pro2 (17.4mm, f/4, 1/210 sec, ISO200)

FUJIFILM X-Pro2 (16.6mm, f/8, 1/80 sec, ISO200)

FUJIFILM X-Pro2 (14.5mm, f/8, 1/125 sec, ISO200)

The day before, our first day in New York City, we went from one highlight to the other. Grand Central Station, Flat Iron Building, Highline, Empire State Building, … but today we were just wandering around in between endless blocks of skyscrapers.
New York City is somehow exotic and familiar at the same time. Within the last couple of years I traveled a lot in Asia so I have seen a lot of big cities. I also visited most capital cities in Europe. New York sits somewhere in the middle. There are glass and concrete skyscrapers but there are also enough of the old. There are amazing art deco buildings and beautiful old fashioned shopping windows. There is a fantastic mixture of old and new. It's stunning.
But what makes New York special is the mix of cultures, the wild mix of smells of food from all around the world. Those endless streams of immigrants. First from Europe, later from all over the world. That is what makes New York so different and exciting. I finally started to understand and to enjoy the city.
FUJIFILM X-Pro2 (10mm, f/8, 1/25 sec, ISO200)

FUJIFILM X-Pro2 (10mm, f/8, 1/55 sec, ISO200)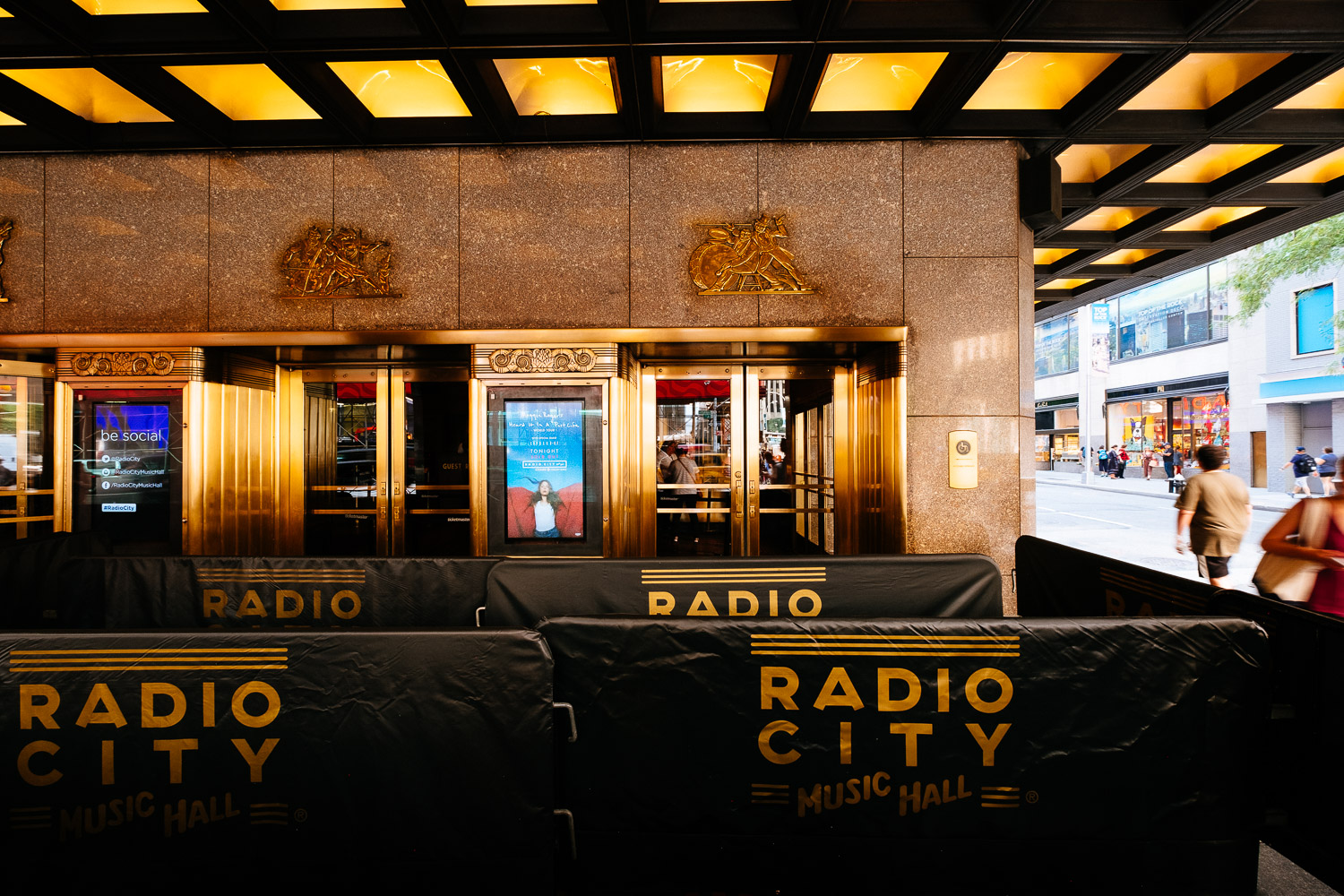 FUJIFILM X-Pro2 (10mm, f/5.6, 1/15 sec, ISO320)

FUJIFILM X-Pro2 (24mm, f/5.6, 1/55 sec, ISO200)

FUJIFILM X-Pro2 (10mm, f/8, 1/400 sec, ISO200)

The Radio City Music Hall, NBC, 30 Rock, … There is something you know on every corner only that it is just in front of you not on TV. There is difference to see something on TV or with our own eyes. And the difference is profound.
Everybody has seen a picture of the Taj Mahal or has seen the Taj Mahal on TV but only the real thing gives you goose bumps. I'm not telling you that I was running through New York with goose bumps but I hope you know what I mean. That very satisfying "now I finally see it with my own eyes" – feeling that makes traveling so special. Without that we could simply stay at home, sit on our coach and watch travel documentaries the whole day. OK, I know that is exactly what most of us do right now thanks to Covid19 but there will be a time after Covid and I like forward to that.
FUJIFILM X-Pro2 (10mm, f/4, 1/750 sec, ISO200)

FUJIFILM X-Pro2 (10mm, f/9, 1/300 sec, ISO200)

FUJIFILM X-Pro2 (15.9mm, f/8, 1/90 sec, ISO200)

Oh boy, this blog post is drifting around! There is no clear message more like a string of thought. I guess it has to do with the music I'm listing right now: John Scofield's – A Moment's Peace. It doesn't get any more relaxed than that. An excellent alternative to all the noise on TV. If you listen to this music the world becomes a different, much better place. A well deserved break from the news.
Currently I watch a lot of CNN. Because of the upcoming election but I guess also because I got used to CNN during my travels to Asia. In Japan CNN is often the only option to watch TV and to understand what the people are saying. But you can't watch it for too long without getting aggressive or depressed or both. Some of the music or jingles are so annoying that I have to mute the TV. The weather forecast for example. Who is in charge of those music choices? Or the "Rumble in the Jungle", "Thrilla in Manila" announcements of the debates. Better get a drink to take off the edge or simple switch it off. You won't miss any important news and if North Korea starts a nuclear war and the world finally comes to an end I guess you will notice it early enough.
On that final note: Turn off the news and turn on your stereo.
FUJIFILM X-Pro2 (10mm, f/8, 1/70 sec, ISO200)