FUJIFILM X-H1 (25.7mm, f/4, 1/30 sec, ISO1000)

Don't make plans or at least not very detailed ones. That's especially true when traveling.
It's best to remain flexible and so we usually only book the hotel for the first night. Everything else we decide when on the road. Of course we roughly decide where to go but for this trip in example that meant: arrival in New York, go somewhere at the Atlantic coast, Falling Water, Detroit, Chicago, Niagara Falls and a couple of days in New York at the end of the trip.
We never planned to come here because we didn't know about the place until we decided for the next stop after the Niagara Falls. Watkins Glen State Park is of course no insider destination at all but on a Friday morning end of September it's fine. Just enough people to put them into my shots when I wanted to.
FUJIFILM X-H1 (16mm, f/5.6, 1/550 sec, ISO200)

FUJIFILM X-H1 (24.2mm, f/5.6, 1/100 sec, ISO200)

FUJIFILM X-H1 (16mm, f/4, 1/30 sec, ISO2500)

FUJIFILM X-H1 (16mm, f/4, 1/30 sec, ISO1250)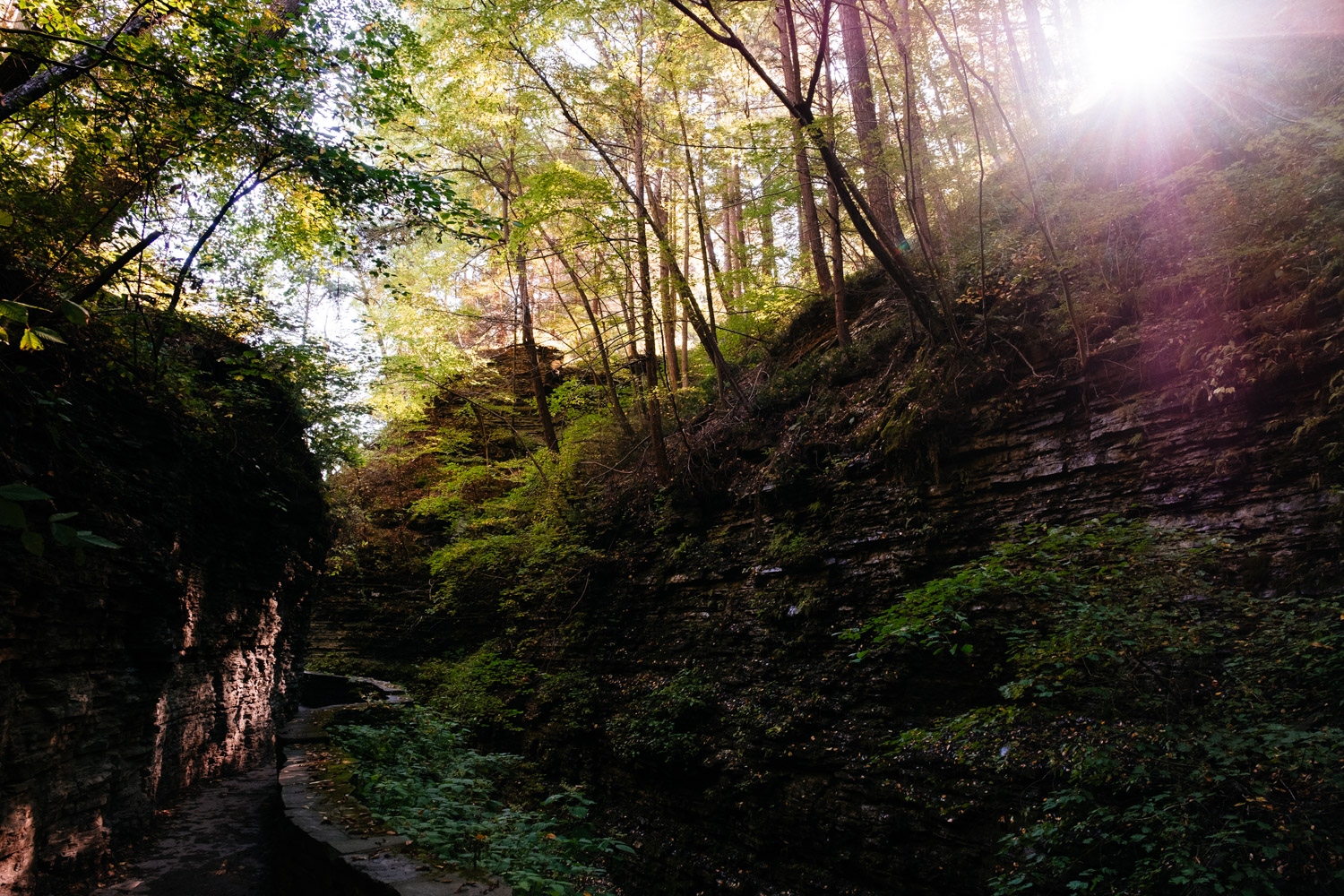 FUJIFILM X-H1 (16mm, f/4, 1/30 sec, ISO500)

As soon as you enter the narrow glen you are in a different world. It's a magic place of waterfalls and bridges. There is an endless number of stairs but those were not the reason it took us so long to get up. Every couple of steps I had to stop to take a picture.
Sometimes I visit places where I hardly take any images but once in a while I can't stop to take pictures. Watkins Glen is such a place. Everywhere you point your camera there is a picture. Such an experience is very rare and it can be overwhelming. Bryce Canyon, the Arches NP or if we talk about man made things The Taj Mahal or The Red Square.
It sounds strange but it can be very difficult to get good pictures when you are overwhelmed by the beauty of the place you are in. Photography requires inspiration but most of all a clear head. As a consequence there is disappointment when we look at the images when we are back home. I've been there many times. My mother used to love the images I took on my travels. She used to say:"It can't be that beautiful there." and I had to answer "Not it's ten thousand times more beautiful!"
It's impossible to capture a scenery on a tiny sensor. And no I'm not talking about APS-C vs full frame or medium format. Even large format is small compared to the real thing. As soon as our photograph somehow reassembles what we saw when we were there we have down a fantastic job. When we manage to capture the essence of a place. It that regard I love the two following images because they show lonely hikers soaking in the scenery. This is what this place is all about. Don't run or hike as fast as you can. Instead take your time, stop and stare.
FUJIFILM X-H1 (30.2mm, f/6.4, 1/30 sec, ISO640)

FUJIFILM X-H1 (19.4mm, f/4, 1/30 sec, ISO1000)

FUJIFILM X-H1 (25.7mm, f/4, 1/30 sec, ISO1000)

FUJIFILM X-H1 (16mm, f/4, 1/30 sec, ISO1000)

FUJIFILM X-H1 (16mm, f/5.6, 1/30 sec, ISO4000)

When you follow my blog you know that I don't like to change lenses. Even when I shoot primes I just don't like to do it. Call it laziness, call it whatever I want but I think it simple destroys the moment and the flow. What I discovered during my many travels is that I can use one lens on my way in and the other lens on my way out. I.e.: When in Asia and I enter a temple or pagoda I shoot with my XF 14/2.8 on my way back out I switch to a longer lens like the XF 23/2 WR or the XF 35/1.4 R to grab some pictures of details before I leave the place. That way I keep lens switch – interruptions to a minimum.
And that's exactly what I did here. On our way up I shot my new Fuji X-H1 with the XF 16-55/2.8 WR. A wonderful combination but sometimes it was not wide enough. So on my way down I switched to my trusty X-Pro2 and the XF 10-24/4 OIS and put the X-H1 in my camera back bag.
I switched to the X-Pro2 because the XF 10-24/4 OIS already is an image stabilised lens so there was no need to use the bigger and heavier camera.
FUJIFILM X-H1 (16mm, f/5.6, 1/30 sec, ISO2500)

FUJIFILM X-H1 (16mm, f/4, 1/30 sec, ISO1600)

FUJIFILM X-Pro2 (10mm, f/5, 1/15 sec, ISO640)

FUJIFILM X-Pro2 (13.8mm, f/5, 1/15 sec, ISO640)

FUJIFILM X-Pro2 (24mm, f/5, 1/15 sec, ISO400)

We were lucky that we started early. When we were close to the parking lot the place got crowded as you can see on the image below. Too many people can spoil the experience so here is another top tip: Make sure that you are at the spot as early as possible.
We watched the sunrise at the Zabriskie point in Death Valley. We stayed in a hotel very close but we still had to leave the hotel at 4am in order to see the sunrise because it was June. It was magical! After sunrise we returned to out hotel for breakfast. Same with a hike to The Delicate Arch in the Arches NP. The early bird catches the worm!
FUJIFILM X-Pro2 (10mm, f/5, 1/15 sec, ISO1250)

FUJIFILM X-Pro2 (17.4mm, f/5.6, 1/500 sec, ISO200)

When we reached our car the car park was full. When entered the car the next car was already waiting for us to leave. Too late – you missed it! Don't expect the see the same place that we saw three hours earlier.
We drove to our next hotel. A Holiday Inn Express in Ithaca for almost $300. You can always avoid the crowds but you can't run away from the weekends and what they do to the hotel prices in the USA.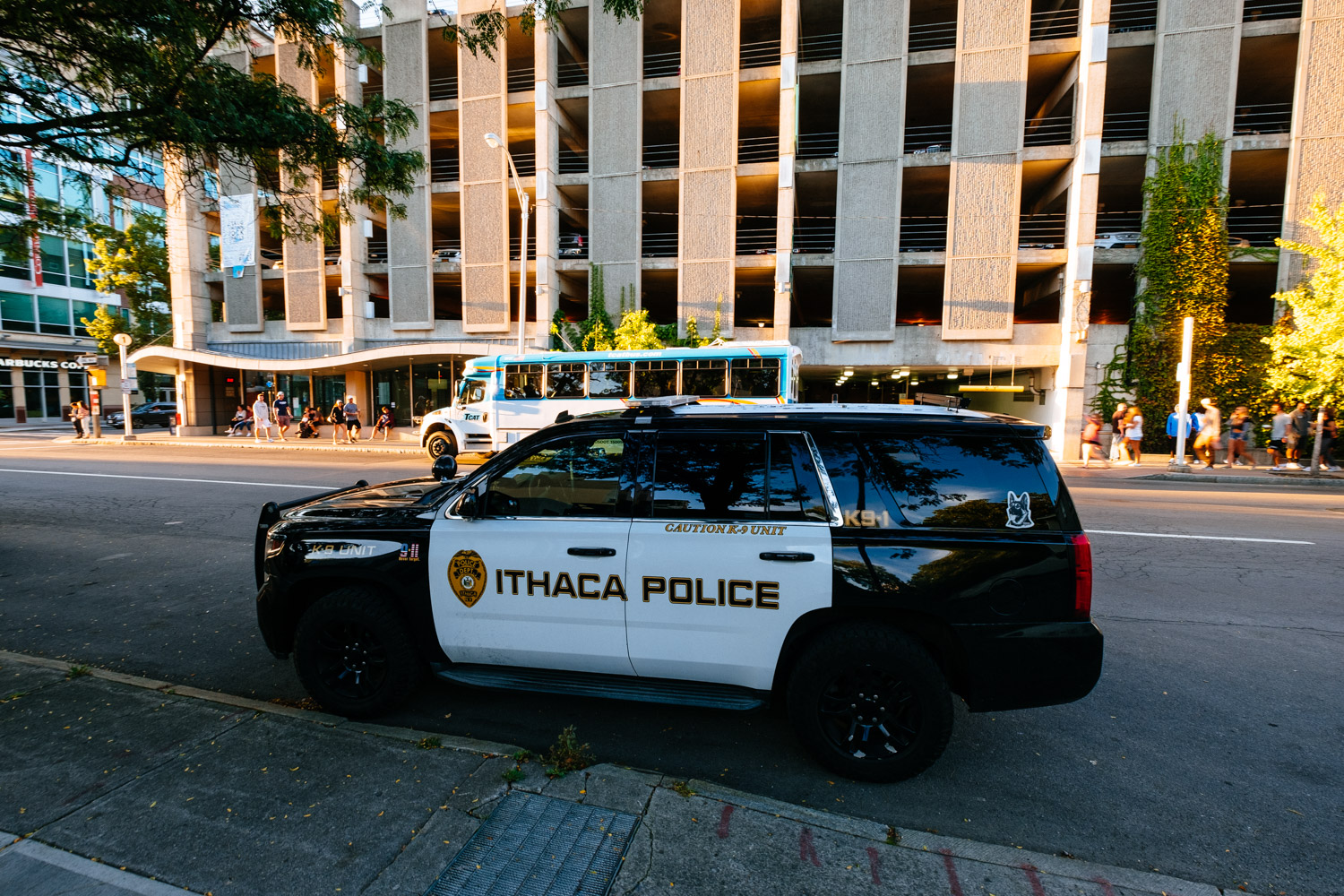 FUJIFILM X-Pro2 (10mm, f/8, 1/17 sec, ISO200)