FUJIFILM X-Pro2 (181.1mm, f/6.4, 1/160 sec, ISO320)

We just recently returned from our vacation. USA again. For the seventh time! So all the same? No, this time was very different.
After six trips to the South West of the USA we finally managed to travel the East. From Vienna straight to New York City. NYC for the first time of my life. I wanted to go there since I was a teenager but somehow never managed it.
Now I'm finally here and to celebrate this accordingly we spent the first night in Staten Island and went to NYC with the ferry. On a Monday morning around 8am together with the daily commuters. Part of my family moved to the USA over 100 years ago. They also passed the Statue of Liberty on a ship just like me, just like millions of immigrants. A very emotional moment.
FUJIFILM X-H1 (11mm, f/5.6, 1/30 sec, ISO200)

FUJIFILM X-H1 (55mm, f/2.8, 1/1250 sec, ISO200)

FUJIFILM X-H1 (22mm, f/5, 1/640 sec, ISO200)

We just walked through the South of Manhattan to get a first impression of New York City. We would be back here again in about two weeks but before that we have a road trip. We planned to see so many things but because my wife was sick the first week of the trip we slowed down a little. Which was a very good thing. At the end we are on vacation not on an escape trip.
So we missed to see some places but we discovered others. I'm only sad that we didn't make it to Chicago but there will be another time to see it.
FUJIFILM X-Pro2 (23mm, f/4, 1/60 sec, ISO400)

FUJIFILM X-H1 (16mm, f/4, 1/60 sec, ISO400)

FUJIFILM X-H1 (16mm, f/3.6, 1/2 sec, ISO100)

FUJIFILM X-Pro2 (19.1mm, f/8, 1/750 sec, ISO200)

FUJIFILM X-Pro2 (11.5mm, f/4, 1/30 sec, ISO1000)

FUJIFILM X-Pro2 (17.4mm, f/8, 1/250 sec, ISO200)

A true highlight of the trip was Detroit. To be honest I was a little afraid to come here because of the poor reputation. According to statistics this is the most violent city of the USA and if you come from a peaceful country in Europe this can be a little intimidating.
Of course there are some shady areas. There are many boarded up houses and I had a rather spooky evening ride for a restaurant when my wife stayed in the hotel. But beside that I think Detroit is a great place. You can easily see the signs of its great and rich past. In the 50s it was the wealthiest city in the world.
It was also home of the biggest car factory in the world. The Ford plant at the river Rouge simply called The Rouge was once home to 100.000 workers. The factory is still alive but now only 5.000 workers build the F150 there. And it was not only Ford. GM and Chrysler had big factories there too and all the other smaller car makers. Now all what's left is industrial ruins but also some of the most beautiful art deco sky scrapers in the world.
FUJIFILM X-H1 (23.4mm, f/8, 1/400 sec, ISO200)

FUJIFILM X-H1 (24.9mm, f/5.6, 1/1250 sec, ISO200)

FUJIFILM X-H1 (18.2mm, f/5.6, 1/1000 sec, ISO200)

FUJIFILM X-H1 (55mm, f/4, 1/5800 sec, ISO800)

FUJIFILM X-H1 (28.3mm, f/6.4, 1/220 sec, ISO200)

FUJIFILM X-H1 (25.7mm, f/4, 1/30 sec, ISO1000)

What else did we see. Fallingwater, the iconic building from Frank Lloyd Wright, the Rock Museum in Cleveland and Lake Erie. No sea though this time but standing on the shore of one of the big lakes could almost give you the illusion to be at the sea. Almost.
And of course the Niagara Falls where I really put the weather sealing of the Fuji X-H1 plus the XF 16-55/2.8 R WR to a test. When the Maid of the Mist gets very close to the falls on the Canadian side there is water from every direction. I was constantly wiping the front element of the lens but had no time and not enough hankies to wipe body and lens too. Luckily both camera and lens survived this stress test.
And of course there was this wonderful short hike in Watkins Glen in upstate New York. See image above and below. Just an amazing place.
FUJIFILM X-Pro2 (10mm, f/5, 1/15 sec, ISO1250)

FUJIFILM X-Pro2 (13.2mm, f/5.6, 1/55 sec, ISO200)

FUJIFILM X-H1 (16mm, f/4, 1/30 sec, ISO1250)

FUJIFILM X-H1 (27.4mm, f/2.8, 1/30 sec, ISO400)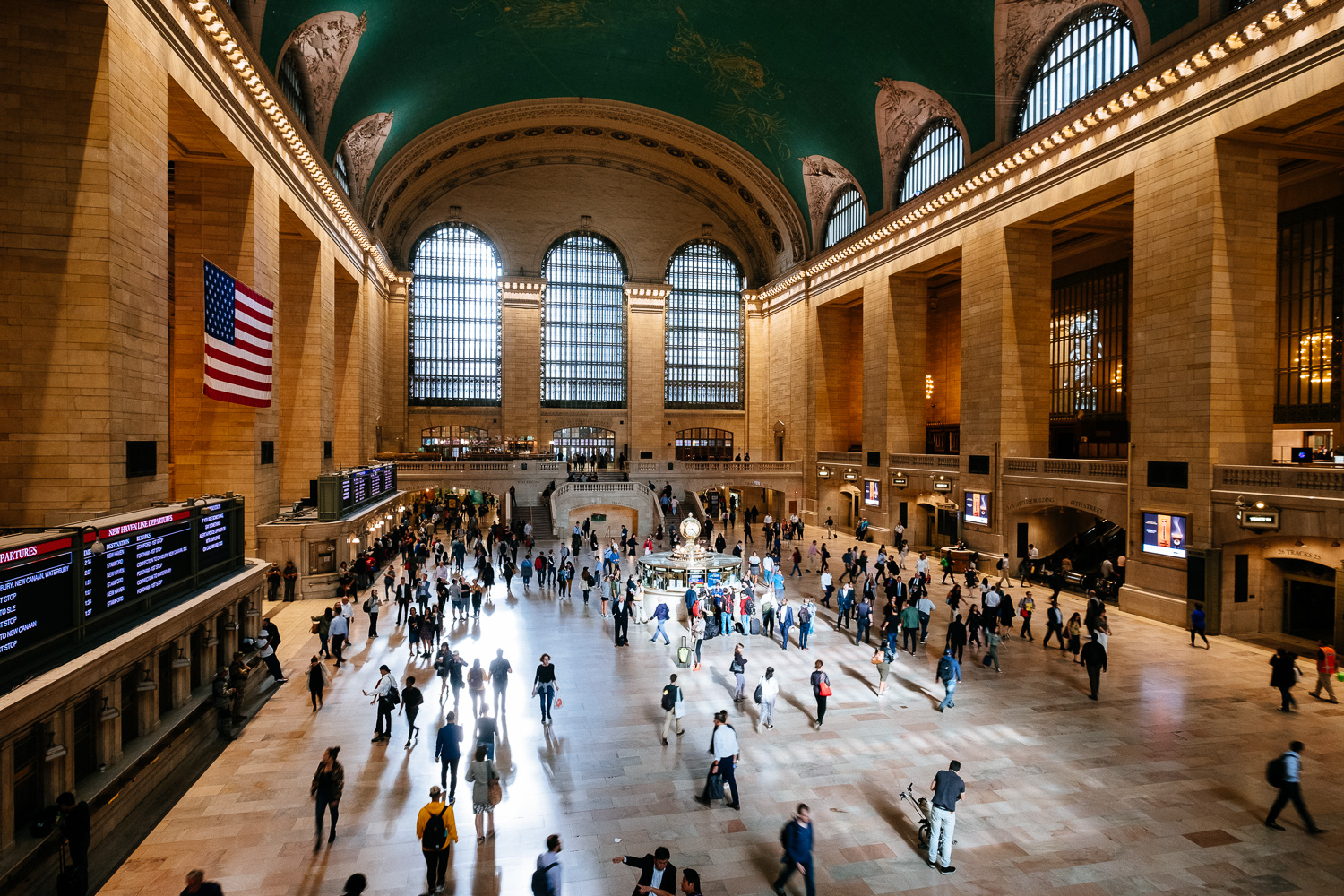 FUJIFILM X-Pro2 (12.6mm, f/5.6, 1/15 sec, ISO640)

After a little over two weeks we came back to New York for another couple of days. We stayed right in the middle of Manhattan very close to the Empire State Building and the Grand Central Station which was our first destination. What a fantastic place! I of course know it from many movies but it is so great to finally be here. But that's also true for many other places in NYC. This might be the only city where almost everybody has a clear picture of even though if they have never been there. You can't say that of New Delhi or Tokyo.
Maybe it's time to talk about gear:
This time I brought a brand new camera. Well the camera is not exactly new but it is new to me. I wanted a second camera body and with the current discount I couldn't resist and got a Fuji X-H1. I camera that I initially loved and hated at the same time. And somehow I still feel the same after the trip and here is why.
Don't get me wrong: This is a fantastic camera. Its built quality is way above the X-T line and maybe even above my beloved X-Pro2. Everything feels super sturdy and solid. This is a solid piece of equipment and it is a joy to use. The viewfinder is excellent and I wished my X-Pro2 would come close to that. And the shutter sound is just amazing. I think this is the quietest camera with a conventional shutter. It's almost as quiet as the X100F. I was almost shocked how loud the shutter of my X-Pro2 was in comparison after I shot the X-H1 for a couple of days.
But it is also a big and heavy camera and especially with the XF 16-55/2.8 WR attached it is a real departure from the original Fuji experience which in my case was the X-Pro1 plus the XF 18/2.0 R. And to be honest I don't like that. I switched from Canon full frame to Fuji X to have a small and light camera that still handles like a real camera. The X-Pro1, X-T1 and later X-Pro2 gave me that. The X-H1 is different. Handling is top notch too but it also feels like a DSLR regarding size and weight. For some this is a good thing, for me it is not.
There is also no size or weight advantage to a Nikon Z plus 24-70/4 lens which has a full frame sensor. Of course with the slower lens the Nikon has no real world advantage over the Fuji combo. And let's not ignore that both camera and lens feel much more solid than the Nikon counterparts. I love the quality of the X-H1 and of course also the XF 16-55/2.8 WR but I wish they were lighter. The X-Pro2 is no small camera too but still much lighter than the X-H1.
In short: If you tend to shoot with large lenses like the 100-400 or the 50-140 the X-H1 is your camera, if you prefer primes I would think hard and long before I get the X-H1. Of course it is great that now every single lens is stabilised but it comes at a price. And there is one more point I need to mention: battery life is almost pathetic and you need to use the new batteries (the ones with the point) to get at least a decent amount of shots.
FUJIFILM X-Pro2 (10mm, f/5.6, 1/320 sec, ISO200)

FUJIFILM X-Pro2 (10mm, f/5.6, 1/400 sec, ISO200)

FUJIFILM X-Pro2 (16.6mm, f/8, 1/500 sec, ISO200)

FUJIFILM X-Pro2 (10mm, f/8, 1/480 sec, ISO200)

FUJIFILM X-Pro2 (11mm, f/8, 1/400 sec, ISO200)

FUJIFILM X-Pro2 (10mm, f/4, 1/8 sec, ISO640)

But of course I started to enjoy the fact that I can shoot handheld at longer shutter speeds. To use the X-H1 in New York City was still not an option because I wanted to use my small shoulder bag. So I returned to my X-Pro2 and the XF 10-24/4 R OIS and since there was still some place left in the bag I threw in the XF 50/2.0 WR, a lens that I learned to appreciate. Those two lenses are a very nice combo and the whole setup still remains small and light.
Since this trip was mostly about cities and not so much about National Parks and wildlife I took far to much gear. Seems that I will never learn. Here are the lenses I took with me.
XF 10-24/4 OIS
XF 14/2.8 R
XF 16-55/2.8 WR
XF 23/2.0 WR
XF 50/2.0 WR
XF 55-200 OIS
XF 90/2.0 WR
And in bold you can see what I shot with most of the time. Well most of the time I either used the 10-24 or the 16-55 and from time to time I added shots with the 50/2. So I could have saved a lot of weight on my camera gear because I hardly use the 55-200 and even less so the 90, the 14 or the 23. On the other hand I took one of my favourite shots with the 55-200.
FUJIFILM X-Pro2 (12mm, f/8, 1/30 sec, ISO200)

FUJIFILM X-Pro2 (24mm, f/8, 1/125 sec, ISO200)

Some final words to close this blog post.
New York City of course is great but it is also loud, dirty and it literally stinks. The smell when you enter a subway station is hard to digest. There is also an almost unbelievable contrast in between rich and poor. On the other hand it is extremely beautiful and there is a  shot around every corner. So it's like India except that you pay in dollars.
If this sounds negative to you you've probably never been to NYC. If you live in New York please don't feel offended but what's wrong with cleaning the streets and the subway now and then?
The last evening we went to a restaurant just opposite of our hotel. A Japanese Ramen restaurant that opened recently and seemed to be very popular. We both had the standard soup and shared the scrapped ice with mango desert which was a massive portion. Plus one beer and one tea and we ended up spending 90 dollars. In Japan you could invite a lot of friends to end up with the same bill.
I take that as a sign. We should spend our next vacation in Japan.
FUJIFILM X-H1 (23mm, f/2.8, 1/30 sec, ISO1250)