FUJIFILM X-Pro2 (42.7mm, f/8, 1/800 sec, ISO200)

The last couple of years we spent a lot of vacations in the South West of the USA. Obviously we got spoiled by cloudless skies but that's only half of the truth.
Of course it is nice if you don't have to worry about the weather when on vacation. It's not a big deal if it rains a lot if you are at work or at home but if you spend a lot of money on a trip to a foreign country it can ruin your holiday.
Well, no such risk here even if your trip falls into the so called Monsoon season. This is not India. Monsoon season means an occasional thunderstorm but not more. There is a reason why this is all desert. So no rain to spoil your vacation but the extreme temperatures can make it difficult sometimes.
FUJIFILM X-Pro2 (16mm, f/8, 1/250 sec, ISO320)

FUJIFILM X-Pro2 (23.4mm, f/8, 1/640 sec, ISO200)

On this vacation we went there from mid of September to early October. It was hot but still manageable. In 2016 we went in June and experienced a heatwave that finally made us change our road trip and return back to the coast instead of Arizona.
This time we experienced everything in between -3 degrees Celsius to 40 but we were far from the 52 degrees Celsius in Death Valley in 2016. Still when it gets close to 40 degrees hiking is different. You need to protect your skin and your head and of course you always have to carry enough water. The hikes are not difficult and there is also no risk to get lost but of course it could become dangerous if you should forget to take some water with you.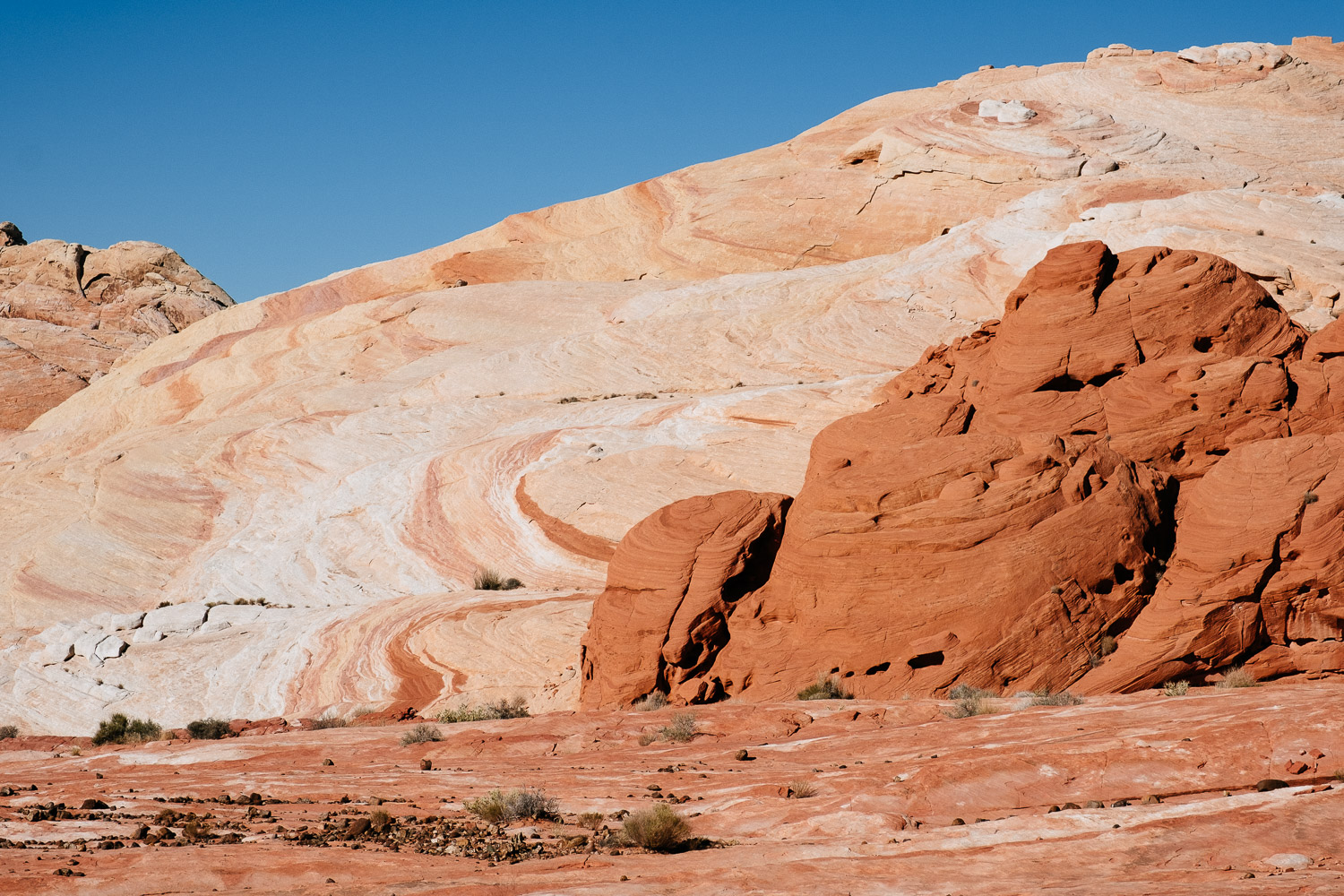 FUJIFILM X-Pro2 (55mm, f/9, 1/900 sec, ISO200)

FUJIFILM X-Pro2 (22.7mm, f/8, 1/600 sec, ISO200)

I had double protection. First I brought enough water and second I brought my wife. She is reminded me endlessly that we should not walk too far away from the car in order to survive. As you can see – it worked. We did.
Because we spent a lot of time taking pictures of the bighorn sheep it has become late and hot. So our walk was rather short but the good light was gone anyway.
When we came back to the parking lot I took a funny picture that shows the size of our rental car. On the left a Hyundai Tucson which is considered a proper sized car where I come from and on the right is our rental, an Infiniti QX80. A car that makes an Audi Q7 look small.
When we arrived at our car people we saw the big horn sheep in between the rocks above the parking lot. I took out the 100-400 for one more image.
FUJIFILM X-Pro2 (400mm, f/8, 1/420 sec, ISO200)

FUJIFILM X-Pro2 (32.1mm, f/2.8, 1/250 sec, ISO500)

Before we left the park we had a brief stop at the visitor centre. In case you haven't got the chance to see any wildlife in the park you can have a look at their stuffed sisters and brothers.
And since afternoon hiking was not recommend we returned to Las Vegas.
FUJIFILM X-Pro2 (16mm, f/2.8, 1/125 sec, ISO400)