FUJIFILM X-Pro2 (301.1mm, f/8, 1/250 sec, ISO200)

Sometimes all you need is luck and a long lens. And to stand up early helps too.
This is our third time in the Valley of Fire State Park and the second time that we had the chance to see wildlife.
After an early breakfast we left Las Vegas at sunrise. Just after we paid the entry fee I spotted the first bighorn sheep right opposite of the parking lot. Four big rams. Yes, that's what male bighorn sheep are called, also the name of the trucks from Dodge. First I spotted only the one in front of the bush and then I realised that there are three more slightly behind. I was lucky that two of them looked straight at me before the slowly walked off.
FUJIFILM X-Pro2 (290.6mm, f/8, 1/250 sec, ISO200)

FUJIFILM X-Pro2 (25.7mm, f/9, 1/250 sec, ISO200)

FUJIFILM X-Pro2 (153.3mm, f/8, 1/250 sec, ISO1000)

I already considered us lucky but after a short drive there was even more. Some more females just beside the road and literally on the road. As mentioned above luck and a long lens is all it needs.
But when I look at the Exif data I realise that for almost all images the small, light and super cheap Fuji 50-230 would have been enough. I still think the 50-230 is the bargain of the century. It's slow because of its aperture and it's also slow to focus but the optical quality is not that bad at all. The last time I was here before in 2014 I shot the 50-230 and the results were surprisingly good.
But of course the Fuji 100-400 WR is much better. It's a joy to use: AF is fast and the OIS is very effective. I seldom use it at home because I'm not into bird photography anymore but on a vacation where I got the rare chance to shoot wildlife this lens is just great. I have to get back to British Columbia and Alberta someday.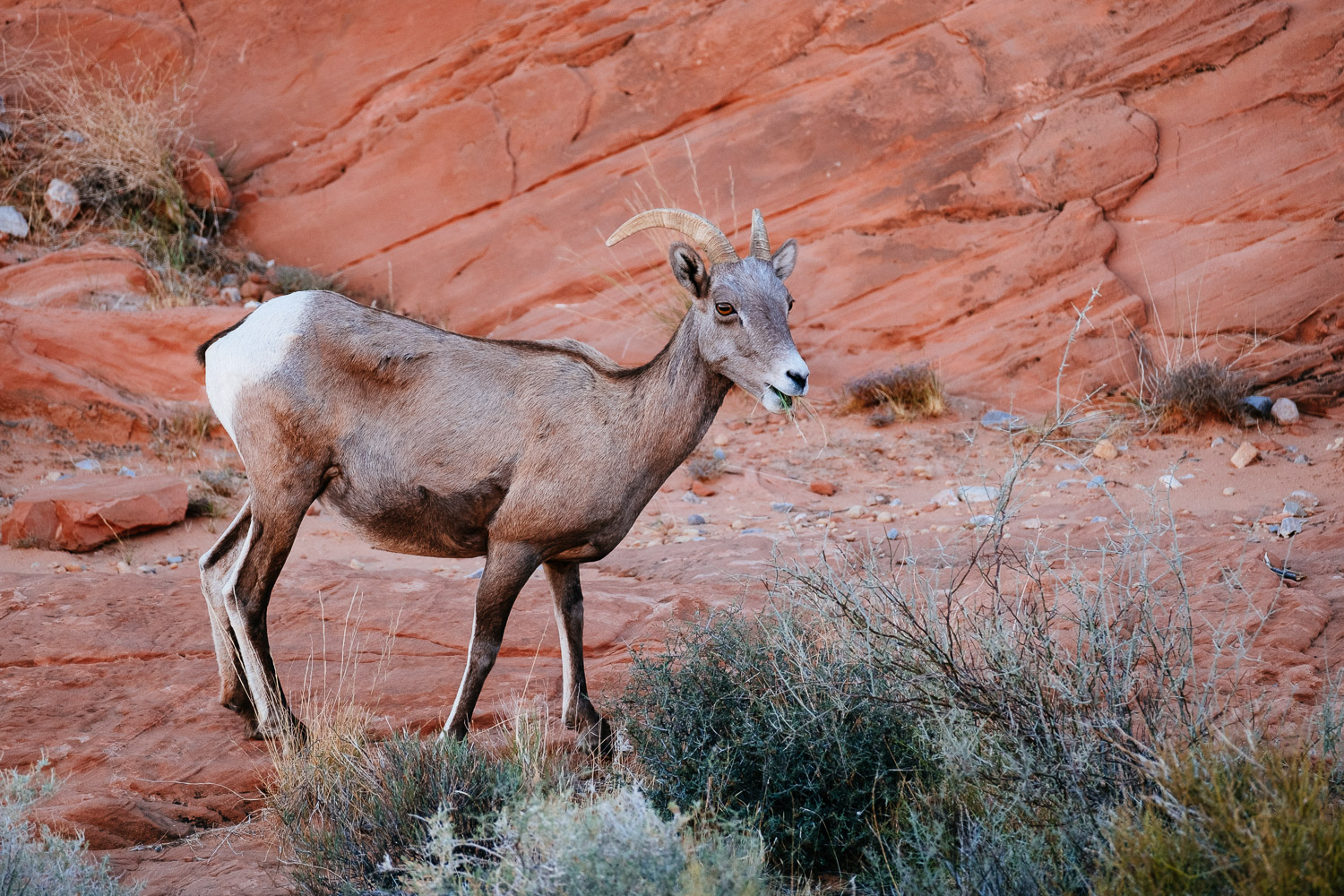 FUJIFILM X-Pro2 (261.2mm, f/5, 1/250 sec, ISO400)

FUJIFILM X-Pro2 (189.7mm, f/5, 1/950 sec, ISO200)

FUJIFILM X-Pro2 (196.6mm, f/5, 1/250 sec, ISO250)

Which such a long lens there is always one risk. I'm not talking about blurred or miss focused images here. That shouldn't be a problem anymore today because of contrast AF and image stabilisation. You need to have 1/250s or shorter anyway to freeze the motion of your subject and with such a short shutter speeds you are definitely on the save side.
I'm talking about cropping in too close. With birds and wildlife I always prefer a loser crop in order to give the animal some room in the frame and also to show it in its habitat. I could have easily filled the frame with my subject in the shot above but I really liked the scenery that looked like a studio setup of an old western movie. Except that it is real of course. Just like the bighorn sheep.
FUJIFILM X-Pro2 (234.8mm, f/7.1, 1/250 sec, ISO800)
USA