FUJIFILM X-Pro2 (23mm, f/5.6, 1/1250 sec, ISO200)

Last week we were on a road trip through a foreign land. Some things felt strange and some felt strangely familiar.
If you googled the headline you already found out that The Republic of Zubrowka doesn't exist but the headline still makes a lot of sense. But more on that later.
We traveled through the South of Poland and parts of the former German Democratic Republic.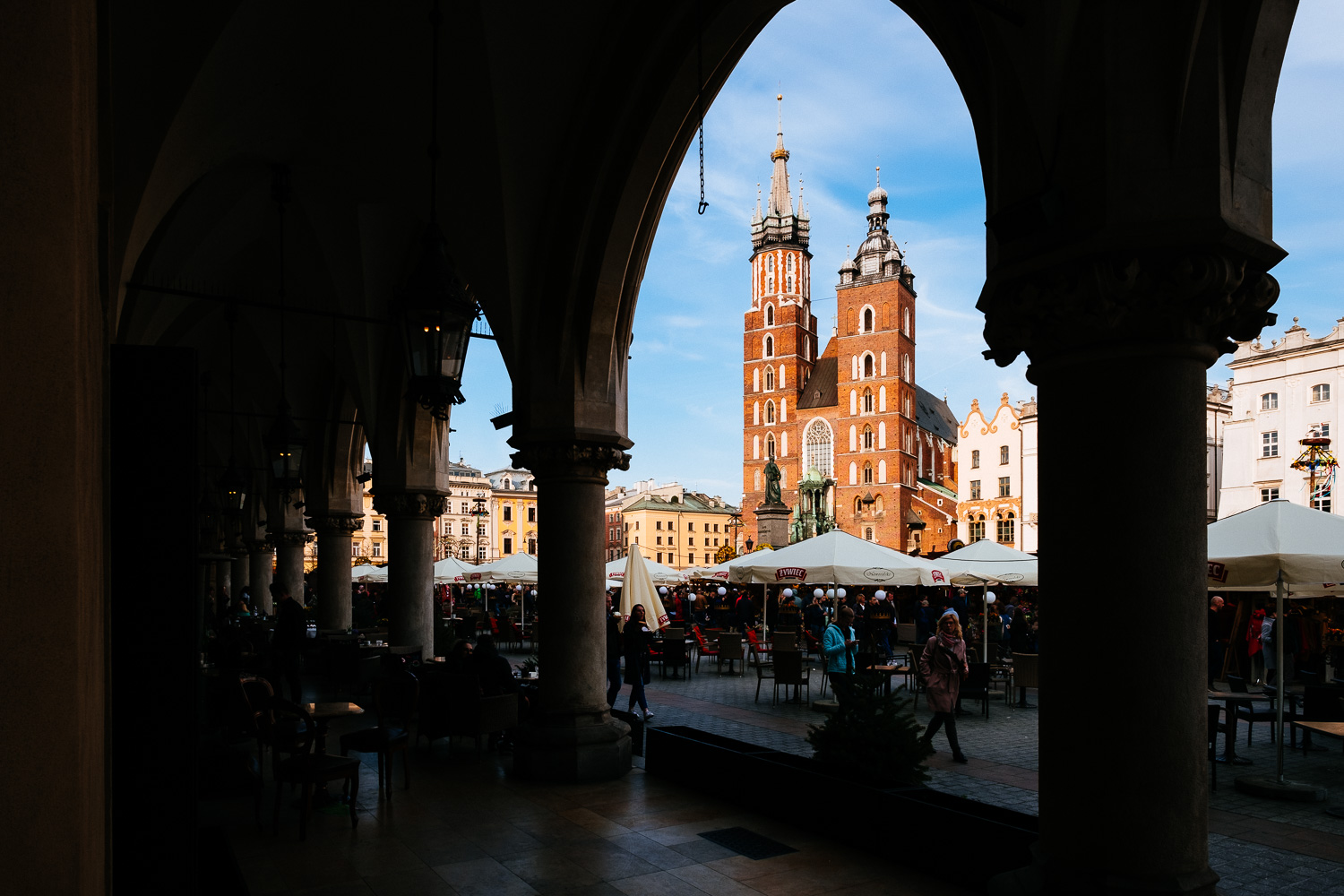 FUJIFILM X-Pro2 (14mm, f/9, 1/125 sec, ISO200)

FUJIFILM X-Pro2 (14mm, f/4, 1/60 sec, ISO500)

Every real road trip starts at home. After breakfast we packed our car and drove North. We passed the Northern part of Austria and the Czech Republic and finally ended upon in Krakow, Poland where we came just right in time to join the Palm Sunday market in the old town of Krakow. It was sunny but cold and there was a cold wind from the East so I had to buy a hat made of wool. The hat was warm but it itched like crazy. You can't have it all!
Next day we visited a beautiful church and in the afternoon a salt mine. One of the biggest in the world. So the image above shows the inside of a modern church built in 1969 and the image below shows a cathedral carved out of the salt and the rock by the miners. So two churches plus the one in the second image of this blog post. A lot of churches but that's Poland.
FUJIFILM X-Pro2 (14mm, f/2.8, 1/60 sec, ISO2500)

FUJIFILM X-Pro2 (23mm, f/8, 1/300 sec, ISO200)

FUJIFILM X-Pro2 (23mm, f/2, 1/60 sec, ISO640)

But it's not all about churches. There is a very nice aviation museum too. The museum holds a lot of planes with a focus of Eastern Europe fighter jets. And there is a Messerschmidt and a Spitfire among other valuable exhibits inside the newly built museum. I will of course post more pictures of the museum soon.
What was in my bag?
When you simply drive somewhere there are no restrictions regarding the size and weight of your gear so it's easy to go mad and to go all in. By that I mean to take every camera and every single lens you own with you. But I decided to keep it nice, small and simple. I only took my small camera bag:
Fuji X-Pro2
Fuji XF 14/2.8 R
Fuji XF 23/1.4 R
Fuji XF 35/1.4 R
Essentially my Asia business trip setup with one difference: I exchanged the XF 23/2 WR with the XF 23/1.4 R. So I brought my oldest Fuji lenses. No super silent AF or WR but for me they are still the best lenses that Fuji has made. Excellent optical quality but they still have character. In short: Fuji's finest!
Another advantage is the bright aperture. Of course I stopped the lenses down most of the time but it is nice to have the option to shoot at f1.4 if necessary or in order to deal with a busy background.
FUJIFILM X-Pro2 (23mm, f/7.1, 1/550 sec, ISO200)

FUJIFILM X-Pro2 (14mm, f/5.6, 1/420 sec, ISO200)

FUJIFILM X-Pro2 (14mm, f/2.8, 1/60 sec, ISO2000)

After Krakow we drove to Wroclaw on a rather new highway. I went to Poland frequently for my previous job but this trip was my first visit since 2011. Back then Poland had no highways and traveling was time consuming. Now it's fast, safe and convenient but it's boring too. There is not much to see when you travel on a highway in the middle of the woods.
Next day we went straight to the Jahrhunderthalle. A big multifunctional structure for exhibitions, concerts, opera performances and sport events. It was built in between 1911 – 1913 and its dome is made of reinforced concrete and has a diameter of 69 metres. The hall holds up to 20.000 people and was the biggest building of its kind back then.
It was one of our main attractions of this trip but we had to learn that it is under renovation! So no interior shots, just the picture below that I took from the nearby Japanese garden and the picture above that shows the cockpit of the space shuttle. There was a space exhibition in the outer ring but the main building was closed for the public. I guess we have to come back.
FUJIFILM X-Pro2 (35mm, f/1.4, 1/5800 sec, ISO200)

FUJIFILM X-Pro2 (23mm, f/2.8, 1/8000 sec, ISO200)

FUJIFILM X-Pro2 (14mm, f/5.6, 1/60 sec, ISO320)

Next stop Görlitz, Germany. I always wanted to go there. Görlitz has become a location for many movies because of its attractive inner city. The latest Hollywood movie shot here was "Bridge of Spies". And there was Tarantino's "Inglourious Basterds". But for me the main reason to come here was "The Grand Budapest Hotel" by Wes Anderson. It's such a wonderful movie full of beautiful sets with an incredible attention to detail.
Above image shows the Kaufhaus Görlitz or the Grand Budapest Hotel. We were lucky that we arrived on Thursday afternoon when it is open to the public for a couple of hours. It was opened in 1913 and was one of the first department stores in the German Reich. It survived two world wars and 45 years of communism but was closed in 2009.
Now there are plans to renovate and re-open it again. I can't wait to see that. I guess we have to come here again! I think I already said that. But there are some real pearls to find in the former German Democratic Republic and in the part of Poland that once belonged to Germany. It was a very rich and well developed part of the world in the late 19th century. But what wasn't destroyed in the world wars fell into a deep sleep and slow decay during communism. Just like The Grand Budapest Hotel in Wes Anderson's movie.
Why they came up with "The Republic of Zubrowka"? It's named after the famous Polish Bison grass vodka Żubrówka.
FUJIFILM X-Pro2 (23mm, f/5, 1/60 sec, ISO500)

FUJIFILM X-Pro2 (14mm, f/10, 1/60 sec, ISO640)

Above two images show the train station of Görlitz. Another beautiful example of how thriving this region was about a hundred years ago. Today many of the old buildings in the town are empty. Doomed to rot. You could buy a hotel there. Just make sure that you have a couple of million dollars for its renovation.
All of the images in this blog post are from either Krakow, Wroclaw or Görlitz except the first and the last image. Those are from the town Chemnitz, formerly known as Karl Marx-Stadt. Chemnitz is an example that not every town of the German Democratic Republic was filled with beautiful architecture. There is nothing to see here except the massive head of Karl Marx which is one of the biggest head sculptures in the world. It was the reason why I had a short stop there at the end of our trip.
The head of Karl Marx and the sculpture in the first image helps to give this blog post some Eastern Europe charm. It's not easy to find those sculptures today in most parts of former Eastern Europe. They were destroyed or removed and it's easy to see why.
My first trip to former Eastern Europe since early 2012 but definitely not my last. I'll be back!
FUJIFILM X-Pro2 (23mm, f/8, 1/340 sec, ISO200)