FUJIFILM X-Pro2 (13.2mm, f/9, 1/340 sec, ISO200)

Hotel rooms keeps getting more expensive especially in popular places like San Francisco.  That's why we stayed in the Grand Hyatt.
But maybe I should get back to our second vacation in the USA in 2013. On that trip we tried to save money and chose to stay in cheaper hotels. With two exceptions. One was The Horizon in Palm Springs and the other one was the Grand Hyatt at the Union Square in San Francisco.
It was a great vacation with many memorable moments but I also always think back to those two hotels. The Horizon was special because of the hummingbirds just outside of our bungalow and the Grand Hyatt because of its wonderful view. The Horizon is no longer the same but the Grand Hyatt is and that's why we stayed there again. And I used my Hyatt Points to upgrade for a Club room which comes with breakfast, light snacks for dinner and most important a room in an even higher floor.
FUJIFILM X-Pro2 (14mm, f/4.5, 1/100 sec, ISO400)

FUJIFILM X-Pro2 (14mm, f/9, 1/210 sec, ISO200)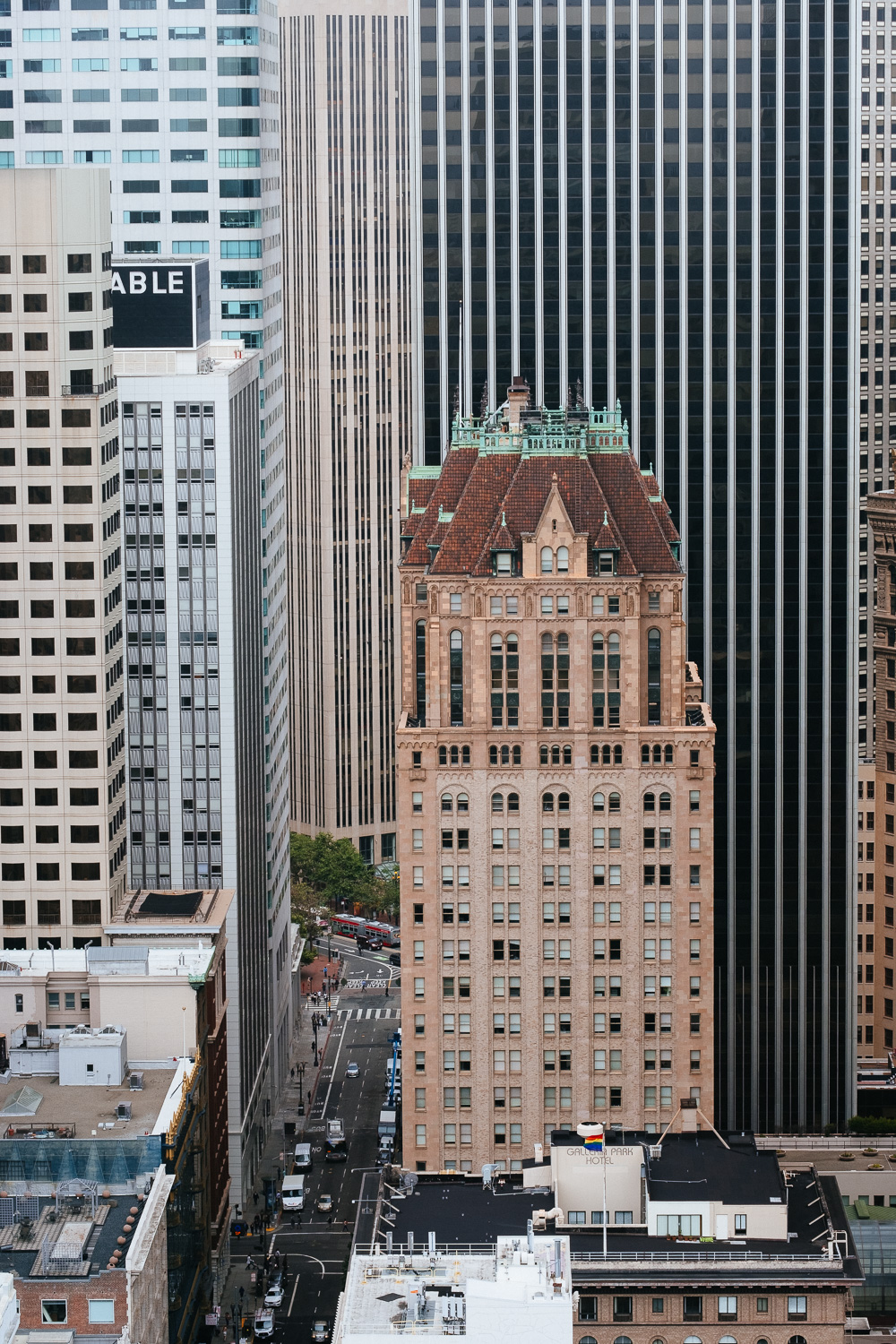 FUJIFILM X-Pro2 (67.1mm, f/9, 1/210 sec, ISO200)

I have stayed in many hotels, often on high floors but those views never grow old to me. It's just fantastic. When we stayed in this hotel for the first time we just looked out of the window and watched the sun go down. And then the lights when on in the office building just opposite of our room and in the apartments. It was perfect. We had to have it again so we came here again.
I don't like to overspend on hotels. I'm not happy when I have to pay a lot of money for a room in a Holiday Inn Express just because it is located in Moab/Utah but some hotels are special and this is one of them.
FUJIFILM X-Pro2 (128mm, f/9, 1/120 sec, ISO200)

FUJIFILM X-Pro2 (90.4mm, f/9, 1/400 sec, ISO200)

I took some shots with the Fuji XF 10-24 OIS, some with the Fuji XF 55-200 OIS and some with the Fuji XF 14/2.8 R when I was about the leave the hotel. When we went for a walk I took nothing but my X-Pro2 and and three primes. Old habits die hard.
Next destination China town which is just around the corner.
FUJIFILM X-Pro2 (40.7mm, f/9, 1/400 sec, ISO200)