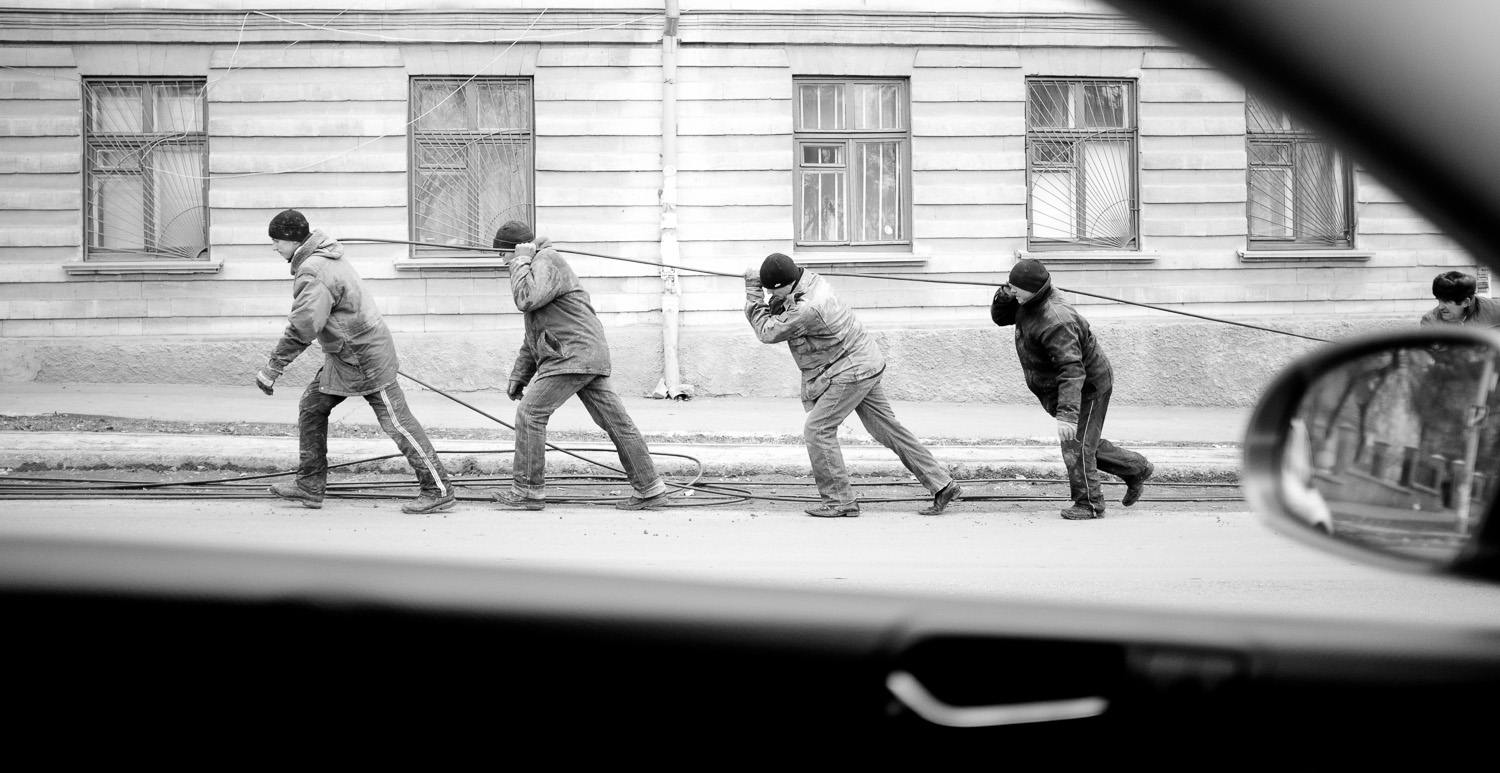 FUJIFILM FinePix X100 (23mm, f/2, 1/500 sec, ISO400)

FUJIFILM FinePix X100 (23mm, f/2, 1/500 sec, ISO500)

Sometimes you need to be fast because the opportunity to catch a special moment just lasts a second. Above images are a good example. I was on a business trip in Eastern Romania and Moldova. It was the first time I visited Moldova and I had no clear picture of the country before I went there. The only thing I knew was that it is the poorest country in Europe. The BIP is the lowest in Europe and the average monthly income is about 100.- EUROs! Retired people get an average of 12.- EUROs/month! ( according to Wikipedia ). Almost 25% of the people left Moldova to work abroad. They send money back and what they are sending back exceeds the BIP.
On the border in-between Romania and Moldova I got a first impression: Stern looking custom officials and straying dogs. Not the nicest place on earth. Beside our meeting at a factory and a dinner in a downtown restaurant I didn't see a lot of the country except a supermarket with probably the biggest assortment of tea I have ever seen. There was a selection of black, green and white teas from all over the world. I was not able to identify most of the teas as they were labelled in either Russian or Chinese. If there is one thing that I didn't expect in a former communist country which is now the poorest country in Europe – it's choice. I was wrong. At least in this supermarket they had a selection of products that is hard to find in Austria, Germany or Switzerland.
I'm afraid that most people living here can't enjoy the goods. They have hardly enough to survive. But what I have seen a couple of times while driving through the city ( on the passengers side ) was people feeding the straying dogs. Even though they struggle to survive they are still willing to share their food with the countless homeless dogs.
When we got back to Romania we had to wait in the border for hours because the custom inspectors checked every single car entering Romania. Endless hours where I tried to sleep but it didn't work. It was cold and dark and the place was filled with straying dogs. It was heartbreaking. I love dogs and it made me cry to watch them freezing and begging for food. It was a depressing sight and I was relieved when we finally crossed the border. I didn't take any pictures there but I still have the pictures in my mind.
The image above has nothing to do with all of that although it's typical for former Eastern Europe. A bunch of people performing a simple task that could easily be made by two persons. But this way it keeps all people busy instead of just a couple. This was one of the basic ideas of communism: Work is a human right. Unemployment was unknown. Of course socialism was wrong and the system finally collapsed more than 20 years ago but not everything was bad.
Today only very few people are rich and getting richer day by day whereas most of the people have nothing. The system is called capitalism and I'm wondering when it will collapse.