FUJIFILM X-Pro2 (16mm, f/5.6, 1/100 sec, ISO250)

After dinner walk at the strip. Slow walk though since it's still around 40 degrees Celsius or whatever that is in Fahrenheit.
Las Vegas – sin city? I don't think so. At least on the strip I would say it is no more. If you still want to see real gambling and strip clubs you need to go elsewhere. The strip has become as family friendly as Disney world. And even the downtown area is going the same route. The Fremont experience is supposed to bring more tourist to the old Las Vegas but of course that means that the place needs to be family friendly too.
FUJIFILM X-Pro2 (16mm, f/2.8, 1/100 sec, ISO400)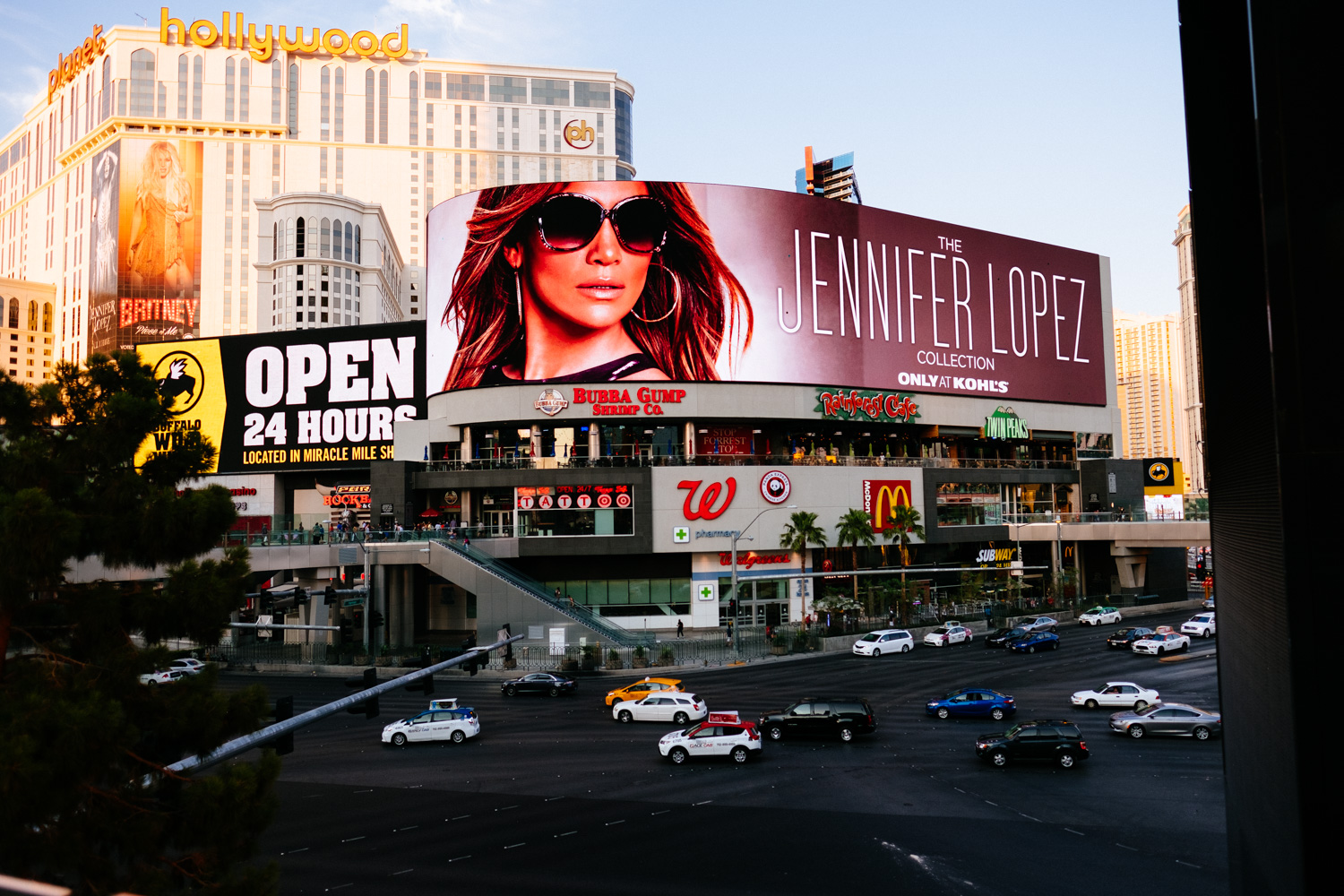 FUJIFILM X-Pro2 (16mm, f/2, 1/1250 sec, ISO200)

Don't get me wrong. I come here when I'm on vacation with my wife. It would feel awkward to pass a brothel every minute but a couple of strip clubs or some adult entertainment wouldn't be completely out of place.
Today the strip is like a big shopping mall for rich tourists and the only sins you can find are the price tags on all the stuff. Or its style. It's obvious that the clothing and jewellery on display is chosen with tourists from Russia or China in mind.
FUJIFILM X-Pro2 (16mm, f/2, 1/1250 sec, ISO200)

FUJIFILM X-Pro2 (16mm, f/2.8, 1/100 sec, ISO2500)

FUJIFILM X-Pro2 (16mm, f/1.4, 1/100 sec, ISO500)

So why do we keep coming back even though the place is kind of boring.
There are a couple of reasons. First: Las Vegas is nice and small and the airport is practically on the strip. If you stay at the MGM or Tropicana you can see the planes landing. That means the taxi ride to your hotel is super cheap. So cheap that you can take a taxi to your hotel and back to the car rental the next day and you will pay no more or even less than if you took the rental car right after landing.
The advantage: If you go to the car rental station right after you have landed you need to take a bus and you need to carry all your luggage all the time. Later when you go to your hotel you need to park your car at the car park and go through the whole casino to get to the reception to check in. With the taxi you stop right at the entrance. Of course it's even better if you should choose to stay for two nights before you start your road trip. There is no need to have a car if you spend a day in Las Vegas.
Second: The hotels. They are so much better than the normal hotels or motels in which you will stay during your trip and if you avoid the weekends they are truly cheap. Big rooms with enormous, high quality beds and whisper quiet air conditions. And the Caesars Palace has a really nice pool with lovely waitresses that serve you Mojitos in a pint plastic cup. It's not a bad place after all where luxurious hotels are surprisingly affordable thanks to the massive competition.
FUJIFILM X-Pro2 (16mm, f/5.6, 1/210 sec, ISO200)

FUJIFILM X-Pro2 (16mm, f/1.4, 1/1700 sec, ISO200)

FUJIFILM X-Pro2 (16mm, f/3.6, 1/170 sec, ISO200)

On my evening walk I decided to only shoot with the Fuji XF16/1.4WR. I can not stress enough what a fantastic lens that is. From a pure technical perspective this is one of Fuji's best lenses and despite being only a wide angle primes lens it is also very versatile.
And even though my all time favorite lens from Fuji is still the XF14/2.8R because of its more dynamic field of view I can see that the 16/1.4 might be a better choice for a lot of people. The biggest advantage of the 16/1.4 is of course, that the maximum aperture if f1.4. Combine that with the very good close focus capability and a surprisingly pleasant Bokeh and you got a real winner. It's an excellent lens for people that like to take pictures of their food or pictures of their friends in a restaurant or pub. If you take pictures of a group of people the fast aperture helps to keep ISO low and it allows some subject separation.
But even if you don't use those features and just take some snaps during an evening stroll it is a very fine lens. It's so easy to get used to this focal length that you simply won't miss a zoom.
FUJIFILM X-Pro2 (16mm, f/4, 1/100 sec, ISO320)

FUJIFILM X-Pro2 (16mm, f/1.4, 1/680 sec, ISO200)

Sometimes it is just fun to shoot at f1.4 just because you can. Llike in the image above where I focused on the gentleman in front of me who looked like a Leonard Cohen impersonator on the way to his gig.
Just have a look how the sharpness drops right behind my subject and how nicely the fast aperture blurs the other people and the structures.
When we reached The Caesars Palace we considered to take a taxi back to the MGM because it was still very hot but at the end we decided to walk back since we haven't walked a lot the last two days in the Death Valley.
FUJIFILM X-Pro2 (16mm, f/5.6, 1/100 sec, ISO320)