FUJIFILM X-Pro2 (23mm, f/2, 1/125 sec, ISO800)

Most streets in the centre of Tokyo are well lit, modern and super clean. This one is not and I love it.
Very close to the famous Shinjuku station (the busiest train station in the world) you can find a small, dark alley full of super small food stalls. It's official name is Memory Lane but everybody calls it Piss alley. It earned its name because a long time ago the workers and the businessmen relieved themselves in between the nearby train tracks after having a beer or two since those small stalls were not equipped with toilets.
FUJIFILM X-Pro2 (23mm, f/2, 1/125 sec, ISO800)
 
FUJIFILM X-Pro2 (23mm, f/2, 1/125 sec, ISO2500)

I didn't find the place myself. I had dinner in a fine Sushi restaurant with my local distribution partner and his customer and on the way back to my hotel they showed me the place. It was cold and rainy and I took all the shots within a minute as we had a long day of work ahead of us.
But I knew that I would come back here on my last evening in Tokyo. When I told them that I plan to come here again on my last evening I was invited for dinner again.
FUJIFILM X-Pro2 (23mm, f/2, 1/125 sec, ISO400)

FUJIFILM X-Pro2 (23mm, f/2, 1/125 sec, ISO1250)

FUJIFILM X-Pro2 (23mm, f/2, 1/125 sec, ISO640)

In the past this was a place for locals or to be more precise for businessmen only. They stopped by after a long day in the office for Yakitori and a beer or two before they board the trains to their home in the suburbs of Tokyo.
It is still a place for an afterwork drink and snack but of course you can also find some tourists now. I swear that I recognised the sign only after I took the image.
FUJIFILM X-Pro2 (23mm, f/3.2, 1/125 sec, ISO3200)

FUJIFILM X-Pro2 (23mm, f/2.8, 1/80 sec, ISO1000)

Fast foward a couple of days: Back in Tokyo again from Osaka for my last night in Japan. It was even colder and rainier than it was a couple of days before. It's the night before the beginning of spring!
Since I was not alone but in company of my host I didn't take any pictures outside. Everybody was happy when we finally entered the restaurant. And I was happy when I finally passed the bar counters and the super narrow stairway to the first floor to sit on a tiny bench on a tiny table.
I was surprised that I managed to get up there and so was one of my hosts. She arrived later and told me that she didn't think that I would make it upstairs. Thank you very much! It's so easy to feel like an elephant in Japan if you are above 6.1 feet.
Despite the massive language barrier we had a lot of fun. I guess the beer helped.
FUJIFILM X-Pro2 (23mm, f/2.8, 1/80 sec, ISO1250)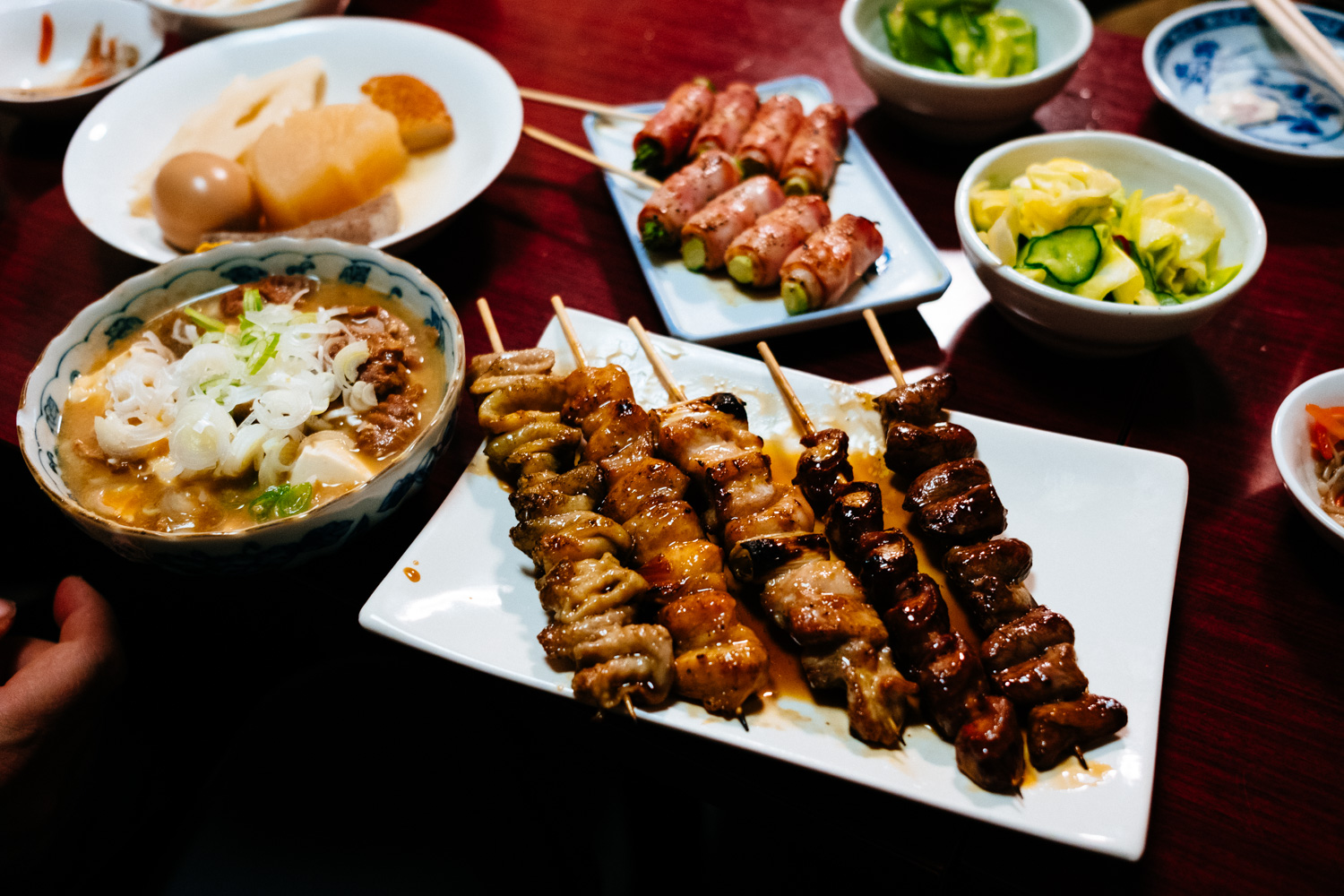 FUJIFILM X-Pro2 (23mm, f/2.8, 1/80 sec, ISO1600)

FUJIFILM X-Pro2 (23mm, f/2.8, 1/80 sec, ISO2500)

So how about the food? As always in Japan the food was really good. Of course it helps if you are open to new experiences. Eat without pre-justice. Just have a look at the menu in the picture below. I chose the Giblets set and Chicken set but as always in Asia you just order the meals, put them in the middle of the table and share. It's perfect because that way you can try out everything.
They were surprised to hear that I love to eat liver and they told me that in the past they used to eat raw liver. But unfortunately that's not possible anymore because of food safety concerns. I was surprised that Japan draws the line there since most of the fish and seafood in consumed uncooked.
They asked me if I ever have tried out Shiokara. I wasn't sure so they ordered it. When the small bowl arrived I exactly knew what it contained. Yes, I have tried that before I just have forgotten its name. One of the most awkward tasting food you can imagine. Just google Shiokara. I guess even most Japanese don't like it. Maybe they just want to see the expression of your face and check out if you are honest.
Of course I tried it again and of course I was honest about it. And I quickly ordered another beer. What a night!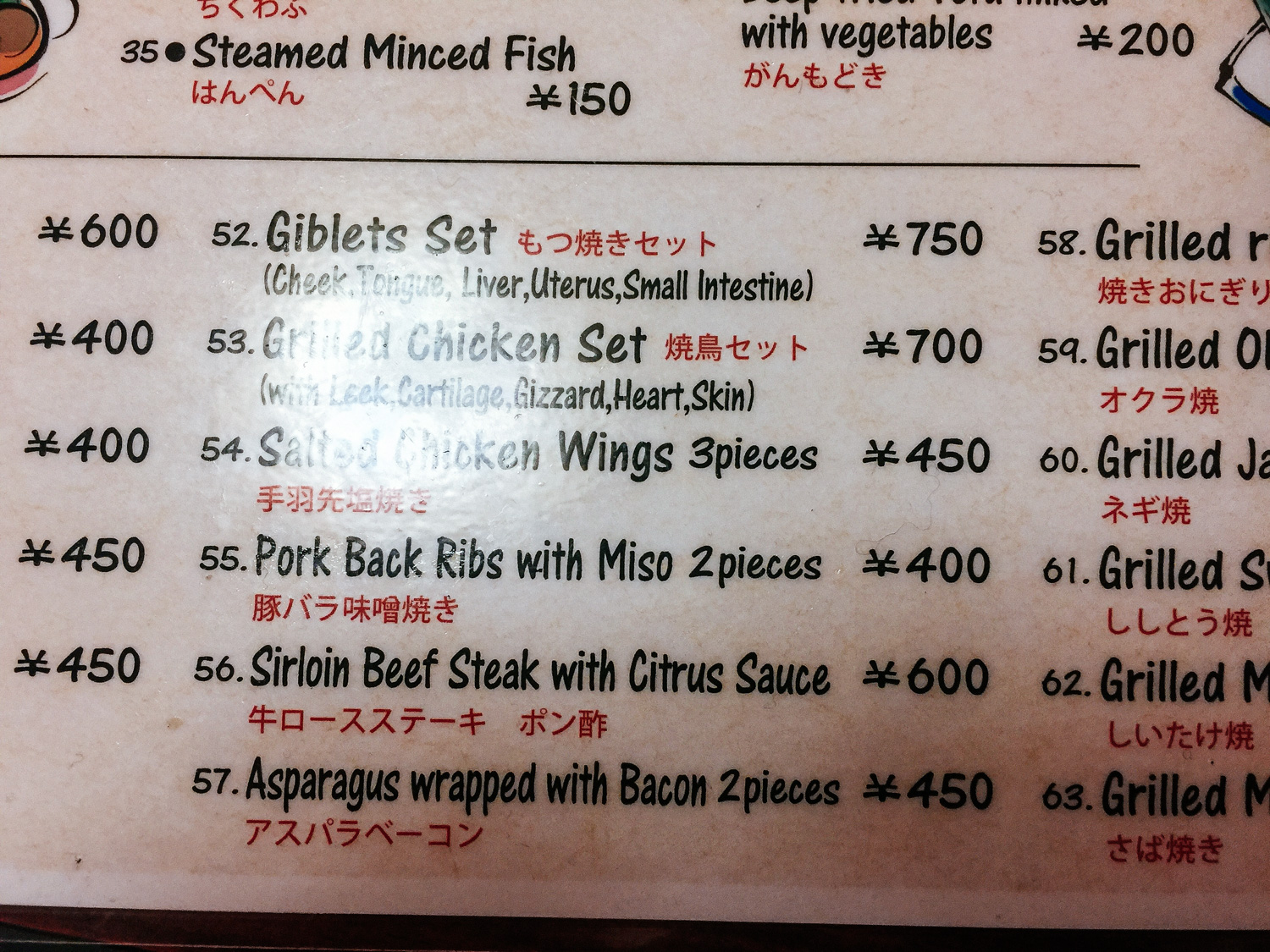 Apple iPhone 6 Plus (4.15mm, f/2.2, 1/15 sec, ISO50)