FUJIFILM X-T1 (104.9mm, f/7.1, 1/80 sec, ISO200)

Gold! Mountains of gold! It's hard to describe what's so special about the desert but two things stand out for me. The silence and the colours at early morning or late evening.
What can look boring or even bleak at the middle of the day looks fantastic right after sunrise or just before sunset. This is the first time I experience Death Valley in the evening and I can't wait to see Zabriskie point at sunrise.
FUJIFILM X-T1 (55mm, f/9, 1/80 sec, ISO200)

FUJIFILM X-T1 (99.8mm, f/9, 1/110 sec, ISO200)

That's the reason why we decided to stay overnight in the park. To see the sunrise at Zabriskie point. But the sunset is alone is worth to stay here a little longer. Even if you just pass by I recommend to stay a little longer to see the sunset in the desert. Even though if it means that you will arrive late in Las Vegas which is another two and a half hours drive from here.
There is nothing to see in Las Vegas anyway. 😉
FUJIFILM X-T1 (95mm, f/9, 1/80 sec, ISO250)

FUJIFILM X-T1 (55mm, f/8, 1/200 sec, ISO200)

A perfect day in the desert comes to an end. We will have dinner in the very same place were we had lunch. Again: There is not much choice here.
After a nice dinner including ice cream for dessert we went to bed. Or better we tried. Our room was very warm and we had no cold water. The "cold" water was warm enough to have a shower. There was an air condition but it wasn't powerful enough to cool our room. We put wet paper towels in our fridge to put them on our arms later.
We didn't sleep a lot that night also because the alarm was set to 4am.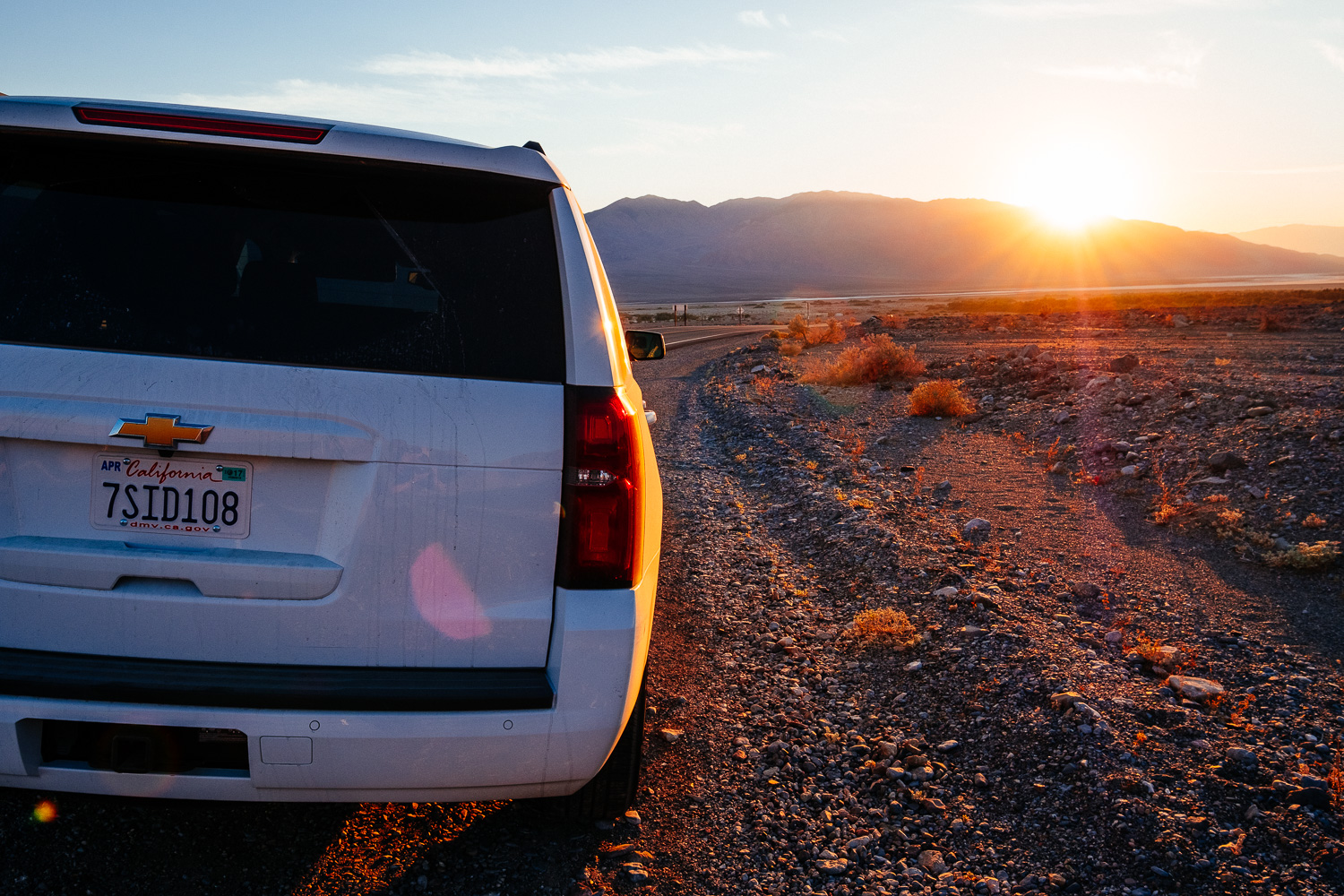 FUJIFILM X-Pro2 (19.1mm, f/9, 1/180 sec, ISO200)