FUJIFILM X-T1 (46.3mm, f/8, 1/600 sec, ISO200)

California is about beaches. This is one our favourite.
Carpinteria State Beach, about 10 miles east of Santa Barbara. Less fancy and busy than Santa Barbara. In one word: prefect. During our visit visit in the USA we learned about the place thanks to a helpful young lady from France. She worked in the tourist info and recommended that place over Santa Barbara. She was right. On our first vacation we where traveling with a large RV so we stayed on the camping site which is right behind the beach. Since the first trip we return here every time we visit the coast and of course the first thing to do is to walk the beach.
FUJIFILM X-Pro2 (200mm, f/4.8, 1/1800 sec, ISO200)

FUJIFILM X-Pro2 (200mm, f/4.8, 1/1700 sec, ISO200)

FUJIFILM X-Pro2 (156.1mm, f/9, 1/600 sec, ISO200)

For the first beach walks in 2010 I took nothing but the Sony NEX 5 plus the kit zoom. It was a completely new experience for somebody who is used to take pro DSLRs and lenses almost everywhere. It was a fantastic experience. The following years I took either Fuji X or a Canon FF plus the fantastic but heavy 70-200 IS II.
This year I was back to Fuji only. Two cameras. The X Pro-2 with the XF 55-200 OIS and the X-T1 with the XF 18-55 OIS.
It was perfect. On a beach I prefer to have a longer lens to be able to compress the view. The XF 55-200 OIS just gives me that without the excessive weight that I used to carry around. The lens is roughly one third of the weight of the big Canon zoom. The X Pro-2 is also lighter and smaller than the Canon 6D. So the same result in a much smaller package? Almost! To be honest there is one thing I miss: To shoot a full body portrait with the 70-200/2.8 IS II at 200mm@f2.8 is magic. You can't do that with the 55-200.
From time to time I consider to get the fantastic XF 90/2 R for head shots and for exactly this kind of pictures.
FUJIFILM X-Pro2 (128mm, f/9, 1/1800 sec, ISO200)

FUJIFILM X-Pro2 (55mm, f/9, 1/220 sec, ISO200)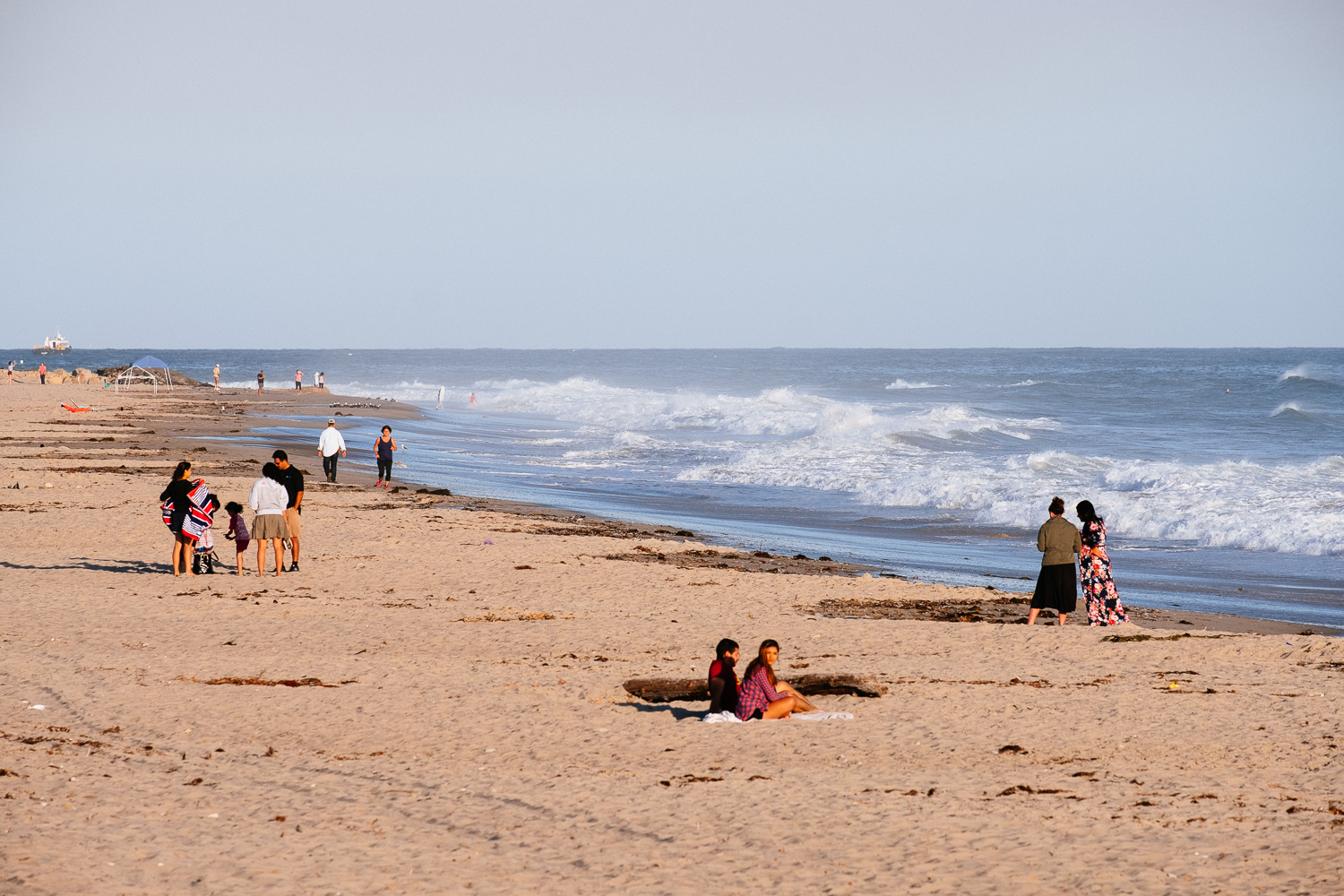 FUJIFILM X-Pro2 (181.1mm, f/9, 1/350 sec, ISO200)

But beside not getting the "model shot" there is nothing I miss and of course it is nice to have a small camera with a small lens instead of a DSLR with a big white lens that screams pro.
Strange thing is that today I feel that I stick out even more. I think the smart phone is to blame. A couple of years back everybody was shooting with a camera. Of course the tourists but also the locals to preserve some memories of a day on the beach which friends or kids. Today they all just use their smartphones. Of course there is nothing wrong with that but I think they might have a "VHS-video" moment some day in the future. What is a VHS-video moment? When I was in my twenties those big VHS camcorders were the only option to shoot video. And of course that was not 4K or 1080p. It was 320×240! When I look at those videos today I smile but I also could cry because of the unbearable quality.
The big difference to smart phone photography is that there was no better technology available at that time. Today there is and it doesn't have to be a big and heavy pro-DSLR. Even a small Sony RX100 x could make a huge difference and helps to avoid a big disappointment.
FUJIFILM X-Pro2 (134.5mm, f/14, 1/400 sec, ISO200)