FUJIFILM X-Pro2 (16.6mm, f/9, 1/500 sec, ISO250)

When in Santa Barbara the first way always leads to the pier. This is a busy except if you go there in the morning.
We have been here many times before but we never had the pier for ourselves. To be honest it felt rather strange. Closed shops and restaurants, an empty pier, no-one on the beach and no surfers in the water. It was like visiting a completely different place.
FUJIFILM X-T1 (200mm, f/8, 1/340 sec, ISO200)

FUJIFILM X-T1 (86mm, f/8, 1/420 sec, ISO200)

FUJIFILM X-T1 (86mm, f/9, 1/250 sec, ISO200)

All we could do was staring at the sea. It was magic!
Of course I had to take pictures. I always do. Sometimes I wonder if I would experience things differently if I would travel without a camera. "I look at what's there right now." my smart wife once said. Good point! Am I too focused on taking pictures that I can't enjoy the moment? That I only experience the scenery through a small, now even electronic, viewfinder? I don't know and I most likely will never find it out.
I have to take pictures because 1. I really enjoy photography 2. I want to preserve all those moments. I enjoy to look at the images that I took during my travels as they bring back some memories. I can't imagine not having them. Here my wife agrees. She can look at the things right now because she knows that I will take those images so that we can look back on those trips at the later stage.
FUJIFILM X-T1 (57.8mm, f/9, 1/340 sec, ISO200)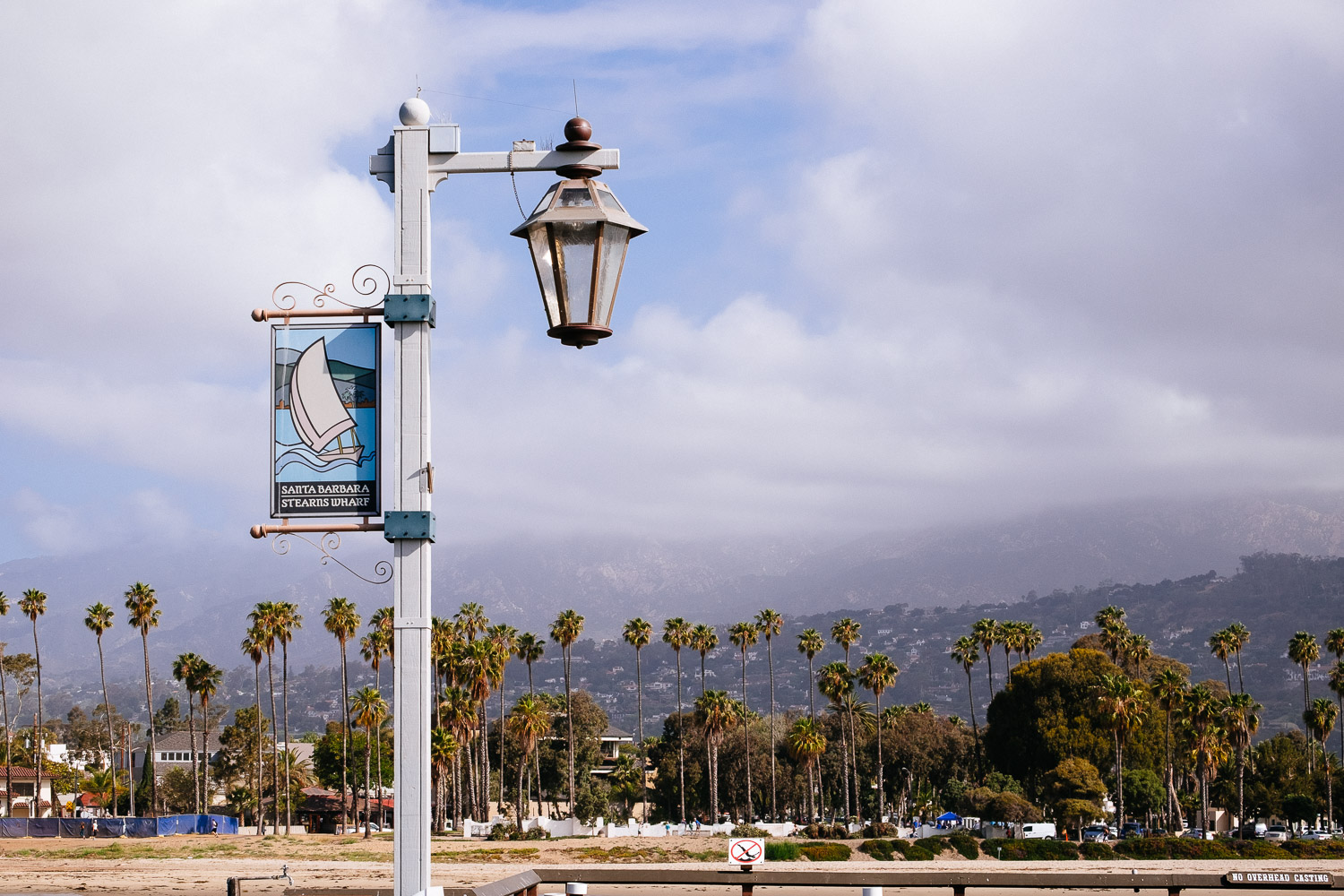 FUJIFILM X-T1 (55mm, f/10, 1/280 sec, ISO200)

FUJIFILM X-Pro2 (16.6mm, f/9, 1/500 sec, ISO320)

FUJIFILM X-Pro2 (17.4mm, f/8, 1/640 sec, ISO200)

FUJIFILM X-Pro2 (15.1mm, f/9, 1/640 sec, ISO200)

FUJIFILM X-Pro2 (10mm, f/9, 1/500 sec, ISO320)

It's not that I can't look at the scenery when I'm there. Most of the time my camera just hangs around my neck or shoulder or sits in its bag. If you want to take a picture you have to take a good look around first. And if the light isn't good or if there is nothing special to see the camera stays in the bag. But this morning the light was nice and the empty pier in Santa Barbara an exotic subject. I left the camera bag in the car and just took the two cameras. My X Pro-2 with the Fuji XF 10-24 OIS and the X-T1 with the XF 55-200 OIS. That way I could change from wide angle to tele without the need to switch lenses.
Something I got used to when I was still shooting DSLRs. Back then I shot the Canon 5D with either the 17-40 L or 24-105 L and the Canon 500D plus the 70-200/4 L. The Fuji X-T1 plus the 55-200 is even lighter than the small Canon and of course the X Pro-2 is much lighter than the Canon 5D. Thanks to the EXIF data all shots will be in perfect order. Just make sure that every camera is set to exactly the same time!
FUJIFILM X-Pro2 (11.5mm, f/9, 1/500 sec, ISO200)

FUJIFILM X-Pro2 (20.9mm, f/8, 1/500 sec, ISO320)

I know that this amount of gear still sounds excessive for many. For me it's traveling light after many years with heavy SLRs and tripods.
But even in the USA it is hard to ignore that many people either shoot with a compact camera or simply with their smartphones. Especially the smartphones have changed everything.
This is quickest way to tell at when an image was taken. Before digital cameras everybody shot with the camera in front of their face or even on a tripod because the slow film. When digital cameras became popular everyone shot with the arms stretched out and now everybody shot with mobile phone and selfie stick.
That provides a good way to tell when an image was taken except when there is nobody around.
FUJIFILM X-Pro2 (15.1mm, f/7.1, 1/500 sec, ISO500)