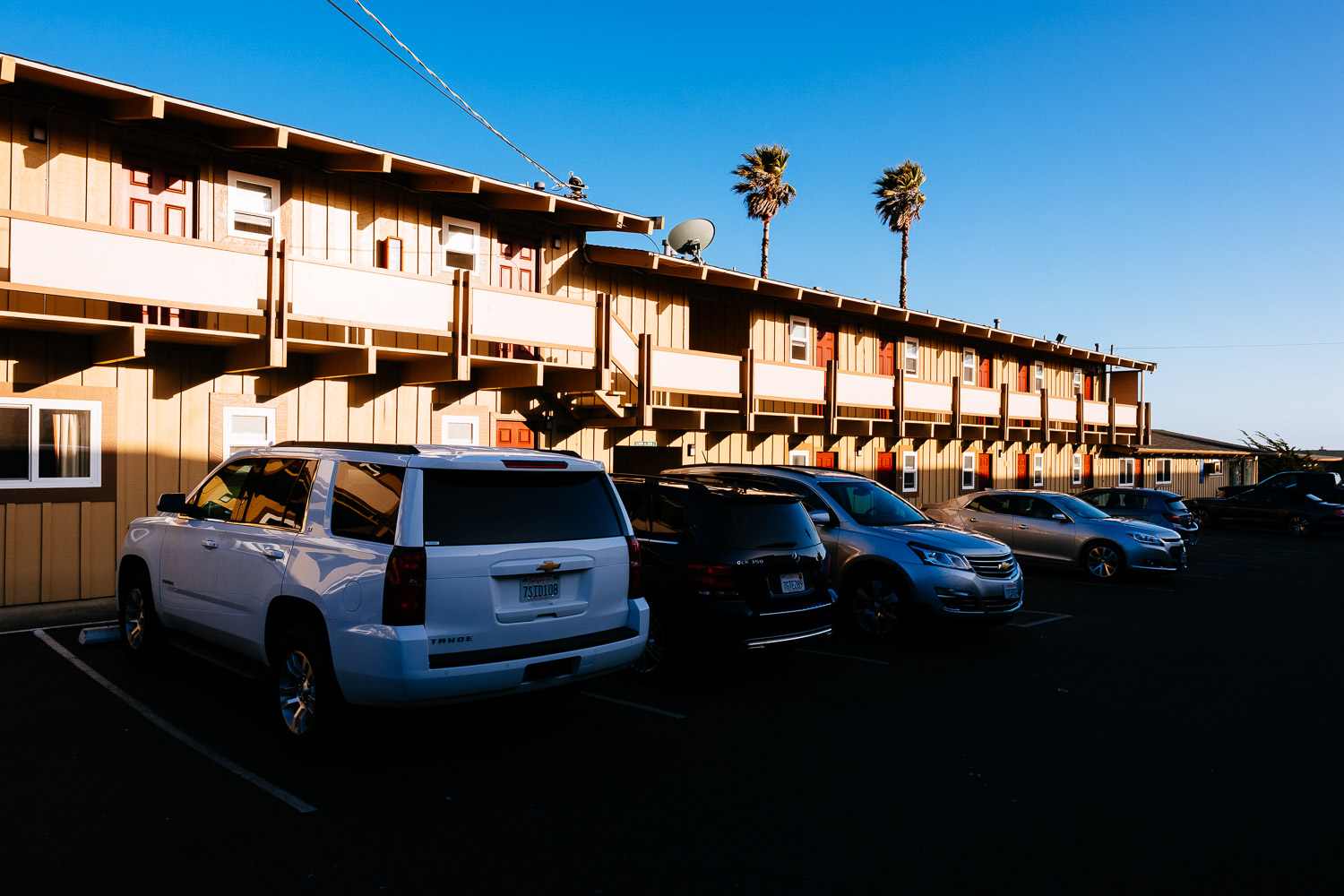 FUJIFILM X-Pro2 (16mm, f/8, 1/200 sec, ISO200)

Sometimes a morning just feels perfect. Like this one. Of course it helps to be somewhere on the coast of sunny California.
The first week of our vacation. We still had the advantage of a jet lag that made us wake up early. But it was June so the sun has risen before we left our motel. One quick shot of the cars in front of the sunlit motel, the two palm trees and the cloudless sky.
FUJIFILM X-Pro2 (156.1mm, f/9, 1/200 sec, ISO250)

FUJIFILM X-Pro2 (104.9mm, f/8, 1/750 sec, ISO200)

We were on out way back to the elephant seal colony. The day before my wife was so tired that she slept in the car while I was out shooting the elephant seals. But today my wife was awake and so were the elephant seals or at least some of them.
When we reached there we were the first visitors of the colony. An empty parking lot, active elephant seals and wonderful early morning light. It really pays to stand up early and postpone breakfast.
FUJIFILM X-Pro2 (200mm, f/8, 1/640 sec, ISO200)

FUJIFILM X-T1 (39mm, f/8, 1/250 sec, ISO640)

FUJIFILM X-Pro2 (172.4mm, f/5.6, 1/480 sec, ISO200)

Beautiful light and fighting teenagers. Just like a family barbecue. Low intensity fights though. The big bulls prefer to rest.
I was amazed how close the lie together. Protection from chilly morning temperatures can't be the reason. Those giants have enough body fat to stay warm even in the deep sea. On land they also have no enemies so there is no reason stick together like that. I assume they are just very social animals.
FUJIFILM X-Pro2 (128mm, f/5.6, 1/200 sec, ISO320)

FUJIFILM X-Pro2 (200mm, f/5.6, 1/320 sec, ISO200)

FUJIFILM X-Pro2 (141.3mm, f/5.6, 1/280 sec, ISO200)

FUJIFILM X-Pro2 (99.8mm, f/5.6, 1/200 sec, ISO320)

This is an amazing place that allows you to get very close to those animals but there is one disadvantage: The viewpoint is too high. I always prefer to be at eye level with my subject but here I was forced to shoot down from the boardwalk. It's forbidden to walk on the beach and honestly I think it is not a good idea to get involved into a bull fight. Even the youngsters are quite massive. But nothing compared to the guy in the picture below. He was about twice the size of all the others and by the amount of wounds you could tell that he was involved in many serious fights. But the time was not right for fighting. He slept all the time while we were there.
When you take pictures early morning you can watch the light change from excellent to mediocre to poor. Time to go back and get breakfast.
FUJIFILM X-Pro2 (110.3mm, f/5.6, 1/200 sec, ISO320)