FUJIFILM X-Pro2 (11.5mm, f/9, 1/320 sec, ISO200)

If you read my previous post: Same day, same conditions, same lens. An unbelievable winter day in Austria. Blue skies like in California only slightly colder.
The little town we visited is Mariazell, a famous place of pilgrimage. In summer on weekends this place is packed with tourists but on that cold day in January it was almost empty. It was not a problem to find a parking lot right in the centre of the town. Sometimes  we come here in winter when we haven't seen the sun for weeks. Mariazell is about 900 meters above sea level which means that it is outside of the fog most of the time.
FUJIFILM X-Pro2 (10mm, f/9, 1/300 sec, ISO200)

FUJIFILM X-Pro2 (13.2mm, f/10, 1/250 sec, ISO200)

But that day was sunny everywhere in Austria. There was not a single cloud in the sky. Sunny but cold. Very cold!
The small souvenir stalls were closed and because of the freezing cold temperatures there were hardly any people outside. This busy place has become a ghost town. I liked it. The loudest noise came from the crunching snow.
I shot with my Fuji XF 10-24 OIS. It's such a great and flexible lens and it's a real advantage in the cold if you don't have to constantly switch lenses all the time. The XF 10-24 covers all the important focal lengths but I found myself shooting in between 10 to 14mm most of the time.
FUJIFILM X-Pro2 (11.5mm, f/8, 1/180 sec, ISO200)

FUJIFILM X-Pro2 (15.9mm, f/7.1, 1/40 sec, ISO640)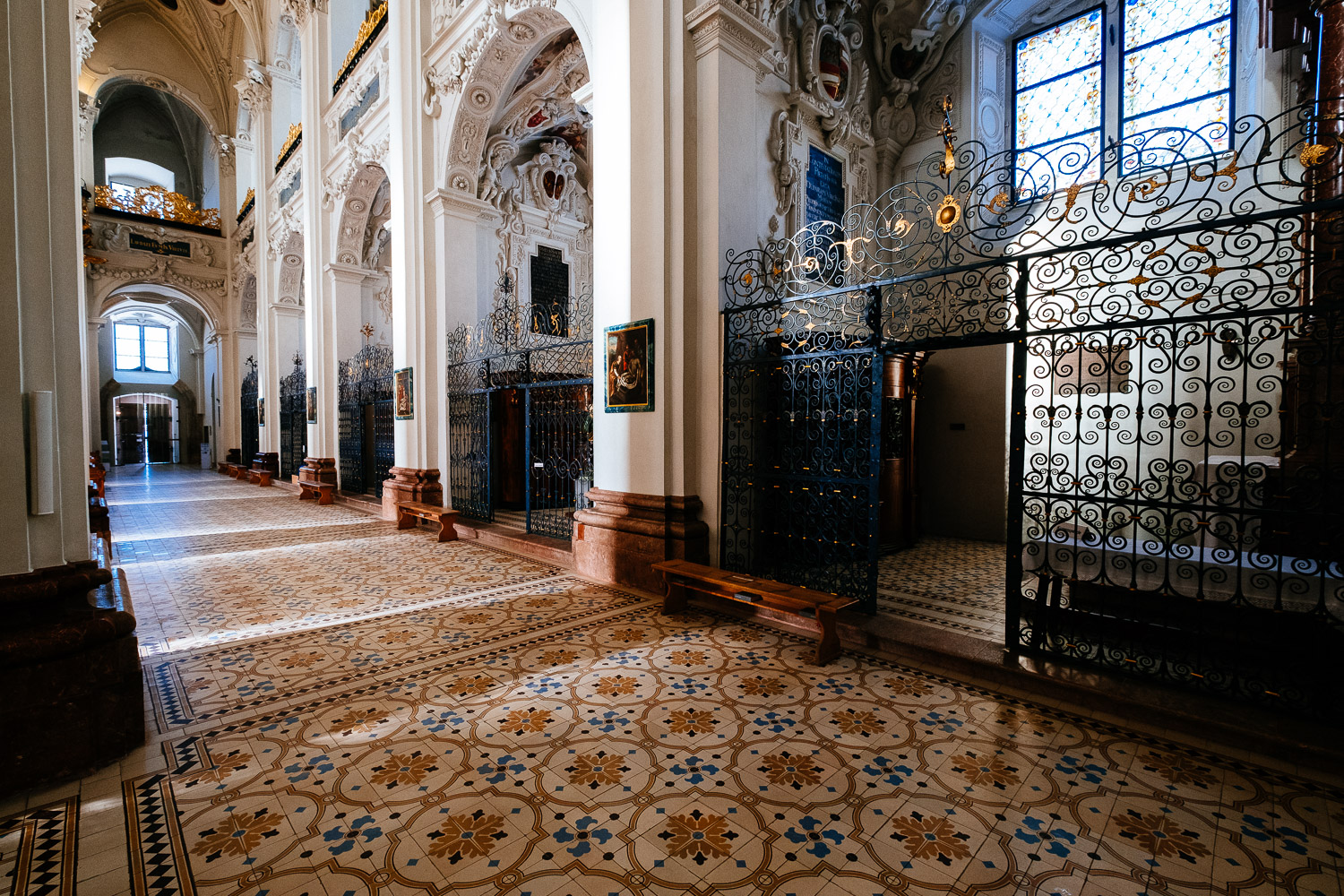 FUJIFILM X-Pro2 (10mm, f/5.6, 1/40 sec, ISO1250)

It's not allowed to take pictures inside the church but there were only a couple of people and I put my camera into silent mode. I'm sure that I didn't disturb any worshippers.
Every time I shoot with a noiseless camera I remember my first vacation in Scotland in 1991. I was inside a museum where photography was prohibited. I didn't want to copy artwork but I wanted a couple of pictures of the location. So I asked one of the guards if I could talk some pictures. The answer was yes so I went to the other room and pushed the knob. CLONK! In the quiet museum the massive mirror slam of my Nikon F801 was loud enough to work as an alarm. I'm sure the poor guy already regretted his generosity. I took two more shots but it felt like shouting "Fxxx xxx" at the mourners at a funeral. it doesn't make any sense and it is slightly embarrassing too. Sometimes a truly quiet camera is a true revelation.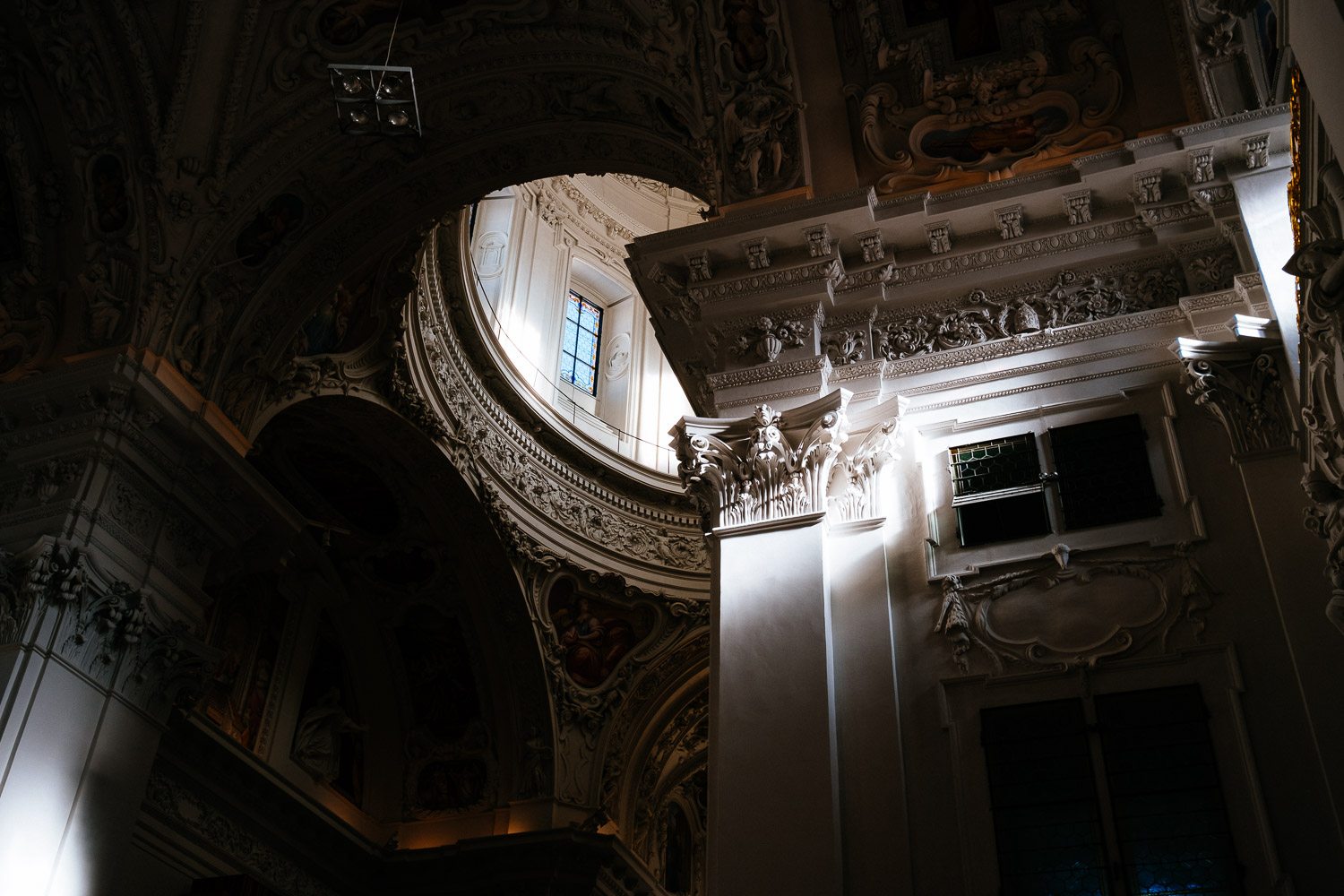 FUJIFILM X-Pro2 (24mm, f/5.6, 1/40 sec, ISO250)

FUJIFILM X-Pro2 (10mm, f/8, 1/600 sec, ISO200)

FUJIFILM X-Pro2 (20mm, f/9, 1/400 sec, ISO200)

I always complained about the fact that we don't have real winters anymore in Austria. Thank you so much global warming! But this year it's different. No matter how the next 10 days will look like this January is already the coldest since more than 30 years.
Compared to the D1 or D2H that I used to shoot many years back the Fuji X cameras look small and delicate but they are not. From extensive personal experience with the X100, the  X Pro-1, the X-T1 and now the X Pro-2 I can say that they never failed or broke down. From breath taking 52 degrees Celsius last June in Death Valley down to -20 degrees in Moscow, Russia. From hot and humid India and South East Asia to the cold and rainy early winter days in Austria. I never had any problems with those cameras even though officially only the X Pro-2 is weather sealed.
Most of the time I have only one camera body with me so it is good to know that I can have trust in their reliability. They are small and light compared to Pro-DSLRs but they are as tough as nails.
FUJIFILM X-Pro2 (10mm, f/9, 1/400 sec, ISO200)